Karachi: MTJ, a clothing brand of a renowned religious scholar Maulana Tariq Jameel has been inaugurated.
The inauguration ceremony of 'MTJ' was held in the Defense ​​Karachi. Apart from Maulana Tariq Jameel and Senator Faisal Wawda, other personalities also participated in the event.
On the occasion, Senator Faisal Wawda conveyed the message of Prime Minister Imran Khan while Maulana Tariq Jameel clarified in his statement that the purpose of his business is to run 'Madrassas' so that they do not hang on Zakat.
In the ceremony, Rahat Fateh Ali Khan recited the 'Hamad' while Shafqat Amanat Ali recited the beautiful names of ALLAH.
Remember that MTJ, the apparel has been launched in partnership with another private trademark.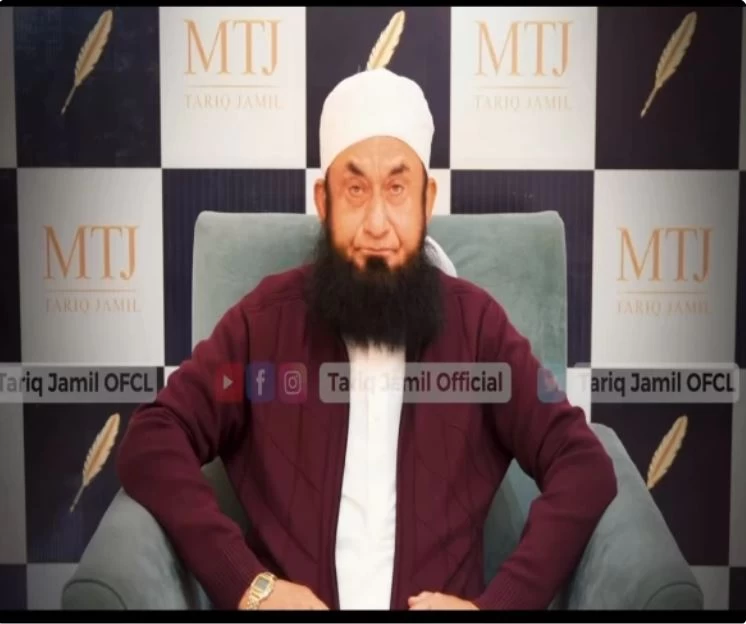 Earlier, Maulana Tariq Jameel had been the subject of rumours for the past several days stating that he has decided to step into the business world and is establishing a clothing brand under his name.
Questions were asked on social media as to what this company would be and whether he would continue his religious activities with it or not.
The controversy escalated to the point that the cleric was forced to release a video message explaining he had been thinking for a long time about doing business the profits of which could be used for his philanthropic works, especially running a madrassa. Now with COVID-19, he has the opportunity to put the idea into practice.
"In the subcontinent, it is considered a vice for clerics to do business or trade," he said. "I don't know where it came from. "
Many people are congratulating Tariq Jameel on his decision and praying for him but on the other hand, it has also sparked a debate as to why a religious scholar is being criticized for doing business.
According to local media, the brand MTJ would be selling an eastern line-up of dresses including Shalwar Kameez and Kurtas.
MTJ, a company named after MoulanaTariq Jameel, is registered in Karachi. The company's LinkedIn profile reads, "This is a fashion brand that will be run with quality and honesty," and it is "inspired by Maulana Tariq Jameel's service to the people."
The company employs 50 to 100 people, according to the profile. The company's official website, MTJ Online, has not been formally launched.
In his recent video on YouTube, Maulana Tariq Jameel said, "During the year 2000, I founded Madrasa Al Hasnain in Faisalabad. Later, 10 branches of this madrassa were established in different cities. Here our students are teaching and education is given in Arabic. Madrassas were run with the help of colleagues and friends. Last year with a wave of coronavirus, businesses of sponsors came to a standstill," Maulana said in the video.
"I closed madrassas and started online lessons," Maulana added. "I started worrying that businesses of people had come to a standstill who support our madrassas with their zakat and aid. So how can I tell them to pay Zakat when they are in dire need? My madrassa did not have a permanent system of soliciting donations, nor does it exist now," he said, adding that all he could do was call friends and ask them for help, which they would.
"When Coronavirus affected everyone, I said I wouldn't ask for donations anymore. Then I thought about how this system would work. Allah put it in my heart that we should do a business whose earnings should be spent on madrassas. I intended to have such a business. "
Maulana Tariq Jameel confirmed that during that time his friends did extend their cooperation. "And we planned to launch a brand MTJ in my name. An agreement has been reached."
A spokesman of Mulana Tariq Jameel said a Karachi-based company wanted to use Maulana's name for its brand but did not provide further details.
Tariq Jameel said in his video, "I am not doing any business to make money. I haven't made money all my life. We do not have a business mind. I haven't done business since I started preaching. I only planted cotton once in 1984," he stated, stressing that the brand has no typical business aspirations. He said he would build a good hospital and school with his earnings.
"In the subcontinent, it is considered a blemish for scholars to do business or trade. I don't know where this came from. However, in the time of Imam Abu Hanifa, whose fatwas we (Muslims) believe, there was no greater cloth merchant than him," he said.
"At least my madrassas should be able to stand on its own (two feet) and this will continue even after I leave this world," he hoped.
Remember that this is not the first time that a religious figure has established a clothing brand in Pakistan.
After retiring from the music world in 2004, Junaid Jamshed started a clothing business named J., which is one of the most prominent fashion brands in Pakistan. The company, named after Amir Liaquat Hussain, a member of the ruling Pakistan Tehreek-e-Insaf (PTI) and a well-known anchor of Ramadan shows also sells men's and women's clothing.