Imran gives written assurance for court appearance on Mar 18
After written assurance, police have no justification for action, Farrukh said.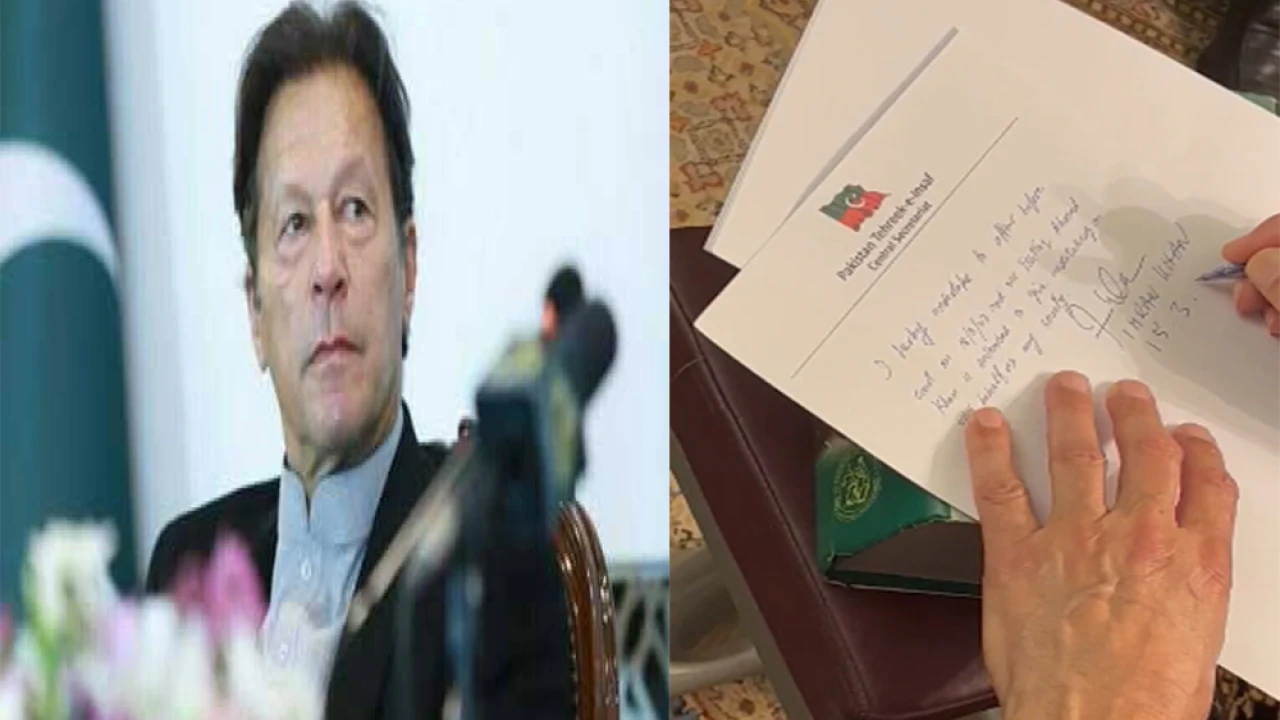 Lahore: Pakistan Tehreek-e-Insaf (PTI) leader Farrukh Habib Wednesday said that Imran Khan handed over the surety undertaking to appear in the court on March 18.
Farrukh habib turned to twitter shared a video of Imran Khan giving the written assurance, along with an image of code of criminal procedure which states:
"Any court issuing a warrant for the arrest of any person may in its discretion direct by endorsement on the warrant what, if such person executes a bond with sufficient sureties for his attendance before the court and a specified time and thereafter until, otherwise directed by the Court, the officer to whom the warrant is directed shall take such security and shall release such person from custody".
PTI leader said that undertaking is given under Section 76 of the Code of Criminal Procedure to the President of Lahore High Court (LHC) Bar, Ishtiaq A. Khan.
He stated: "After this, police have no justification for action,"
The imported government should refrain from bloodshed, Habib said adding: "We are peaceful and do not want conflict".
عمران خان صاحب نے 18 مارچ کو عدالت میں پیش ہونے کی کوڈ آف کرمنل پروسیجر سیکشن 76 کے تحت surety undertaking لاہور ہائیکورٹ بار کے صدر اشتیاق اے خان کے حوالے کردی۔ اس کے بعد پولیس کے پاس کاروائی کوئی جواز نہیں
امپورٹڈ حکومت خون ریزی سے بعض رہے ہم پرامن ہے تصادم نہیں چاہتے۔ pic.twitter.com/UtJQgtm1NS

— Farrukh Habib (@FarrukhHabibISF) March 14, 2023
It is pertinent to note that Islamabad courts had issued non-bailable arrest warrants against PTI chief Imran Khan for non-appearance in the hearing of toshakhana case and threatening female judge case.
After which, Islamabad police reached Lahore on Tuesday to arrest Khan from his residence in Zaman park Lahore. Police had not been successful in arresting Imran even after efforts of almost 24 hours.
There had been clashes between police officials and PTI workers as police had been spreading tear gas and using water cannons at the party workers to eliminate them from the premises.
However PTI supporters are determined to support and protect their leader and have not allowed police to enter and arrest Imran Khan.