Maryam Nawaz lashes out at PTI chief in Bagh speech
The PML-N senior vice-president without naming Imran Khan says that the person who used to say that he himself was enough is now crying all alone.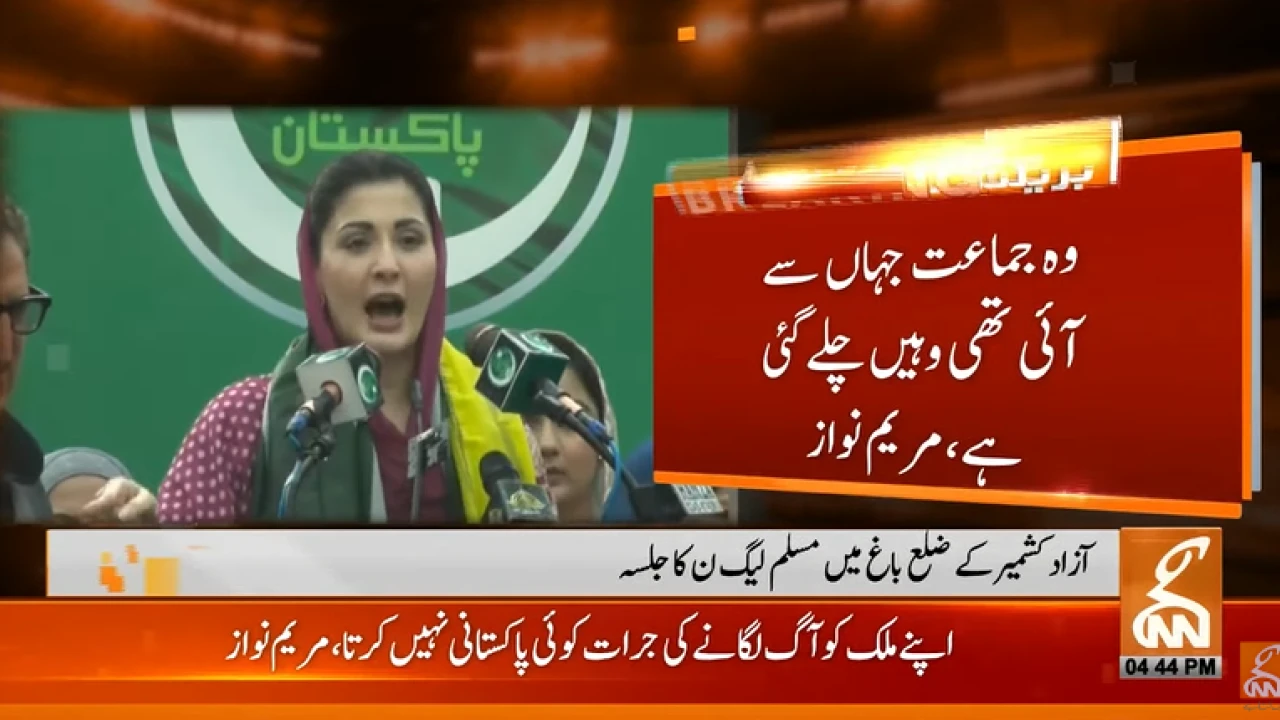 Bagh: Pakistan Muslim League-Nawaz (PML-N) Senior Vice-President Maryam Nawaz came down hard upon the Pakistan Tehreek-e-Insaf (PTI) chief, saying that "the party returned from where it started,".
Maryam Nawaz without naming Imran Khan said that the person who used to say that he himself was enough was crying now all alone.
She alleged that Imran Khan sold out Kashmir during his visit to the US.
شہیدوں کی وادی میں دُختر کشمیر کیلیے کشمیریوں کی محبتیں#کشمیر_میں_امید_سحر pic.twitter.com/8NSdn02jxw

— PMLN (@pmln_org) June 5, 2023
Referring to his current residence in Zaman Park, Lahore, where the PTI chief has been residing since surviving an assassination attempt in Wazirabad on November 3, 2022, Maryam stated that the person hiding in a bunker would be made an example for everyone.
Condemning the Pakistan Tehreek-e-Insaf (PTI) chief for the May 9 attacks, Maryam highlighted that the AJK Prime Minister had testified against Imran Khan, identifying him as the planner behind the attacks. She strongly criticized those responsible for vandalizing Jinnah House and other military installations following Imran Khan's arrest in the Al-Qadir Trust corruption case, stating that those who desecrate the monuments of martyrs are not true Pakistanis. Maryam expressed deep sorrow, acknowledging that the incidents on May 9 brought tears to the eyes of the martyrs' heirs.
Maryam further emphasized that the nation would not forgive those who mistreated the martyrs. She accused Imran Khan of compromising Kashmir's interests while in the presence of former US President Donald Trump, claiming that he had "sold Kashmir." Additionally, she paid tribute to the brave soldiers who risk their lives to protect the homeland.
Regarding the exodus of PTI leaders from the party, Maryam questioned the crowd about the current state of the PTI, suggesting that it had returned to where it originated from. She highlighted the crumbling state of the party, which once aimed to end Nawaz Sharif's political career, stating that those who had threatened to make others cry are now crying themselves. In contrast, she affirmed the PML-N's unwavering stance and called for support for the PML-N candidate, Mushtaq Minhas, promising that he would construct a hospital in the area.
Maryam's speech aimed to rally support for the PML-N and criticize Imran Khan, focusing on the May 9 attacks and the alleged betrayal of Kashmir's interests.