Riyadh police have recovered and returned a huge amount of 8 million Saudi Riyals stolen from a citizen's house.
According to the Kingdom's news agency, Riyadh Region Police spokesman Major Khalid al-Kridis said that two Saudi nationals who had robbed their compatriot's house have been arrested.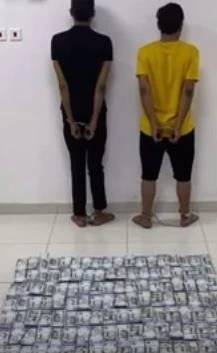 The police reported that two people had broken into a citizen's house, stolen 8 million riyals, and assaulted his domestic workers.
Further, they used a vehicle to escape from the scene of the accident.
The police arrested the two offenders, who are citizens in their 40s, who confessed to their crime, and the full amount was recovered.
As per police, a piece of cannabis was seized in their possession, 70 tablets of a medically controlled substance, in addition to unlicensed firearms.
The spokesman said that "investigators arrested the thieves in record time and recovered the entire amount from their whereabouts while weapons and drugs used during the incident have also been seized during the search of the hideout.
The police have handed over the captives to the public prosecution after completing the official formalities.