Pakistan facing unannounced international hybrid war, says Interior Minister
Islamabad: Interior Minister Sheikh Rashid Ahmad Tuesday said that Pakistan is facing unannounced international hybrid war by the elements who want to destabilize Islamabad's relations with China and Afghanistan.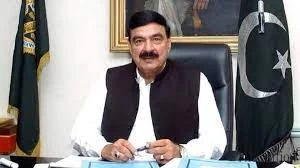 While talking to media in Rawalpindi, the minister said that we will foil the nefarious designs prepared by enemies and Pakistan will continue its journey towards development under the leadership of Prime Minister Imran Khan.
"During investigation of incident occurred with the daughter of Afghan Ambassador, it has been proved that this incident was not abduction or kidnapping," he added.
He further added that Islamabad Police has reviewed over seven hundred hours footages of 300 cameras installed on the travelling route of Afghan Ambassador's daughter while interviewed over 200 citizens.
He said that all four taxi drivers have no criminal record. He said that Afghan Ambassador should join the investigation process for logical conclusion of the case as the FIR was lodged on his application.
"Pakistan is a responsible country and full security is being provided to all foreign diplomats in the country," said minister.
Referring to Dasu incident, the Interior Minister said Chinese government has expressed satisfaction over the investigation being carried out by Pakistan to find out culprits.
Sheikh Rashid said that peace in Afghanistan is necessary for peace in Pakistan and Islamabad will continue its efforts to establish peace in Afghanistan without interfering into the internal affairs of Afghanistan.