World's first fully electric autonomous cargo ship launched in Norway
The world's first fully electric and self-steering container ship launched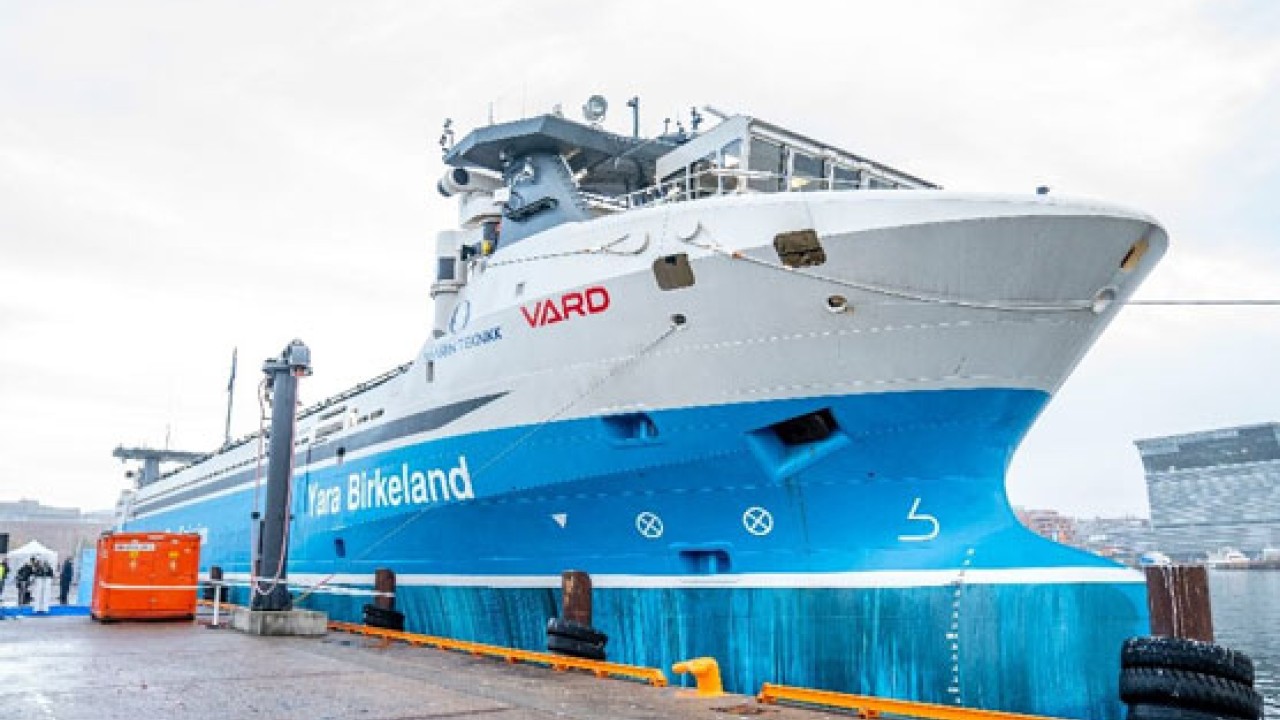 Oslo: World's first fully electric autonomous cargo vessel was unveiled in Norway, a small but promising step toward reducing the maritime industry's climate footprint.
By shipping up to 120 containers of fertilizer from a plant in the southeastern town of Porsgrunn to the Brevik port a dozen kilometres (about eight miles) away, the much-delayed Yara Birkeland, shown off to the media on Friday, will eliminate the need for around 40,000 truck journeys a year that are now fueled by polluting diesel.
"Of course, there have been difficulties and setbacks," said Svein Tore Holsether, chief executive of Norwegian fertilizer giant Yara.
"But then it feels even more rewarding to stand here today in front this ship and see that we were able to do it," he said, with the sleek blue-and-white vessel moored behind him in an Oslo dock, where it had been sailed for the event.
The 80-metre, 3,200-deadweight tonne ship will soon begin two years of working trials during which it will be fine-tuned to learn to manoeuvre on its own.
The wheelhouse could disappear altogether in "three, four or five years", said Holsether, once the vessel makes its 7.5-nautical-mile trips on its own with the aid of sensors.
"Quite a lot of the incidents happening on vessels are due to human error, because of fatigue for instance," project manager Jostein Braaten said from the possibly doomed bridge.
"Autonomous operating can enable a safe journey," he said.
While the distance the Yara Birkeland will cover may be short, it will face many obstacles.
It will have to navigate in a narrow fjord, and sail under two bridges while managing currents and heavy traffic from merchant ships, pleasure craft and kayaks, before docking at one of Norway's busiest ports.
The next few months will be a learning period.
"First of all, we have to detect that there's something there. We have to understand that it's a kayak, then we have to determine what to do with that," said Braaten.
"Currently, large vessels don't do much with a kayak. They can't do much. They can warn, but they cannot manoeuvre away" or reverse to avoid an incident.
Autonomous navigation will require a new set of regulations that do not exist yet.
On board the Yara Birkeland, the traditional machine room has been replaced by eight battery compartments, giving the vessel a capacity of 6.8 MWh -- sourced from renewable hydroelectricity.
"That's the equivalent of 100 Teslas," says Braaten.
The maritime sector, which is responsible for almost three percent of all man-made emissions, aims to reduce its emissions by 40 percent by 2030 and 50 percent by 2050.
Despite that, the sector has seen a rise in recent years.
International and domestic shipping and fishing combined, the industry emitted more than one billion tonnes of greenhouse gases in 2018, up from 962 million tons in 2012, according to the latest figures from the International Maritime Organization.
By itself, the Yara Birkeland's contribution to global climate efforts will be just a drop in the ocean -- eliminating 678 tonnes of carbon dioxide per year churned out by the redundant trucks.
And experts don't expect electric vessels to become a universal solution for the industry any time soon.
"Electricity has a 'niche' use, in particular for ferries as these are often short and stable routes, possibly on coastal and river transports. But it's not well-adapted for long ocean crossings," said Camille Egloff, a maritime transport expert at Boston Consulting Group.
"Not only would (a vessel) need to be autonomous for long distances but you would also have to equip ports with battery chargers. So there are technical and infrastructure challenges that would need to be coordinated," she said.
While dozens of electric ferries already crisscross the fjords of Norway -- a major oil and gas producer which is paradoxically also a leader in electric transport -- ocean liners will have to rely on other technologies to go green, such as LNG, e-methanol and hydrogen.
SOURCE: AFP
2 killed in Lahore road accident
Mishap took place when a speeding vehicle rammed into the people standing on the sidewalk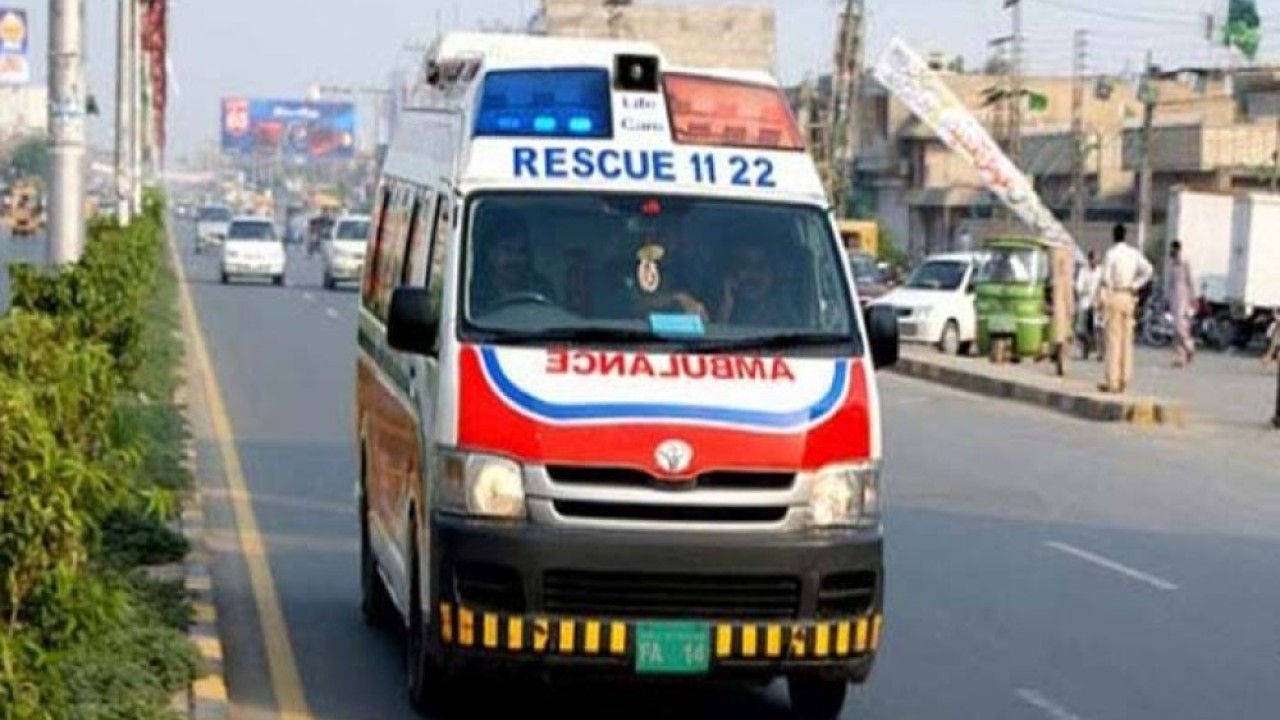 Lahore: Two young men were killed in a traffic accident in Defense area of Lahore on Saturday morning.
According to GNN, the accident took place in Defence's Phase VI where the car hit the footpath and turned over resulting in two deaths and injuries to another man.
Those died on the spot were identified as 24-year-old Faisal and 25-year-old Ali Ahmad
According to the traffic police, another young person named Amir was also injured in the accident and was shifted to General Hospital for medical treatment.
Earlier on yesterday, at least three students have lost their lives in an accident in Bahawalpur.
According to details, the mishap took place when a speeding trailer rammed into the students in Musafir Khana area.
Receiving information about the incident, rescue teams and security personnel arrived at the scene and shifted the victims to the nearby hospital.
AMC's Lt Gen Nigar Johar becomes first female to be appointed as colonel commandant
Lieutenant General Nigar became the first female ever to be appointed as Colonel Commandant of Army Medical Corps (AMC), the Inter-Services Public Relations said Friday.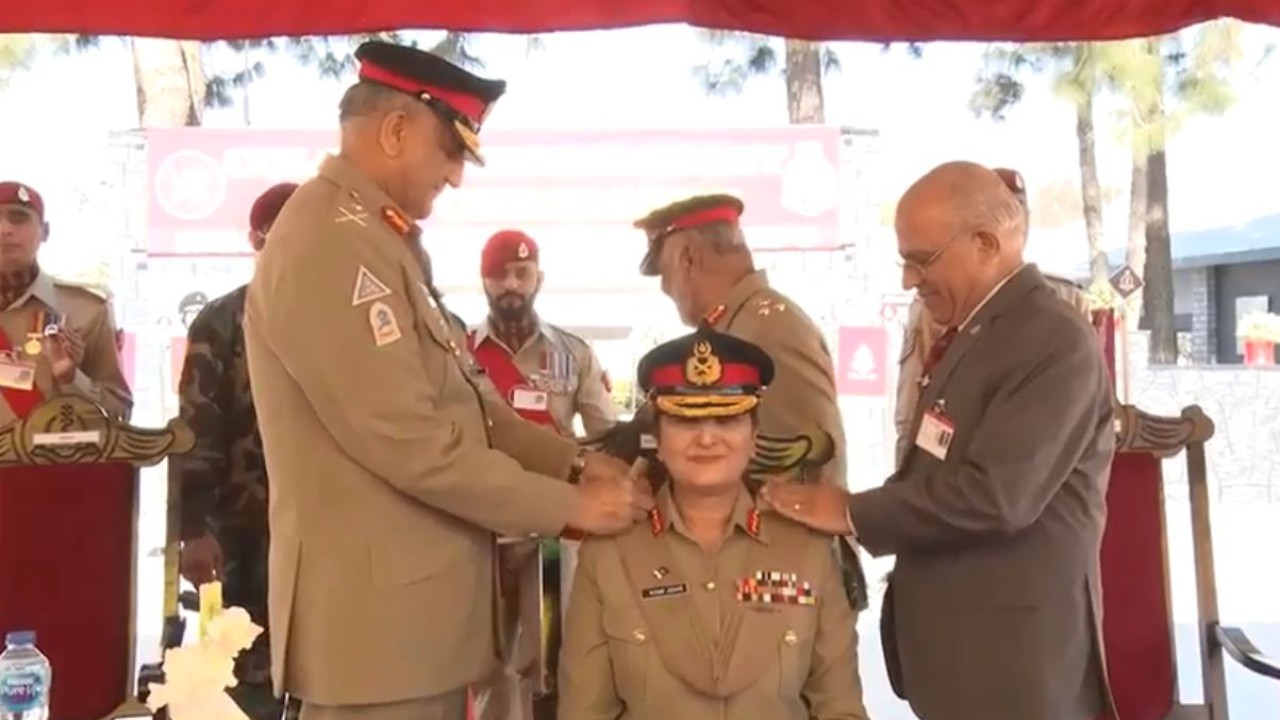 Chief of Army Staff General Qamar Javed Bajwa pinned the badges of the new rank on Lt Gen Johar's uniform during a ceremony at AMC Centre to formally install her to the new post, the military's media wing said in a statement.
Speaking on the occasion, Gen Bajwa said that the appointment of Lt Gen Johar as the first female army official to have three stars on her uniform is "indeed, a matter of immense pride for Pakistan Army and the country".
The Army chief also lauded AMC's contributions in ensuring high standards of healthcare in peace and war.
"AMC has always answered the call of duty during natural calamities, both inland and abroad. Our doctors and paramedical staff have been the frontline warriors against COVID-19, displaying exemplary commitment and resolve for the safety and well-being of the people of Pakistan," he said.
He concluded by saying that keeping pace with the rapid advancements in medical science is imperative for doctors and paramedics to keep themselves at par with the modern militaries and best healthcare practices across the globe.
According to ISPR, Genenral Bajwa also laid a floral wreath at Yadgar-e-Shuhada at the AMC Centre on the occasion and offered fateha.
Nasla Tower demolition: Police baton-charge protesters
The protestors tried to enter the building to halt the demolition process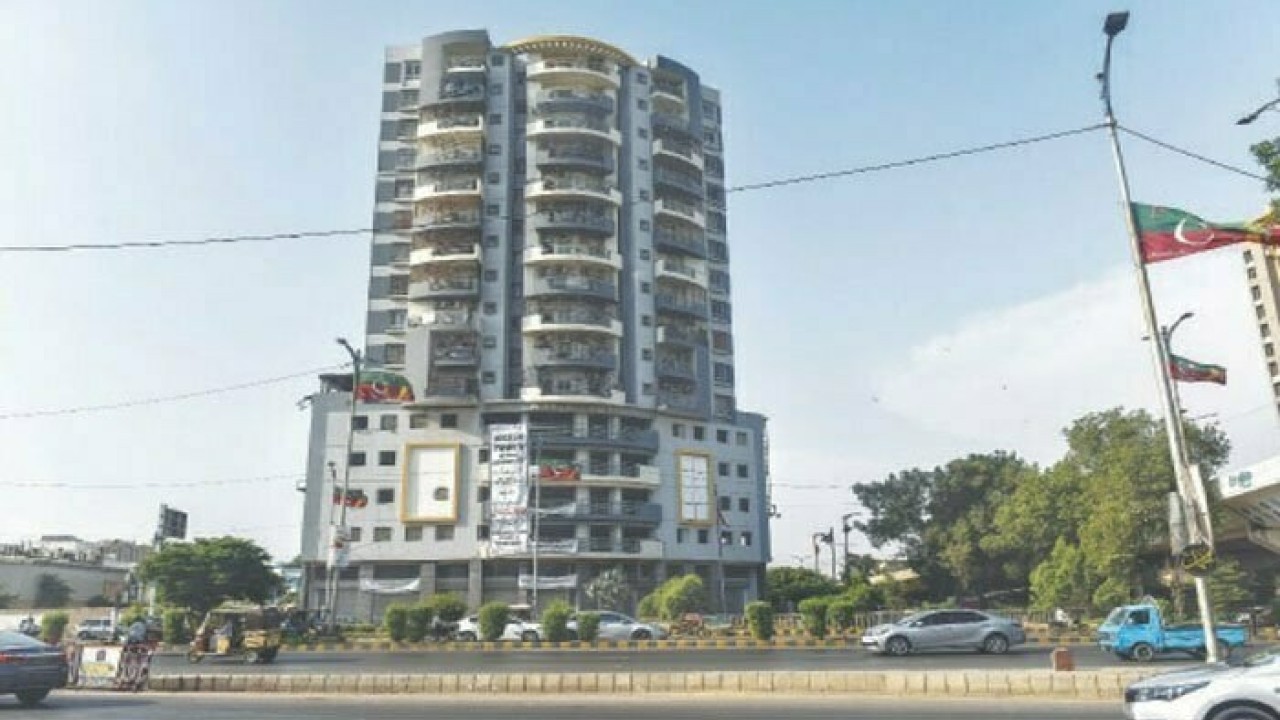 Karachi: Police have fired tear gas shells and baton-charged at protesters near the Nasla Tower shortly after authorities deployed a heavy contingent of anti-riot and anti-encroachment personnel at the building.
According to details, residents of the area stage protest against the demolition of the residential building located in Sindhi Muslim Society, recently declared illegal by the Supreme Court.
The protestors tried to enter the building to halt the demolition process of the building. The police tried to stop the protestors and later restored to baton-charge and fired gas shells as the protestors kept on coming.
The deputy chairman ABAD and several other people got injured in the shelling.
The tear gas also affected houses in the locality and hampered road traffic on the Sharae Faisal.
The protest came after the Supreme Court (SC) gave a one-week deadline to demolish the Nasla Tower. Chief Justice of Pakistan (CJP) Justice Gulzar Ahmed took up the case at the SC Karachi registry. During the hearing, the court was informed by the Karachi commissioner that 200 people are working on demolishing the tower.