In the most highlighted and awaited contest of Senate elections, Former Prime Minister and Pakistan Democratic Movement (PDM) joint candidate Yousuf Raza Gillani thumped PTI candidate Abdul Hafeez Sheikh. Yousaf Raza Gillani registered his victory from an Islamabad's General seat.
During the Senate elections in the Sindh Assembly, 167 out of 168 votes were cast, out of which four votes were rejected. Meanwhile, seven votes cast for the general seat in the National Assembly were rejected.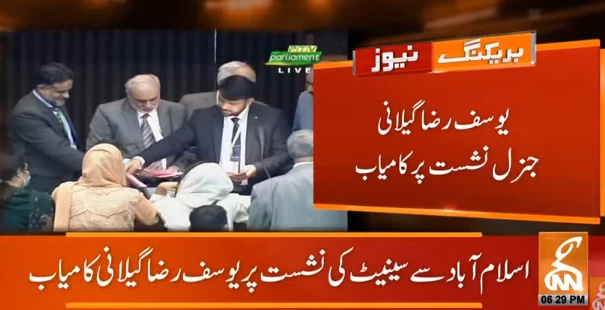 In the Balochistan Assembly, Independent candidate Abdul Qadir and JUI-F's Maulana Abdul Ghafoor Haideri have each been elected to a general seat.
In the Sindh Assembly, PPP candidate Palwasha Khan elected as Senator on Women seat.
Pakistan's National and Provincial Assemblies held elections for 48 new members of the Upper House of Parliament, after which the Senate's membership has now been completed till 2024.
Earlier, out of 48, 11 members from Punjab have been elected unopposed, so the actual contest was between 37 members.
Polling time for the Senate elections in the National Assembly of Islamabad and the Provincial Assemblies of Sindh, Balochistan and Khyber Pakhtunkhwa was till 5 pm.
Polling in the Punjab Assembly was not required today as senators were elected by mutual consent of political parties before the elections.
In Khyber Pakhtunkhwa, several members of the Assembly abstained from casting their votes despite the expiration of polling time, after which Election Commission officials are deciding how to resolve the issue.
Voting for the Senate elections in the Balochistan Assembly ended at 4:40 p.m. All members of the 65-member House cast their votes.
All eyes were on the contest between PTI candidate Abdul Hafeez Sheikh and former prime minister, senior Pakistan Peoples Party leader and Pakistan Democratic Movement (PDM) joint candidate Yousuf Raza Gilani, with a total of 342 candidates for the general and one women's Senate seats, 340 members of the Assembly voted.
Abdul Akbar Chitrali of Jamaat-e-Islami did not cast his vote following the party policy while NA-75 Faisalabad seat is vacant.
When former president Asif Ali Zardari went to cast his vote, his ballot papers was scraped. Asif Zardari went to the polling booth and made a mistake while stamping which spoiled the ballot paper. Asif Zardari requested the Returning Officer to re-issue the ballot papers, which was approved and re-issued.
Shehryar Afridi of PTI had requested the Election Commission to allow him to re-cast his vote as he had signed his ballot paper instead of writing the serial number on it. However, his request was not honoured.
Shahbaz Sharif, Asif Zardari, Bilawal Bhutto Zardari and Yousuf Raza Gilani also met in the hall on the occasion of Senate elections. When Khawaja Asif arrived, Asif Zardari asked him about his health situation.