Israel, Switzerland and Austria confirm monkeypox cases
The virus is most common in remote parts of Central and West Africa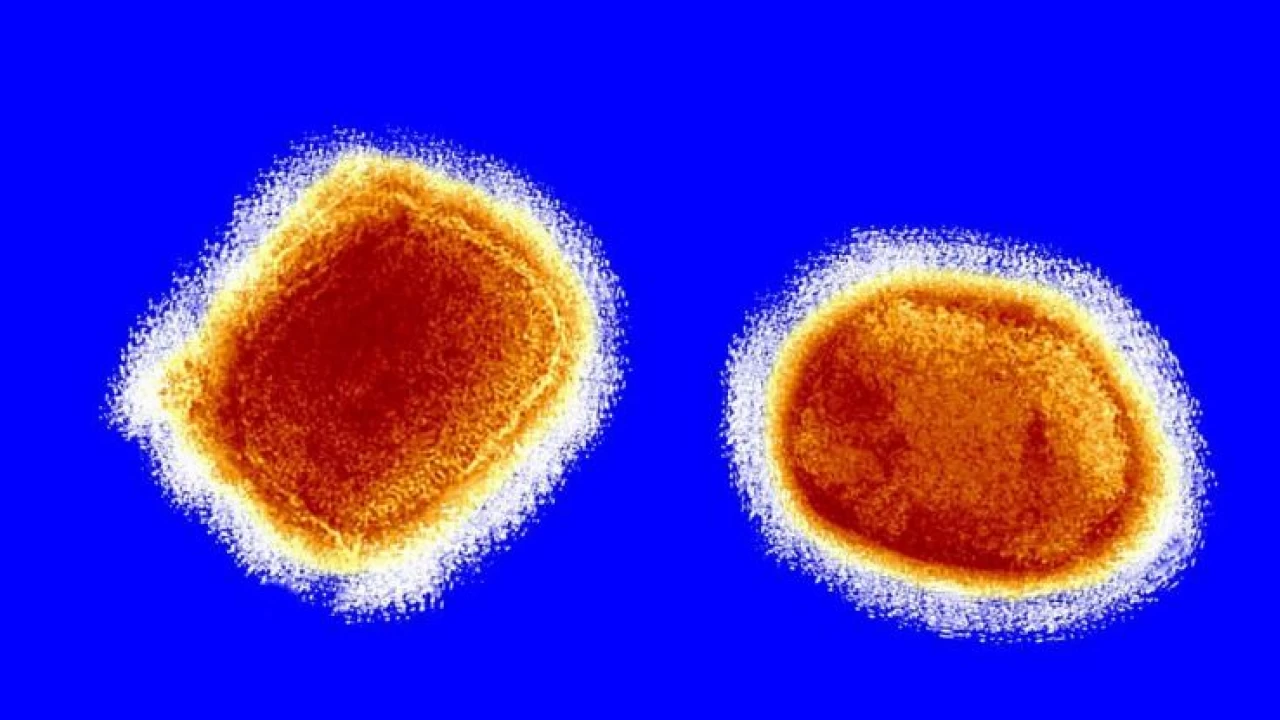 Israel, Switzerland and Austria are the latest countries to confirm cases of monkeypox, bringing the total number of nations reporting outbreaks to 15.
Israel and Switzerland both said they identified one infected person who had recently travelled abroad. Israel is investigating other suspected cases.
Monkeypox does not tend to spread easily between people and the illness is usually mild. The virus is most common in remote parts of Central and West Africa.
More than 80 cases have been confirmed in the recent outbreak in Europe, the US, Canada and Australia.
This outbreak has taken scientists by surprise, but the risk to the wider public is said to be low. Most people who catch the virus recover within a few weeks, according to the UK's National Health Service.
The World Health Organization has said a number of other suspected cases are being investigated - without naming the countries involved - and warned that more infections are likely to be confirmed.
Asked about the outbreak as he finished a visit to South Korea, US President Joe Biden said that if the virus were to spread more widely it would be "consequential", adding that "it is something that everybody should be concerned about".
He said the US was "working hard" on its response and what vaccines in might use.
After the outbreak was first identified in the UK, the virus began to be detected across Europe - with public health agencies in Spain, Portugal, Germany, Belgium, France, the Netherlands, Italy and Sweden all confirming cases.
The UK Health Security Agency has identified 20 cases so far and its chief medical adviser Dr Susan Hopkins told the BBC's Sunday Morning programme: "We are detecting more cases on a daily basis."
She said the virus is now spreading in the community - with cases detected which have no contact with anyone who has visited West Africa, where the disease is endemic.
But the risk to the general population remains "extremely low", with cases so far mostly found in some urban areas and among gay or bisexual men, Dr Hopkins said.
Although there is no specific vaccine for monkeypox, several countries have said they are stocking smallpox vaccines, which are about 85% effective in preventing infection because the two viruses are quite similar.

In a statement on Friday, the WHO said that the recent outbreaks were unusual in that they were occurring in countries where the disease was not endemic. It is not yet clear why this unexpected outbreak is happening now.
One possibility is that the virus has changed in some way, although currently there is little evidence to suggest this is a new variant.
Another explanation is that the virus has found itself in the right place at the right time to thrive. Monkeypox may also spread more easily than it did in the past, when the smallpox vaccine was widely used.
The WHO's regional director for Europe, Hans Kluge, has warned that "transmission could accelerate" during the summer season, as people gather for festivals and parties.
In addition to the European cases, Australia has confirmed that one man who had travelled to the UK contracted the virus.
In North America, health authorities in the US state of Massachusetts said one man who recently travelled to Canada had tested positive for the virus.
Canada's Public Health Agency said it had identified two cases in Quebec, but said it was not clear if the US traveller had been infected before or during his visit to Montreal.
SOURCE: BBC NEWS

President calls for stronger commitment to address challenge of drug abuse
"The day was celebrated across the globe to prevent drug abuse and raise awareness about the alarming threats it poses to society, especially the youth."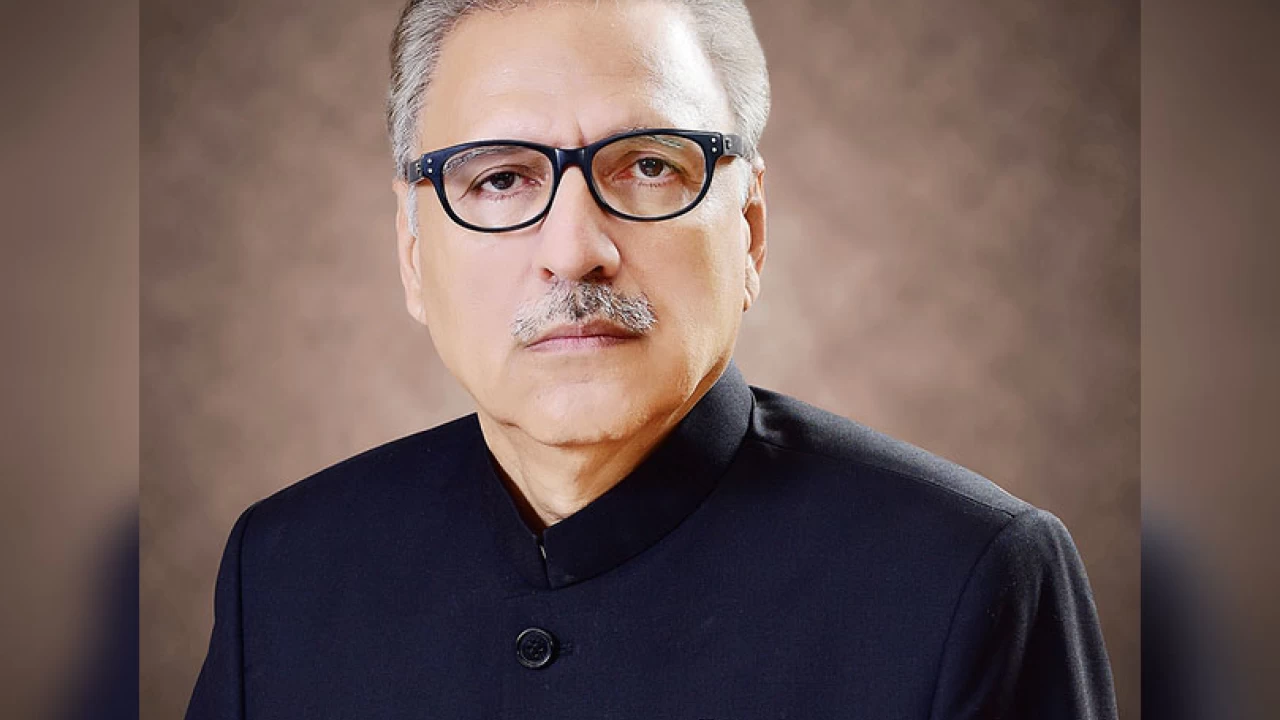 Islamabad: President Dr Arif Alvi said the government must strengthen its commitment to address the challenges stemming from drug abuse and illicit trafficking and protect youth from the threat of illicit drugs.
The International Day Against Drug Abuse and Illicit Trafficking is observed annually on June 26 to strengthen action and cooperation in achieving a world free of illicit drugs.
In a message on the occasion of the International Day Against Drug Abuse and Illicit Trafficking, he said the day was celebrated across the globe to prevent drug abuse and raise awareness about the alarming threats it poses to society, especially the youth.
The World Drug Report 2021, published by the United Nations Office on Drugs and Crime (UNODC), indicated that deaths attributed to drug-related disorders had almost doubled over the past decade. The youth, which makes up nearly 60% of Pakistan's total population, remained especially vulnerable to drug abuse, he said adding students and parents must be sensitized through workshops and seminars with the help of the media, civil society, and educational institutions.
"To this end, the Higher Education Commission (HEC) can play an important role and it has been directed to implement a strict policy to counter drug abuse in higher educational institutions."
He said, "Today, we also celebrate the tremendous efforts Pakistan has made in collaboration with international organizations to address drug-related challenges."
International cooperation had helped limit the proliferation of new psychoactive substances used by younger generations, he added.
He commended the Ministry of Narcotics Control for the measures it had taken to combat the trafficking of illicit drugs in our society and mitigate the detrimental impacts of drug abuse. Pakistan had also achieved the status of a poppy-free state which was a reflection of the proactive approach taken by the Ministry of Narcotics Control/Anti-Narcotics Force, he mentioned.
"Only with cooperation and collective commitment will we achieve our vision of a world free of this menace. We are committed to making Pakistan a model country, in the region and beyond, in this fight against drug abuse and illicit trafficking," he concluded.
Saudi Arabia confers Order of King Abdulaziz on Pakistan's Army Chief
Saudi Crown Prince gives "King Abdulaziz Medal" to General Bajwa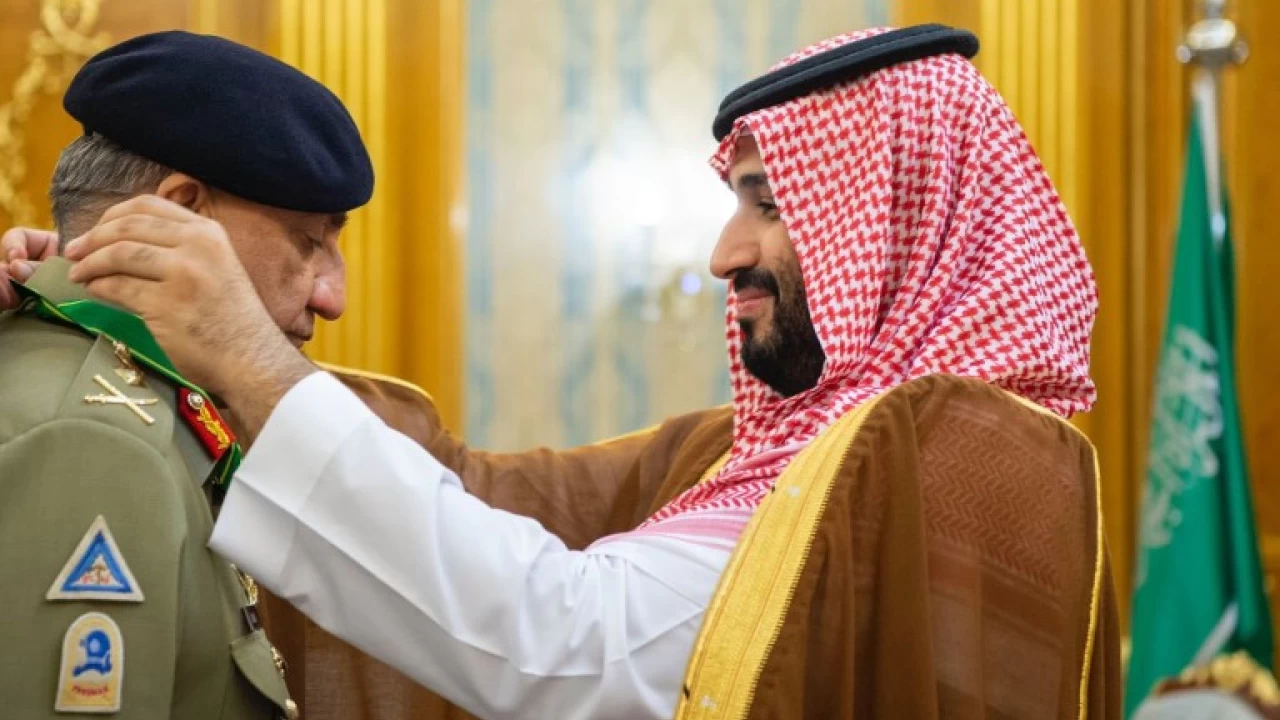 Riyadh: Saudi Crown Prince Mohammed Bin Salman, deputy premier and minister of defence, decorated Pakistan's Chief of the Army Staff, General Qamar Javed Bajwa, with King Abdulaziz Medal of Excellent Class, in implementation of the order of the Custodian of the Two Holy Mosques King Salman bin Abdulaziz.
This comes in recognition of General Bajwa's distinguished efforts in consolidating and strengthening bonds of friendship and joint cooperation and developing Saudi-Pakistani relations, the Saudi Press Agency (SPA) reported.
General Bajwa was in the Saudi Kingdom on Saturday for a visit.
The Crown Prince met General Bajwa in Jeddah on Saturday, where they reviewed bilateral relations, especially in the military fields, and opportunities for developing them. They also discussed a number of issues of common interest.
The occasion was attended by Prince Khalid bin Salman bin Abdulaziz, Deputy Minister of Defence; Chief of General Staff Lieutenant-General Fayyad Al-Ruwaili and a number of senior officials from the two sides.
Saudi Arabian in Pakistan also broke the news through its Twitter handle on Sunday morning.
#خادم_حرمین_شریفین کے احکامات کو بجا لاتے ہوئے جناب ولی_عہد نے پاکستانی آرمی چیف کو دوستی کے رشتے،باہمی مشترکہ تعاون اور پاک سعودی تعلقات کو مزید مضبوط ومستحکم کرنے میں ان کی شاندار کاوشوں کو سراہتے ہوئے''کنگ عبدالعزیز میڈل آف ایکسی لینس ایوارڈ''سے نوازا https://t.co/0hIheoMi7O

— السفارة في باكستان - سعودی سفارت خانہ (@KSAembassyPK) June 26, 2022
Another Saudi Embassy tweet said "Order of Shah Abdul Aziz for General Bajwa, Commander-in-Chief of the Pakistan Army: "The award is a recognition of General Bajwa's significant efforts in strengthening and developing Saudi-Pakistani relations."
New 'storm of inflation' is impending: Imran Khan
Imran Khan takes a dig at government over super tax; terms it 'economic murder' of people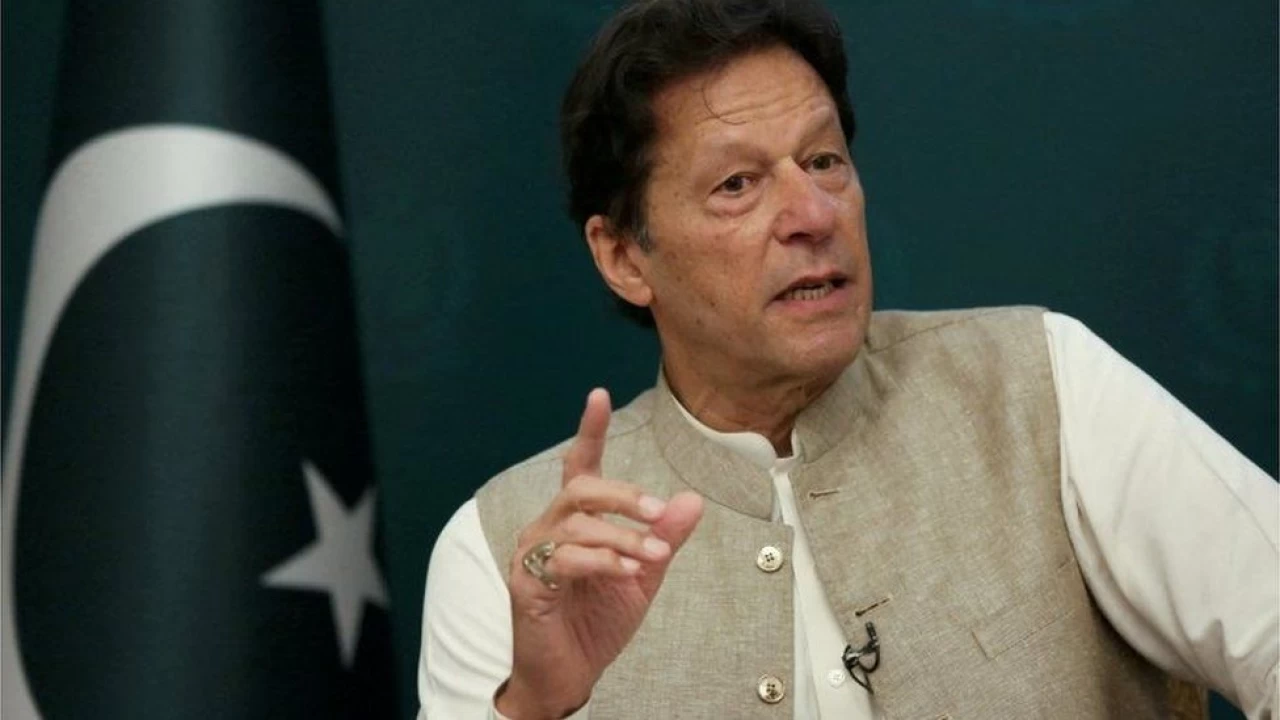 Islamabad: Pakistan Tehreek-e-Insaf (PTI) chairman Imran Khan Saturday slammed the incumbent government for imposing new taxes on the industrial sectors, saying that the taxes on the production sectors would further increase 'inflation' and 'unemployment'.
While addressing a news conference in Islamabad today, the former Prime Minister of Pakistan banged the coalition government for imposing a 10% super tax on large-scale industries— saying that the decision would lead to the "closure of industries", increase unemployment, inflation, and push Pakistan further into economic crisis.
"With the imposition of 10% super tax, the tax on 13 large-scale industries will reach 40%," he stressed, adding that the decision would led to the shutting down of several industrial units.
The cricketer-turned politician stated that the tax exemption on the salaried class has been reversed which would batter them down financially.
"They [salaried class] were earlier given a tax exemption on an income of Rs100, 000; but now the slab has been reduced to Rs 50,000," added Khan.
Referring to National Accountability Bureau (NAB) amendment law, Imran Khan expressed confidence in the judiciary, saying it would not allow such oppression—terming it "attempt of corrupt rulers to save themselves".
"If the government succeeds, Pakistan wouldn't need enemies," said PTI chairman, adding that these NAB amendments will destroy the country as the "thieves will be exempted".
It is pertinent to mention here that PTI has challenged the amendments in the Supreme Court and today the former prime minister gave a call for nationwide protests on July 2 against the amendments in NAB laws.
He further added that his government collected record tax in Pakistan's history and was working to broaden the tax net.
The main protest would be organized in Islamabad's Parade Ground where Imran Khan would address.
Khan also urged the people to protest peacefully against what was being done with Pakistan, asking them to take to the roads simultaneously.