'Mini-budget will cause more inflation,' says Imran Khan
The PTI Chief has said that nothing will be on the right track even after successful talks with International Monetary Fund (IMF), pointing out that the whoever the backers are should know that the coalition government does not have any future plan.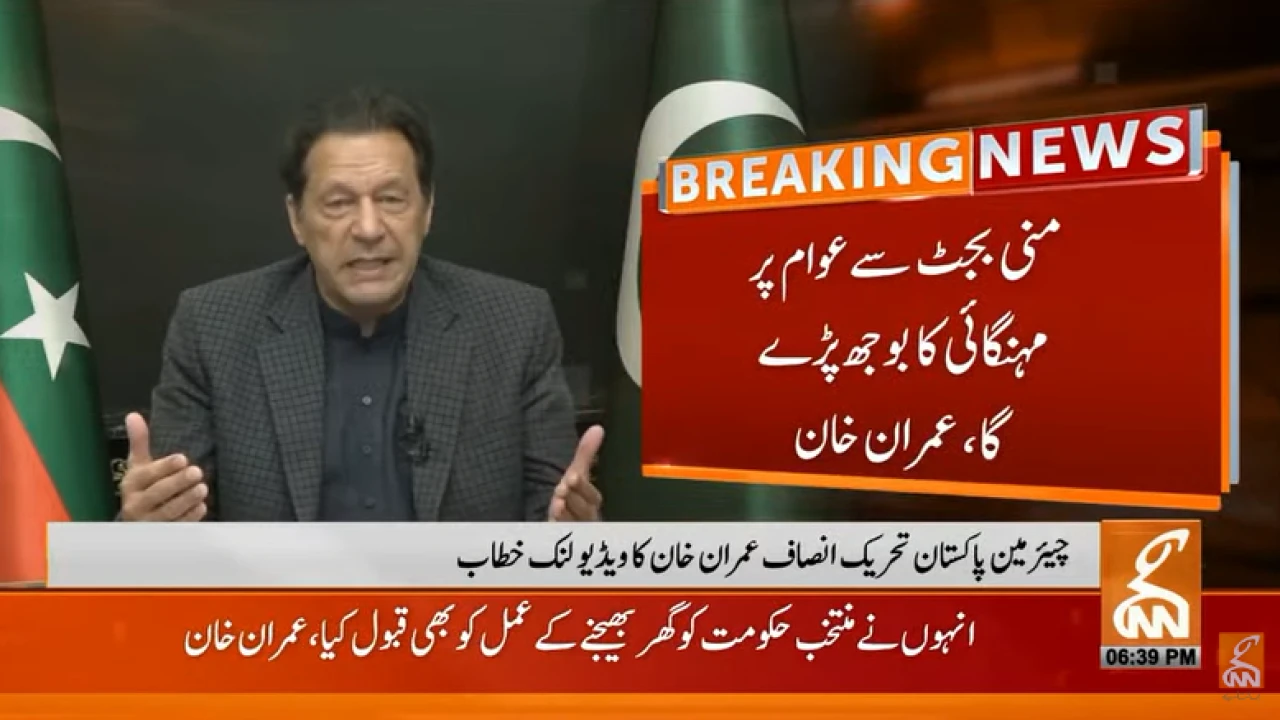 Lahore: Pakistan Tehreek-e-Insaf (PTI) Chief Imran Khan on Wednesday warned that the supplementary budget would cause more burden on the public, making it clear that the early election was only way forward to address the issues.
Imran Khan said that the country had reached at the same level that of Sri Lanka.
"The mini-budget will cause more inflation," said the PTI Chief while addressing the public on Wednesday.
He stated that the prices of flour, chicken and many other edibles got double since the day his government was ousted. He emphasized over support for the farmers, saying that they were getting prosperous during the PTI government.
"Urea was at Rs1668 in our government but now it is at Rs3000. Similarly the iron guarders also got costly now. People who are making their houses are facing serious problems," he added.
Khan said that their all projects including Shaukat Khanum Hospital project got affected due to sky-rocketing inflation.
The import ban, he warned, would cause trouble to the patients, especially the patients of serious illness.
Talking about mini-budget, he said that gas bill now would go to Rs4300 per month and similarly the electricity bills would go up to Rs13,000 to the families who were paying Rs10,000 per month. He warned that urea and other things related to the agriculture would go up.
"Inflation is already historic. It was 12 per cent in our government. Now it is 30 per cent and will go up to 50 per cent," he made it clear.
"The salaried persons would face hardships," said Imran Khan, adding that textile industry in Faisalabad was witnessing unemployment.
The PTI chairman said that the interest rate was now quite high, so everyone who wanted to start a new business would not be able to do so. He said these coalition partners came into power and they just focused to end their criminal cases of Rs1100b.
"Rupee went down against dollar by 90. GDP income has fallen down and the person who is earning Rs30,000 could hardly buy the things of worth Rs20,000," said Khan, lashing out at the coalition partners for making assets outside the country.
They approached the president for ordinance to save their own skin for this amendment bill.
"They don't have future plan. I simply tell whoever their backers are. Cancer is being treated by disprin. The solution is quite clear. I have given the solution many a time. If we fail to hold free and fair elections then we will be able to make structural reforms. Nothing could done without public support," he added.
He went on to say that the present government just wanted cases against him and wanted to get rid of him.