Imran vows to take legal action against cops for breaking into his home
The PTI Chief has yet again announced rally at Minar-e-Pakistan, claims it will be a referendum to see where the nation stands.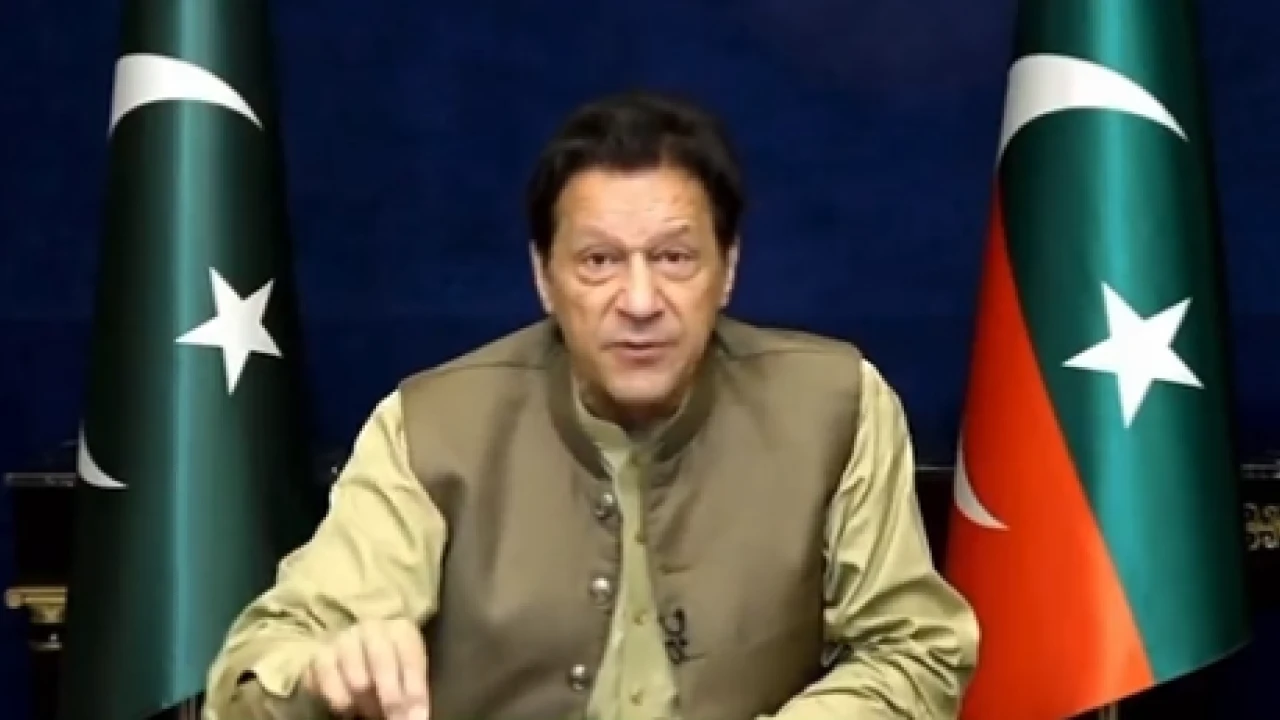 Lahore: Pakistan Tehreek-e-Insaf (PTI) on Sunday said that he would take legal action against the policer officers who entered into his house at a time when his wife Bushra bibi and servants were at home, and stole the things from there.
"Who allowed them [the police] to break my the gate of my house?," Imran Khan asked while addressing the nation via video link hours on Sunday.
The PTI Chief said that he consulted his legal team and would register a case against the policemen who attacked his house.
"The Lahore High court had ordered that only SP police could enter Khan's home but there was huge contingents of police who entered his home," said Imran Khan.
He stated that the police committed contempt of court by doing so.
ہائیکورٹ کے حکم کی صریح خلاف ورزی کرتے ہوئے پنجاب پولیس کی چیئرمین تحریک انصاف کی رہائشگاہ پر شرمناک یلغار

پاکستان تحریک انصاف نے آپریشن میں ملوث پولیس افسران کیخلاف کارروائی کا آغاز کردیا pic.twitter.com/wFHm1zbdBJ

— PTI (@PTIofficial) March 19, 2023
Imran Khan also appealed to the court to transfer his case from Islamabad to Lahore, giving an assurance that he would never refuse appearance before the court.
"The government and the powerful circles want to send me to Balochistan and put me in jail until elections," said Khan.
He further said that he had said goodbye to his family when he left for the court as he knew that they would either arrest him or murder him.
He said they survived a fatal accident on their way to Islamabad, pointing out that they wanted him alone in the judicial complex where they had planned to shift him to Balochistan or kill him.
The PTI chairman said that the police started throwing teargas shells before he arrived in the court, adding that that it was their plan to create ruckus in the judicial complex.
"I was allowed to enter the JC's gate after a one-hour long and hard wait", said Khan, adding that as he entered the complex he saw heavy contingents of police inside there. He alleged that the police tortured the PTI supporters who entered the complex.
People, he said, knew him very well and they knew that he did not violate the law.
"For which crime, he was booked in 96 cases by the people who are themselves criminals," he asked, regretting over police raid and operation at his home and looting.
He also stated that people should google them if they had any doubt about their crimes, pointing out that Nawaz Sharif was reported by the international media as a thief while Asif Ali Zardari was reported as "Mr. 10pc".
Imran Khan also came down hard upon Maryam Nawaz, calling her "Queen of liars". "This queen of liars demands level playing field...and level playing field means my removal from their way and bringing back that convict who looted the public money for last 30 years and has been living now at the billions of rupees' property in London,".
جھوٹوں کی ملکہ کی لیول پلئنگ فیلڈ یہ ہے کہ عمران خان کو رستے سے ہٹاؤ اور لندن میں بیٹھے بھگوڑے کو واپس لیکر آؤ۔ عمران خان
#چلو_چلو_عمران_کے_ساتھ pic.twitter.com/We5yrs5GOK

— Muhammad Faizan Yasin (@faizanMFY) March 19, 2023
The former Prime Minister also said that the establishment committed a treachery by imposing them on them. The PDM leaders, he said, wanted to remove him from their path and these were the people who attacked on his life in Wazirabad.
Talking about Punjab interim government, Khan said that they brought those police officers back who attacked them on May 25.
"Police blocked our ways to hold rallies and imposed Article 144 when the party decided to run election campaign," said the PTI Chief.
He said, "Their [PDM] wanted to delay the elections and this is their sole purpose,".
Imran went on to say that the nation wanted freedom and not slavery and they were ready to even die for this freedom.
He warned that the people would forget Sri-Lanka if they [the PDM] did not stop, claiming that they [PDM] lost the game.
Yet again, he vowed to hold rally at Minare-e-Pakistan and it would clear the public support for the PTI and its rivals.
مینارِ پاکستان کا تاریخی مقام ایک بار پھر پاکستان کے مستقبل کی تاریخ رقم کرے گا۔ ان شاء اللہ pic.twitter.com/sHDO6GyILv

— PTI (@PTIofficial) March 19, 2023