Putin flaunts alliance with Xi as 'dear friends' meet in Kremlin
Washington denounced Xi's visit, saying the timing showed Beijing was providing Moscow with "diplomatic cover" to commit further crimes.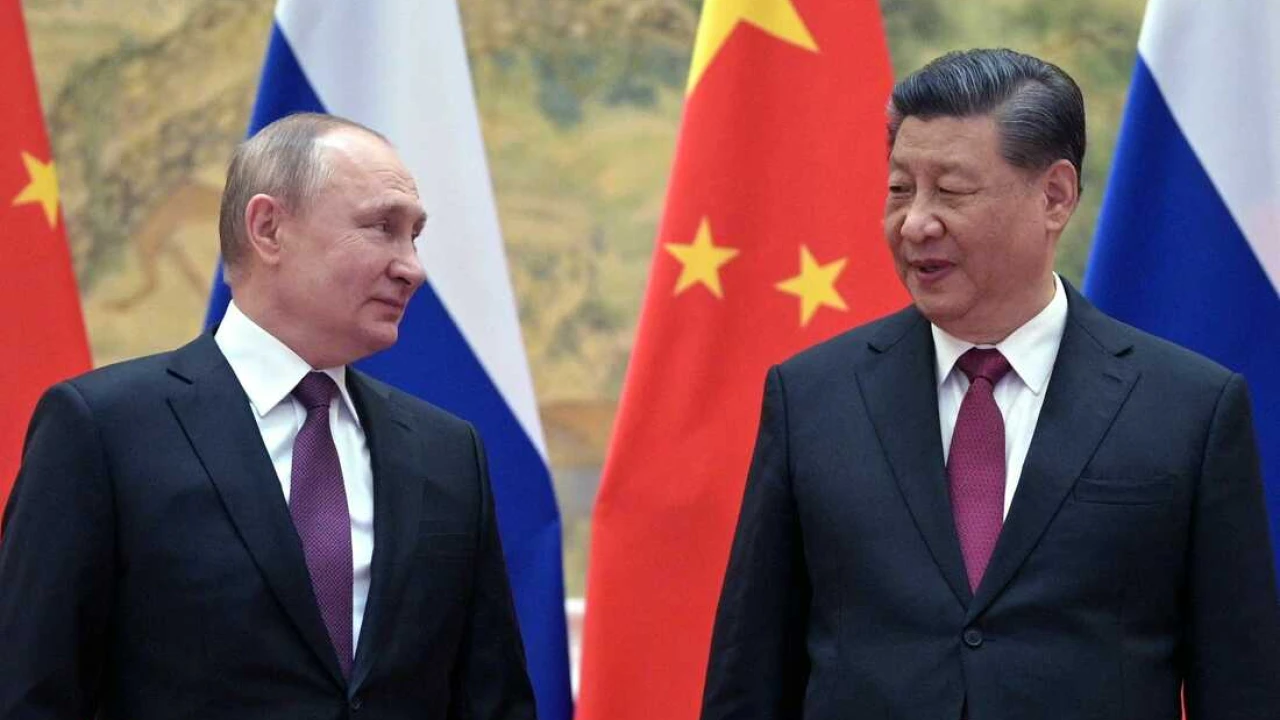 Moscow: Vladimir Putin hosted his "dear friend" Xi Jinping for dinner in the Kremlin on Monday, showing off his relationship with his most powerful ally just days after an international court called for the Russian President's arrest for war crimes in Ukraine.
Washington denounced Xi's visit, saying the timing showed Beijing was providing Moscow with "diplomatic cover" to commit further crimes.
It was the first trip abroad for Xi since he obtained an unprecedented third term last month. The Chinese leader has been trying to portray Beijing as a potential peacemaker in Ukraine, even as he deepens economic ties with his closest ally.
Putin and Xi greeted one another as "dear friend" when they met in the Kremlin on Monday afternoon before a dinner, with formal talks due on Tuesday.
Putin told Xi he viewed China's proposals for a resolution of the Ukraine conflict with respect, and was also "slightly envious" of China's "very effective system for developing the economy and strengthening the state".
Xi, for his part, praised Putin and predicted Russians would re-elect him next year.
"Under your strong leadership, Russia has made great strides in its prosperous development," he said.
Such a visit had long been anticipated - Putin publicly invited Xi months ago - but the symbolism was complicated by the International Criminal Court issuing an arrest warrant against Putin last week for deporting children from Ukraine.
Moscow denies illegally deporting children from Ukraine, saying it has taken in orphans to protect them. It opened a criminal case against the court's prosecutor and judges. Beijing said the warrant reflected double standards.
The West says the warrant should make the Russian leader a pariah.
"That President Xi is traveling to Russia days after the International Criminal Court issued an arrest warrant for President Putin suggests that China feels no responsibility to hold the Kremlin accountable for the atrocities committed in Ukraine," U.S. Secretary of State Antony Blinken said.
"Instead of even condemning them it would rather provide diplomatic cover for Russia to continue to commit those grave crimes," he added.
Russia, China and the United States are not among the 123 countries that are ICC members, obliged to arrest Putin if he arrives on their territory.
Xi aims to present China as a peacemaker even as he seeks to strengthen ties with his closest ally Putin. China has released a 12-point proposal to solve the Ukraine crisis, largely dismissed in the West as a ploy to buy Putin more time to regroup his forces and solidify his grip on occupied land.
Washington has said in recent weeks it fears China might provide Russia with weapons, an accusation Beijing has dismissed.
KYIV CAUTIOUS
Kyiv, which says the war cannot end until Russia pulls out its troops, has been circumspect. It cautiously welcomed Beijing's peace proposal when it was unveiled last month even though its Western allies were publicly sceptical.
Ukrainian President Volodymyr Zelenskiy has said that China arming Russia could lead to World War Three, but also that he believed Beijing was aware of this risk, implying he thought it was unlikely. He has called for Xi to speak to him.
"We expect Beijing to use its influence on Moscow to make it put an end to the aggressive war against Ukraine," Ukrainian foreign ministry spokesperson Oleg Nikolenko said.
Putin signed a "no limits" partnership with Xi last year shortly before the Kremlin leader ordered the invasion of Ukraine. Putin claims he aims to end a threat to Russia from its neighbour's moves towards the West; Kyiv and the West call it an unprovoked attack to subdue an independent state.
Russia's assault is believed to have killed tens of thousands of Ukrainian civilians and soldiers on both sides, destroyed cities and forced millions to flee. Moscow claims to have annexed nearly a fifth of Ukraine.
The Kremlin said Putin would provide Xi with detailed "clarifications" of Russia's position, without elaborating.
Justice ministers from around the world met in London on Monday to discuss support for the ICC, whose chief prosecutor Karim Khan called on Russia to repatriate the Ukrainian children to prove it is acting in their best interests as it says it is.
Several European Union countries agreed in Brussels to jointly buy one million rounds of 155 mm artillery shells for Ukraine. Both sides fire thousands of rounds every day.
The United States announced its latest military aid package, worth $350 million, including more ammunition for HIMARS rocket launchers, howitzers and Bradley Infantry Fighting Vehicles, plus HARM missiles, anti-tank weapons and river boats.
Fierce fighting continued in the eastern Ukrainian town of Bakhmut where Ukrainian forces have held out since last summer in the longest and bloodiest battle of the war.
Moscow, which has not won a major victory since last August, has launched a massive winter offensive involving hundreds of thousands of freshly called-up reservists and convicts recruited from jails.
Fighting that both sides describe as a meat grinder has scattered the battlefield with bodies, but the front line has barely moved for more than four months.
Ukraine, which recaptured swathes of territory in the second half of 2022, has kept mainly to defence since November, aiming to deplete Russia's attacking forces before launching a planned counteroffensive of its own.
Russian mercenary boss Yevgeny Prigozhin, whose Wagner private army has led the offensive in Bakhmut, wrote in a letter to Defence Minister Sergei Shoigu that Kyiv was planning an offensive as soon as late March or April.
Ukraine would aim to cut Wagner forces off from Russia's regular army, Prigozhin wrote, which could lead to "negative consequences".