Imran Khan is mentally unfit, claims health minister
The PPP leader says toxic elements have been found in the medical reports of the former prime minister and the PTI chairman.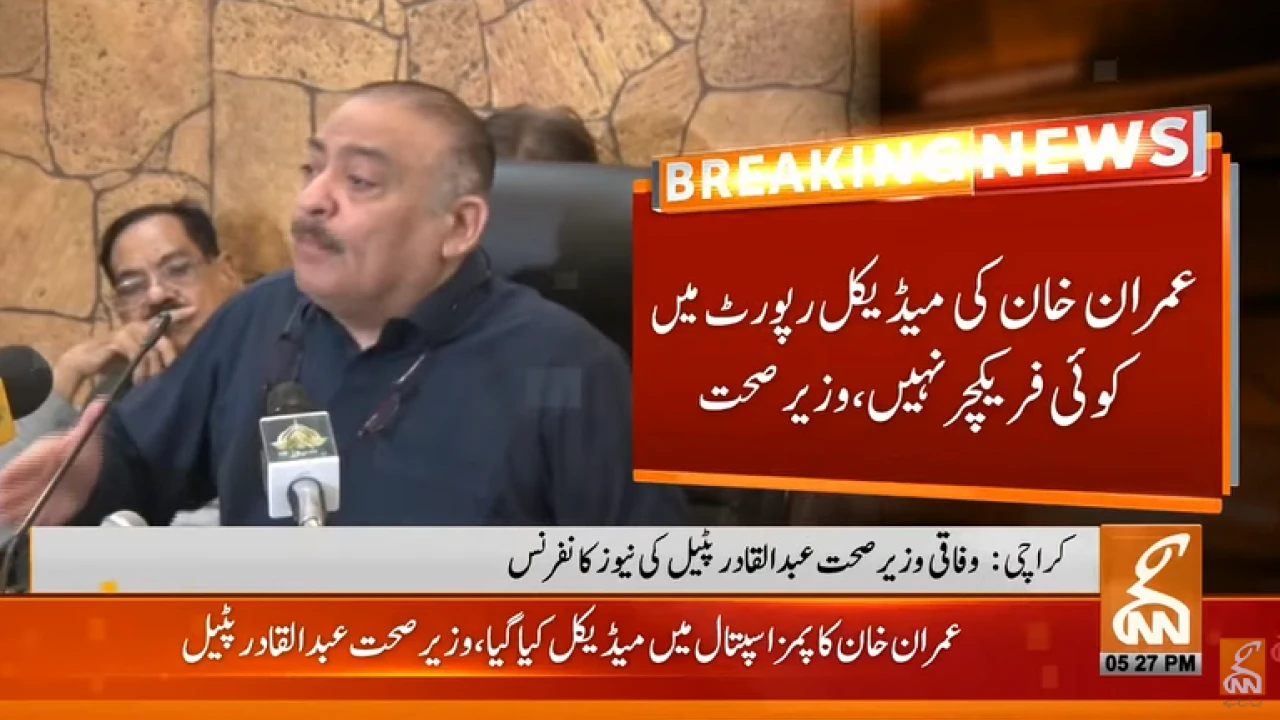 Islamabad: PPP leader and Federal Minister Abdul Qadir Patel said that former Prime Minister and Pakistan Tehreek-e-Insaf (PTI) Chairman Imran Khan was not mentally fit person.
Abdul Qadir Patel claimed that the medical reports of the PTI chairman carried toxic elements including cocaine and alcohol. He said that the initial reports suggested that there were samples of these elements.
"How such person could be declared as Sadiq and Amin?," claimed the PPP leader while addressing a press conference in Karchi on Friday.
Patel asked the people to stop their children from following the path of the PTI chairman.
He stated that Imran Khan's leg did not facture and he did just a drama by wearing 'plaster' on his leg. The minister asked the people to avoid following Imran Khan , claiming that he destroyed the fabrics of the society.
The report was generated after Khan underwent an examination at PIMS hospital subsequent to his arrest on May 9.
During the press conference, Minister Patel emphasized that the report was a "public document" and proceeded to disclose its contents. Notably, the report did not mention any foot fracture, contradicting Khan's claims of sustaining one during the November 3 assassination attempt.
Minister Patel revealed that Khan's urine sample was also taken and the preliminary report unveiled the presence of toxic elements, along with indications of excessive alcohol and cocaine usage.
Additionally, the report addressed Khan's mental health, describing his actions and body language as unfitting for a mentally stable individual. Patel highlighted that the report indicated that such gestures were uncharacteristic of someone with stable mental health.
Expressing his concern, Patel stated, "I have always maintained that Imran Khan's mental condition is unstable." He further criticized Khan for eroding decency, political tolerance, and respect in politics.
Highlighting the disparity between Khan's statements and the medical report, Patel remarked, "Imran Khan's report did not indicate a fracture, but rather [consumption of] powder."
The health minister informed the audience that once the detailed report is available, it will be forwarded to the police. He expressed his astonishment at Khan's actions, suggesting they could only be attributed to an agent or an individual with questionable mental stability.
Patel further disclosed that a five-member panel of senior doctors had raised concerns about Khan's mental stability, adding weight to the ongoing discourse surrounding the former prime minister's mental well-being.
Reflecting on the events of May 9, Minister Patel underscored the exceptional nature of the situation, comparing it to the turbulent times of 1971. He noted that despite differences, they stood united with the army during challenging times.
As the news of Imran Khan's medical report circulates, it is expected to generate further debate and speculation about his fitness for political leadership.