What's the state of the Hollywood strikes?
On the AMPTP's identity crisis, Drew Barrymore, the fall TV calendar, and whether this will ever end.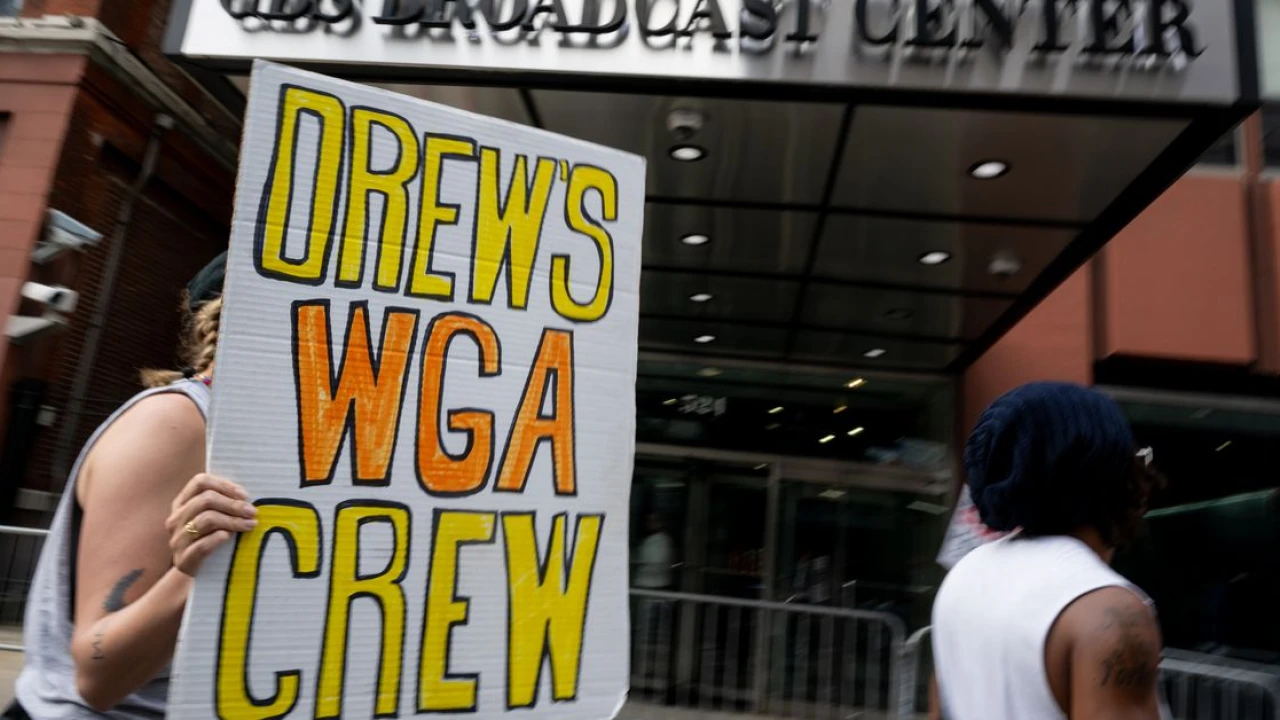 Trying to figure out what's going on with the Hollywood double strike — both writers and actors are still on the picket lines — can feel like peering into a particularly muddled crystal ball. On the one hand, the unions have exhibited extraordinary solidarity; on the other, the AMPTP fired one crisis PR firm and hired another, and has denied rumors of division in its ranks.
But onlookers are likely to have plenty of questions. Here are four of the most relevant, with what we know about the answers.
So where are the Hollywood strikes at now, exactly?
As of publication, both the WGA (the writers' union) and SAG-AFTRA (the actors' union) are on strike over a labor dispute with the AMPTP (the collective bargaining representative for Hollywood's major studios and production companies). The WGA's strike began May 2 and is its longest on record by a sizable margin. SAG-AFTRA has been on strike since July 14; its longest strike on record lasted six months, in 2000.
The lengthy strikes have had serious economic repercussions, particularly on workers in Hollywood — not just those on strike — as well as those affected in one way or another. The studios are also feeling the pinch; in early September, for instance, Warner Bros. Discovery (helmed by the now-infamous David Zaslav) announced it expected a $300 million–$500 million hit to its 2023 earnings, despite its blockbuster Barbie becoming one of the highest-grossing films of all time.
Late last week, the AMPTP and the WGA announced that they were planning to resume talks this week. On Monday, September 18, they announced that talks would begin on Wednesday, September 20. Should the writers and the studios reach an agreement, it would likely form a template for the actors as well, and thus the strikes could end.
Or they might keep going.
What's been going on with Drew Barrymore?
In brief: On September 10, Barrymore announced that her very popular talk show would be returning to air, without its writers and "in compliance" with strike rules. She was roundly criticized for the move, and on September 15 she posted an emotional video response to the criticism without backing down. (It was later deleted.)
Then on September 17, a day before the show was set to return, she announced that she'd changed course, and the show would not return until the WGA strike ends. The Jennifer Hudson Show and The Talk, both set to resume on September 18 as well, announced they wouldn't return either.
To untangle what happened here, it's worth getting the facts straight: while Barrymore is a member of SAG-AFTRA, her show (and others like it) is not part of the contract that SAG-AFTRA is striking over. So her mere appearance on the show would not itself be scabbing. In fact, by refusing to appear on the show, the network (the show airs on CBS and Paramount+) could technically sue her for refusing to fulfill her contract. (She's a huge star, and they probably won't, because they probably want her back when the strikes end.)
However, her show is covered by the WGA contract. Her plan was to "not have writers," which seems to mean that there would be no scripted segments and everything would be ad-libbed, including interviews. But as our colleagues over at Vulture point out, a big question here involves what "writing" actually means – and whether doing a show at all involves de facto scabbing. Barrymore seems to have come around to that idea.
In any case, Drew Barrymore is hardly the only talk show host who thought about going back on the air. The View's two writers covered by the WGA have been on strike, but the show has been airing, and thus it's been picketed. Over at HBO, Bill Maher announced the return of his show, to considerably less hubbub than Barrymore – perhaps a testament to the difference in cultural perception of the two. But pressure, it seems, works: On September 18, Maher too announced that he'd delay the return of his show until the strike resolved.
There's precedent for all of this in the 2007-08 strike, when Ellen DeGeneres returned to air the day after the strike began, claiming her monologue was improvised. David Letterman's production company cut a side deal with the WGA, which allowed his show and Craig Ferguson's to return, while The Daily Show (hosted then by Jon Stewart) and The Colbert Report returned without writers as well, their hosts purportedly improvising everything on the spot.
It's safe to assume that the particular ire directed at Barrymore is a testament to her previously beloved status. As such, staying off the air is both an act of solidarity and an attempt not to completely tank her reputation. But the kerfuffle has had the effect of drawing the strikes back into public attention, at a moment that could prove crucial to the negotiations.
Why doesn't the AMPTP just give everybody what they want?
That's a great question, and one that everyone is asking. The easiest way to understand this, still, is what I wrote back when SAG-AFTRA joined the WGA on the picket lines in July: "The reality is that studios and production companies are increasingly embedded in larger corporations and tech companies that are beholden to shareholders, and the way they think and talk about profit and revenue is different from the way the people who take home a paycheck do."
Since then, I've thought a lot about another factor that may be in play here. It's worth remembering that the AMPTP is not a union, the way the WGA and SAG-AFTRA are. In a union, members act in solidarity with one another. But the AMPTP is an association of directly competitive companies (like Disney, Warner Bros. Discovery, Netflix, Apple, and many more studios and production companies), formed for the purpose of negotiating contracts with the unions.
That is important to remember, largely because these companies have wildly different business models. If you're in charge of movies and TV at Apple, your business is the teensiest slice of an enormous pie, and nobody's counting on you to keep the business afloat; that's what the AirPods are for. The stuff you make exists partly for prestige (Apple, for instance, was the first streamer to clinch a Best Picture win at the Oscars, and its TV shows like Ted Lasso have raked in the acclaim) and partly as a fun extra for people to watch on their new Apple gadgets.
If you're at a more traditional studio, though — say, Disney — then while movies and TV aren't your only revenue source, they are the basis for everything else. You need to show profit to your investors to keep them interested, and the thing you make is what people most closely associate with your brand.
If the strike were to wear on for a very long time, it would hurt both the Silicon Valley companies and the more traditional studios. But it's pretty clear who would hurt more. I've never been asked to run a giant media company, but if I was the head of, I don't know, Amazon Studios right now, I might be seeing an opportunity to hurt my competition.
I cannot possibly claim that this is definitely happening, though the WGA certainly has made the case to the traditional studios that they should think about it, and observers have suggested it may be inevitable. In any case, it's hardly out of the realm of possibility, and could be part of why there's so much weird messaging coming from the AMPTP: the interests within the organization are divided.
When will I be affected by the strike?
You already have been affected by the strikes, though you might not have noticed.
For instance, the Emmys, which were originally scheduled for September 18, were postponed and are now set for January 15, 2024. Not only does an awards show need writers, but people tune in to watch actors, who are prohibited from promoting struck work. Most people are counting on the strike having ended by then, but if it hasn't, that may endanger the Oscars, which are currently set for March 10.
Similarly, some movie release dates have been pushed forward, with their studios claiming they can't adequately promote the films without the participation of their stars. Perhaps the biggest example is Dune 2, starring Timothee Chalamet and Zendaya; on August 24, Warner Bros. announced the film would be bumped from its late 2023 date and rescheduled for March 15, 2024. Similarly, Challengers (which also, oddly enough, stars Zendaya alongside Mike Faist and Josh O'Connor) was yanked out of its scheduled opening night berth at the Venice Film Festival, since its stars wouldn't walk the red carpet in support of the film.
But most movies are hanging onto their original slots, at least for now — and that includes everything from Martin Scorsese's Killers of the Flower Moon (out October 20) to Wonka (out December 15). Furthermore, while the fall festivals in Venice and Toronto were a little anemic with most stars avoiding the red carpet, they weren't entirely devoid of buzz. A24, for instance — which isn't a member of the AMPTP — has managed to get waivers for its own productions, and its stars showed up to promote A24 films. That could have a huge effect on awards season if the strikes continue, since hand-shaking and post-screening panels can go a long way toward landing awards.
And in all likelihood, you're going to notice the strikes' effects most in the fall TV season. A handful of previously shot scripted shows (like The Other Black Girl and The Morning Show) remain on the schedule, while others (such as Grey's Anatomy or Abbott Elementary) won't be back, for now. The late-night talk shows aren't coming back yet, either. Instead, it's mostly game shows and reality shows, neither of which are covered by the contracts the guilds are striking over. Documentary series may also premiere, and there are some shows in the can, like the newest season of American Horror Story, for which star Kim Kardashian crossed the picket line. (The work stoppage did eventually shut down AHS production, and this "season" will be part 1 of 2.)
Of course, if you're like me, your TV diet is mostly made up of shows you know you should have watched by now. You may stream them from some app, and you have very little idea when new shows premiere, or even what's currently airing. So who knows if you're going to see the difference — and if the strikes end soon, it may only register as a blip.
But if the talks with the unions and the AMPTP break down, then the strikes seem likely to keep going. That content's going to dry up. And what that means for Hollywood is still a big, glaring open question.