Ayesha Akram's latest audio clip sparks fresh controversy
Lahore: Another audioclip has leaked, based on TikToker Ayesha Akram and her partner Rambo's conversation regarding the Minar-e-Pakistan mob harassment case.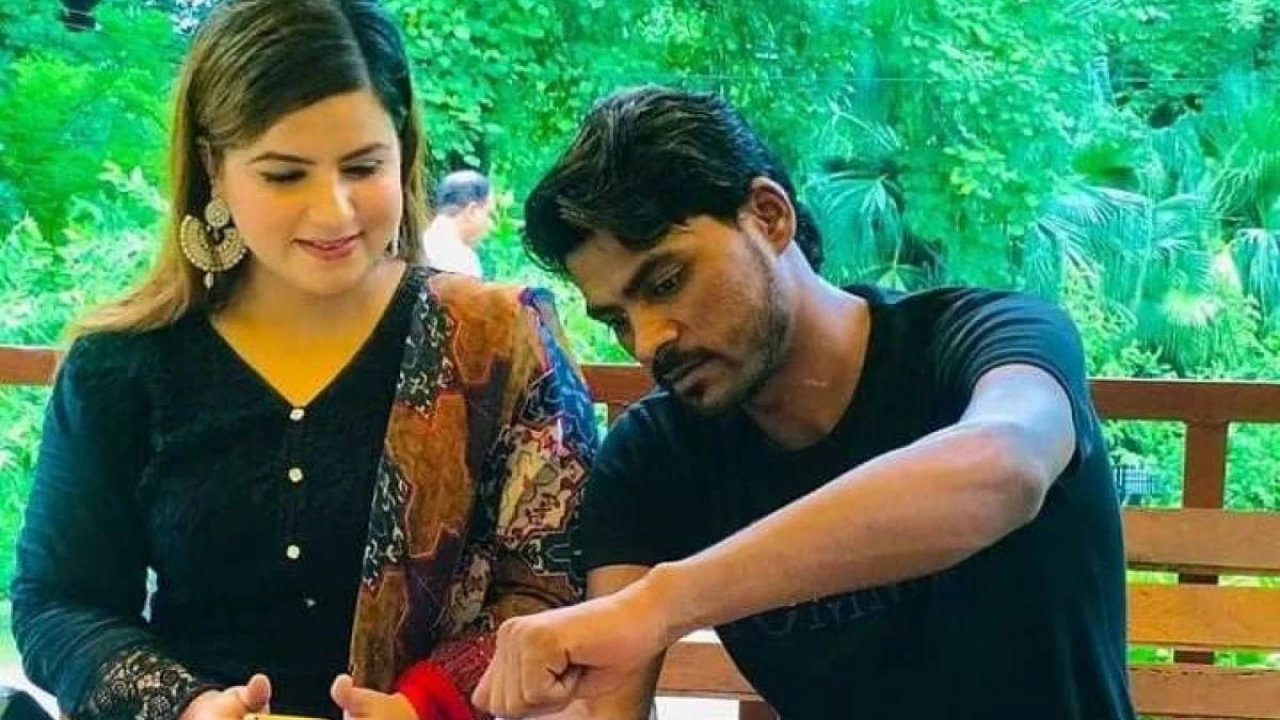 According to media details, the new leaked telephonic conversation has gone viral on social media, both of them can be heard planning the event of 14th August.
The police investigators have allegedly found an audio clip of both in which Rambo asked Ayesha Akram to go to Greater Iqbal Park ( Minar-e-Pakistan ).
In the audiotape, Rambo kept saying to reach the park by 4 pm, at Iqbal Park and see your rating, as they have legal security.
Meanwhile, Rambo told Ayesha to wear the frock he gave her gift, while Ayesha replied that she had taken out a separate suit for August 14.
"You just have to check your worth and the love of the people," Rambo replied to Ayesha.
In reply, Ayesha Akram says that she knew how much he has honored her before.
Earlier, another alleged telephonic conversation between Ayesha and her partner went viral in which they can be heard planning to blackmail and extort the detained suspects.
The victim can be heard saying that she identified six persons from whom they could extort around Rs600,000 for each. Rambo told her that the arrested persons belonged to poor families and they would not be able to get that sum from them. On this, Ayesha suggests they should reduce the amount to half a million.
Meanwhile, the alleged audio leaks have given the harassment case a new turn. Furthermore, Ayesha had also complained that Rambo and his companions were blackmailing her and hurled threats on her.
She alleged that it was Rambo who planned to visit Greater Iqbal Park on Independence eve. She also charged in the application that Rambo and his accomplices had got hold of her nude video and were blackmailing her for the past three years.
EU re-establishing 'minimal presence' in Kabul
Embassy is being opened after five months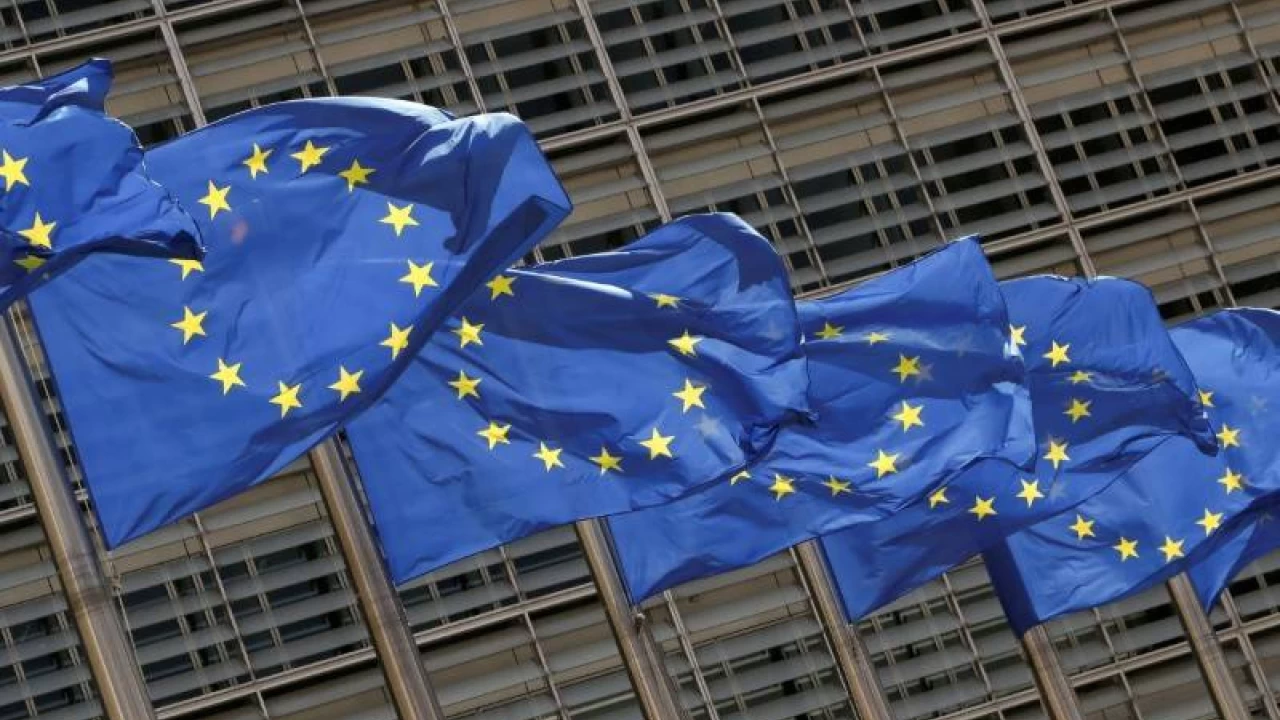 The European Union on Thursday announced it had begun re-establishing a "minimal presence" in Kabul to facilitate the delivery of humanitarian aid in Afghanistan.
"Our minimal presence in Kabul must not in any way be seen as recognition" of the Taliban government there," EU foreign affairs spokesman Peter Stano said in a statement.
"This has also been clearly communicated to the de facto authorities," he added.
Afghanistan is in the grip of a humanitarian disaster, worsened by the Taliban takeover in August that prompted Western countries to freeze international aid and access to billions of dollars worth of assets held abroad.
The country was almost entirely dependent on foreign aid under the previous US-backed government, but jobs have dried up and most civil servants haven't been paid for months.
No country has yet recognised the Taliban, with most watching to see how the hardline Islamists -– notorious for human rights abuses during their first stint in power -– restrict freedoms.
Shortly before Stano made his comments, an Afghan foreign ministry spokesman said on Twitter that the EU was reopening "an embassy" with "a permanent presence in Kabul" for the first time in five months.
Stano said in the statement "the EU has started to re-establish a minimal presence of international EU Delegation staff to facilitate the delivery of humanitarian aid and monitor the humanitarian situation".
The international community is waiting to see how the Taliban Islamic fundamentalists intend to govern Afghanistan, after having largely trampled on human rights during their first stint in power between 1996 and 2001.
While the Taliban claim to have modernised, women are still largely excluded from public employment and secondary schools for girls remain largely closed.
Several countries, including China. Russia, Turkey, the United Arab Emirates and Iran have kept their embassies in Kabul open since the Taliban victory last year, but have not formally recognised their government.
Western diplomats began to evacuate their personnel in the first half of 2021, when American troops began operations to withdraw permanently from Afghanistan.
The withdrawal culminated at the end of August with the chaotic evacuation of 120,000 people following the Taliban's lightning conquest of the country.
Nadal beats Khachanov, qualifies for 4th round in Australian Open
Olympic runner-up Khachanov had lost all seven previous meetings with 2009 Australian Open champion Nadal but briefly looked capable of mounting a comeback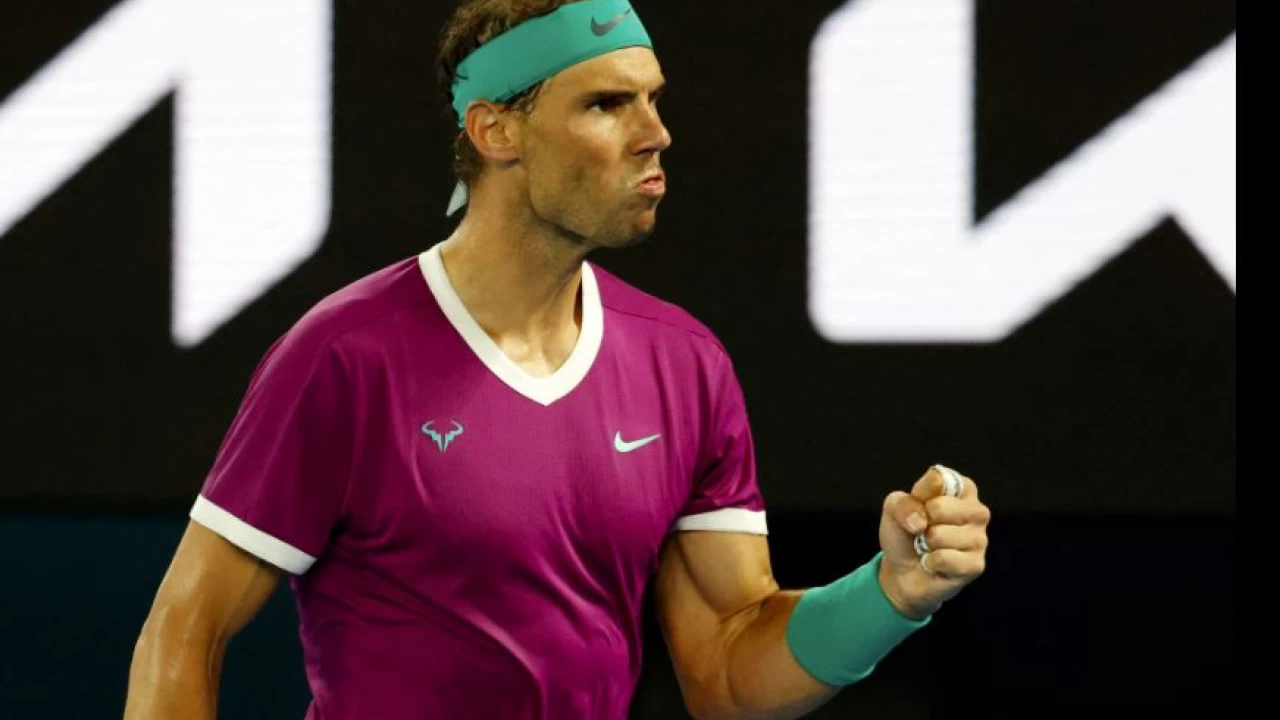 MELBOURNE: Sixth seed Rafa Nadal dropped his first set at this year's Australian Open but still powered through to the fourth round with a 6-3 6-2 3-6 6-1 defeat of Karen Khachanov on Friday.
The Spaniard, seeking to claim a record 21st Grand Slam title in the absence of great rivals Roger Federer and Novak Djokovic, was sensational as he took a two-set lead.
But Khachanov, seeded 28th, threw caution to the wind in the third set, stalling Nadal's charge with some ferocious hitting.
Olympic runner-up Khachanov had lost all seven previous meetings with 2009 Australian Open champion Nadal but briefly looked capable of mounting a comeback.
Nadal seized back control with a break of serve at the start of the fourth, however, and with the clock having ticked past midnight on Rod Laver Arena he finished it off in a hurry.
Nadal, who has reached the last-16 in Melbourne for the 15th time in 17 appearances, will face another Russian, 18th seed Aslan Karatsev, or Frenchman Adrian Mannarino next.
"I played a great player tonight and happy that this was my best match since coming back," the 35-year-old Nadal, who missed the second half of 2021 with a foot injury, said on court.
"I've been going through some tough times in the last year but night's like tonight mean everything."
With Federer still injured and nine-time Australian Open champion Djokovic deported after a visa row, Nadal has a chance to edge ahead of that duo with whom he shares the record for most men's Grand Slam titles.
After routine wins against 66th-ranked American Marcos Giron and German qualifier Yannick Hanfmann in rounds one and two, Khachanov represented a step up in class for Nadal despite the Russian having only ever won one set off the Mallorcan.
Nadal was primed though and won 12 of the first 13 points to stamp his authority all over the court.
Khachanov had no answer to Nadal's intensity and managed to win only one point on Nadal's serve in the opening set.
Nadal broke serve at the start of the second set but Khachanov won an incredible point in the fourth game, picking himself off the floor to crunch a backhand winner and then winning another incredible rally to earn a break point.
He could not convert that and Nadal immediately broke in the next game on his way to a two-set lead.
Khachanov began to hit closer to the lines and with more menace in the third set, which he took after breaking the Nadal's serve for the first time for a 3-1 lead.
Nadal simply found another gear though, firing a stunning backhand winner to break Khachanov's serve, and spirit, in the second game of the fourth set.
SOURCE: REUTERS
Ukraine dispute: US, Russia agree to continue talks despite no breakthrough in FMs meeting
Russia doesn't want Ukraine to be part of NATO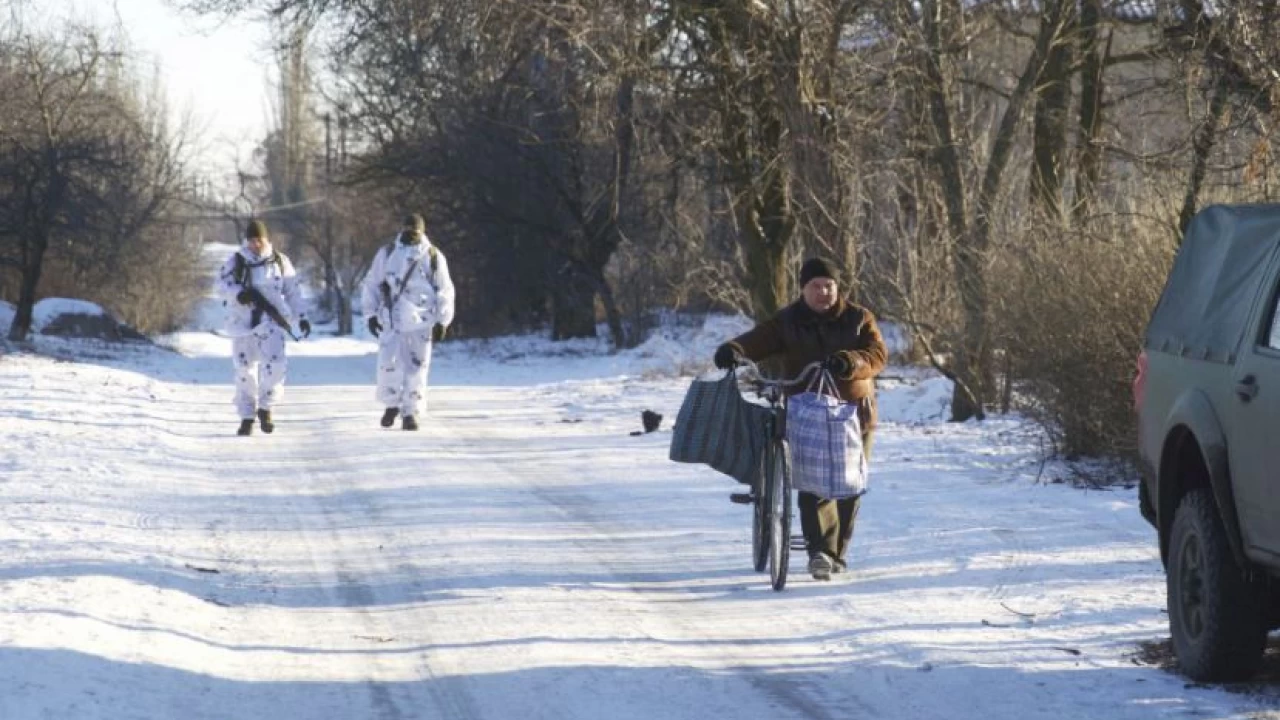 GENEVA: The top US and Russian diplomats made no major breakthrough at talks on Ukraine on Friday but agreed to keep talking to try to resolve a crisis that has stoked fears of a military conflict.
After the talks in Geneva, U.S. Secretary of State Antony Blinken warned of a "swift, severe" response if Russia invades Ukraine after massing troops near its border and Russian Foreign Minister Sergei Lavrov said Moscow was still waiting for a written response to demands for security guarantees.
But both said they were open to further dialogue, and Blinken saw grounds to hope that mutual security concerns could be addressed.
"Based on the conversations we've had -- the extensive conversations -- over the past week and today here in Geneva I think there are grounds for and a means to address some of the mutual concerns that we have about security," Blinken said.
He described the talks as "frank and substantive" and told reporters that Russia now faced a choice.
"It can choose the path of diplomacy that can lead to peace and security, or the path that will lead only to conflict, severe consequences and international condemnation," Blinken said, adding that diplomacy would be preferable.
"We've been clear - if any Russian military forces move across Ukraine's border, that's a renewed invasion. It will be met with swift, severe and a united response from the United States and our partners and allies."
Lavrov said the ball was in Washington's court.
Describing the meeting as open and useful, he said Moscow would understand whether talks were on the right track once it had received a written response to its sweeping security demands from the United States.
"I can't tell you if we're on the right track or the wrong track. We'll understand this when we receive the American response on paper to all the points in our proposal," Lavrov said.
Russia's demands include a halt to NATO's eastward expansion and a pledge that Ukraine will never be allowed to join the Western military alliance.
Blinken said he expected to share with Russia "our concerns and ideas in more detail and in writing next week" and said he and Lavrov had "agreed to further discussions after that".
Russia and the United States could hold another meeting next month to discuss Moscow's demands for security guarantees, Russia's RIA news agency quoted a source in the Russian delegation as saying.
'LET'S NOT GET AHEAD OF OURSELVES'
Lavrov said Russia had worries of its own, "not about invented threats, but real facts that no one hides - pumping Ukraine with weapons, sending hundreds of western military instructors".
Asked about the possibility of a summit between President Vladimir Putin and U.S. President Joe Biden, Lavrov was circumspect.
"Let's not get ahead of ourselves, President Putin is always ready for contacts with President Biden, it's clear these contacts need to be seriously prepared," he said.
Washington's hopes of building a united front of opposition to Moscow were complicated by U.S. President Joe Biden's comments at a news conference on Wednesday in which he suggested that allies might be divided on how to respond to a "minor incursion" by Russia into Ukraine.
Before Friday's meeting, Blinken swung through Europe to try to shore up U.S. allies' commitments to hit Russia with economic sanctions if it goes ahead with an invasion of Ukraine.
In Kyiv on Wednesday, Blinken assured Ukraine of U.S. support. Blinken, before meeting German, French and British officials in Berlin on Thursday, said Russian President Vladimir Putin could order an invasion imminently.
Blinken's deputy, Wendy Sherman, and Lavrov's deputy, Sergei Ryabkov, also met in Geneva last week, without a breakthrough.
SOURCE: REUTERS