Federal Tax Ombudsman 'vows to eradicate maladministration' in FBR               
Lahore: Federal Tax Ombudsman Dr Muhammad Asif Jah Monday said their institution is using all legal powers and resources to check individual and system based maladministration and corrupt practices in the Federal Board of Revenue to restore taxpayers' confidence in the tax administration.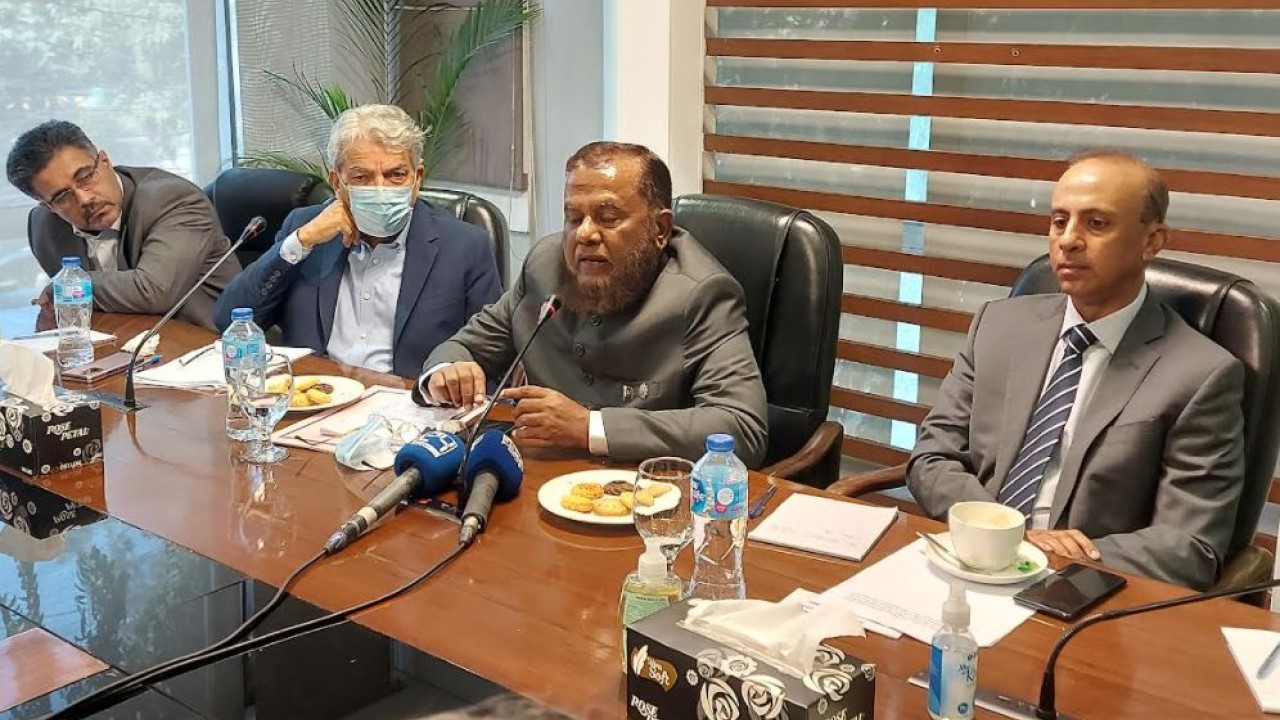 Addressing members of the All Pakistan Textile Mills Association (APTMA) here on Monday, he said only a fair, just, easy and efficient tax system can ensure better revenue collection, which is vital for country's growth.
He was welcomed by Chairman APTMA Mr. Abdul Rahim Nasir, Chairman Northern Zone Mr. Hamid Zaman, Senior Vice Chairman Mr. Kamran Arshad and Secretary General APTMA Mr. Raza Baqir.
Dr Asif Jah said that the office of FTO is not only handling the complaints received from taxpayers but through its mechanism of own motion cases and inspections, it was hectically engaged to check maladministration in tax administration and make recommendations.
He emphasized the point that the FTO institution provides cost free, efficient and merit based mechanism to aggrieved persons. Also, it checks revenue leakages and contribute towards ensuring a better tax collection deterrence to the corrupt tax officials.
He said that the outreaching program of the FTO office was one of the key functions of his office. Even the President of Pakistan has directed to not only expedite it but also enhance its scope, he added.
He further said his office would ensure the end of the culture of nonresponsive attitude of tax officers to the taxpayers, as he is issuing instructions to the Chairman FBR In this regard. FTO added that he would ensure its implementation as well.
FTO also sought APTMA's representation in the Advisory Committee of FTO Lahore for resolution of tax issues faced by the members of the Association. He urged the FBR senior officers to enhance interaction with business community for an early resolution of their problems.
On the issue of missing amounts of refund claims of the export-oriented industry, he advised the members of the Association to file complaints with the office of FTO for officially taking up the matter with FBR.
He told the APTMA members that the office of FTO had received 3888 cases in 2020 with a disposal of 3,555 cases in the same year. The ratio of acceptance of the FTO recommendations stood at 80.03% while only 19.9% were challenged by the competent authority. He said the average disposal time was 48.61 days in 2020. The office of FTO had carried out 35 research studies in 2020 as well, he added.
Dr. Asif Jah appreciated the role of the textile industry in the economy and exports of the country and promised to take all possible measures to attend to the issues and concerns raised by the APTMA members. He said no country can grow without facilitating its business community. He urged the trade and industry to consider the FTO office as their own advocate against high handedness by the tax functionaries. He reiterated that his office was for the service of genuine and honest taxpayers with the mandate of eliminating maladministration from the tax machinery.
Earlier speaking on the occasion, Mr. Abdul Rahim Nasir welcomed the appointment of Dr. Asif Jah as Federal Tax Ombudsman who is an icon of honesty and public service. He thanked the Ombudsman, Chief Commissioners Inland Revenue, Chief Collectors
Customs, Director Intelligence & Investigations, Advisors and other senior officers from FBR and FTO for visiting the APTMA to listen to taxpayers issues.
Rahim apprised that the textile industry is mainstay of Pakistan's economy with 60% share in total exports and 40% share in manufacturing sector employment. With the injection of new investment of $ 5 Billion in textile sector, 100 new plants would be added during the year to provide 500,000 jobs.
He said that with the help of Regionally competitive energy tariff of 9c/Kwh for electricity and $ 6.5/MMBTU for gas, textile sector was poised to achieve current's export target of $ 21 Billion this year and $ 50 Billion during the next five years.
Mr. Hamid Zaman, Zonal Chairman, APTMA highlighted major tax concerns of the business community. He severally criticized FBR circular empowering field officers with the powers of attaching bank accounts without any prior intimation. He said the said circular is contrary to scores of decisions by the superior courts that recovery can only be affected after the liability is established at least at the level of an independent forum. He added that the new circular would promote cash economy due to risks of seizing bank deposits of taxpayers by FBR.
Zaman demanded withdrawal of the condition of payments in digital mode. He said there was no justification for substituting the existing mode of payment through crossed cheques and banking channel which are well serving the purpose of documentation of economy.
He criticized the FBR for initiating criminal proceedings against hundreds of taxpayers simultaneously without establishing any tax fraud even in cases where full compliance of law was made and payments were made through banking channel.
Zaman vociferously criticized FBR instruction dated October 13, 2021 disallowing trade discounts to Sales Tax Registered Retailers. He said that retail sector all over the world allows discounts to customers. He feared that non admissibility of trade discounts to registered retailers will cripple them and compel them to get themselves deregistered. He demanded immediate withdrawal of these instructions and allowing trade discounts to restore confidence among sales tax registered retailers.
Mr. Kamran Arshad, Senior Vice Chairman presented a vote of thanks to the visiting FTO, senior FBR and FTO officers and for patiently responding to the grievances and issues raised by the member mills. He hoped that Honorable FTO will adopt all possible measures for the resolution and redressal of these grievances.
Malik Naeem Khan, Vice President All Pakistan Aluminum Manufacturing Association, and Malik Tallat Suhail, representative from PCGA / FPCCI also raised the issues of their respective sectors on the occasion for the attention of the FTO.
Messi wins Ballon d'Or for seventh time
Argentine football great Lionel Messi defeated Robert Lewandowski of Polish (Bayern Munich Club) and Georginho (Chelsea) of Italy for this annual award for the best player in the world of football.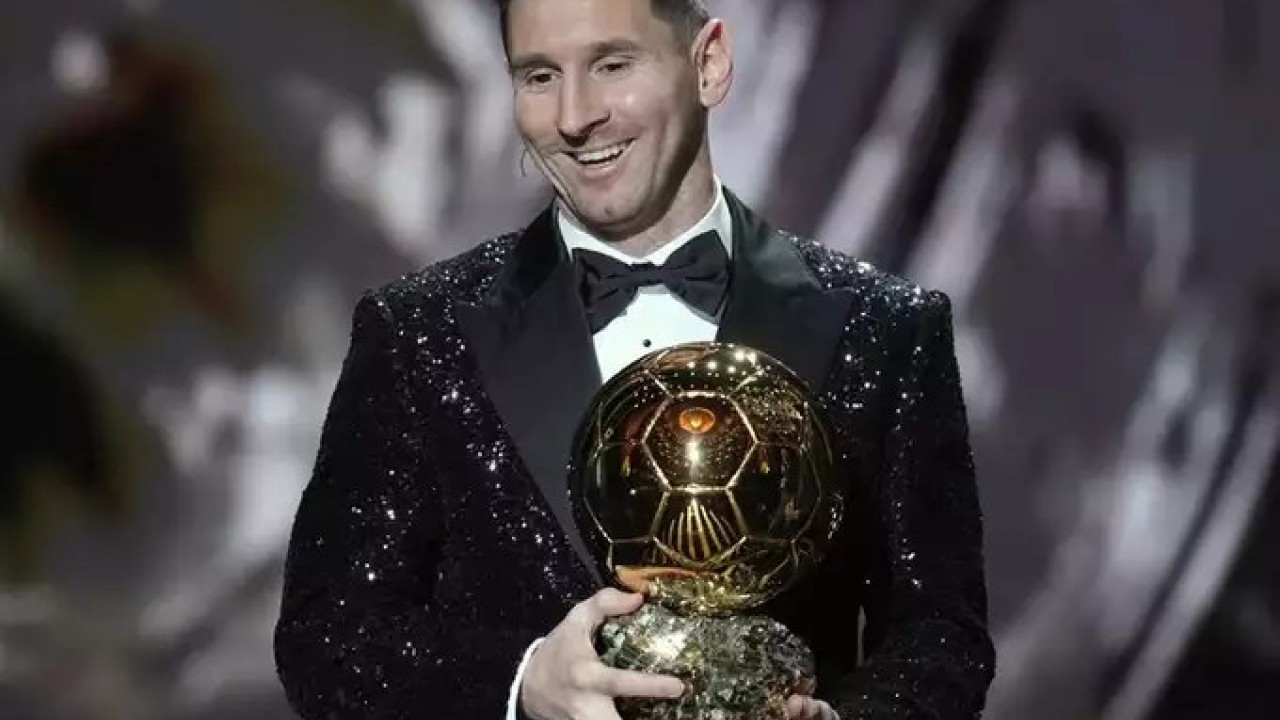 Paris: Argentina and Paris Saint-Germain forward Lionel Messi has created history as he won the Ballon d'Or award for a record-extending seventh time late on Monday night.
Argentine football great Lionel Messi defeated Robert Lewandowski of Polish (Bayern Munich Club) and Georginho (Chelsea) of Italy for this annual award for the best player in the world of football.
By winning the award, Messi has gone several miles ahead of Portugal's star striker Cristiano Ronaldo in terms of winning the most Ballons d'Or.
The 34-year-old Messi now has 7 awards to his name, while 36-year-old Ronaldo has won this honor 5 times.
Besides this, the star footballer claimed a maiden Copa America title with his country this year and was top scorer in La Liga for the 2020-21 season with 30 goals.
Messi ​​won the Best Player of the Year award for the first time in 2009. He won this title in 2009, 2010, 2011, 2012, 2015, 2019 and now in 2021.
Messi joined PSG on a free transfer from Barcelona during the off-season and collected 613 points to finish ahead of Lewandowski (580) and Chelsea's Italy midfielder Jorginho (460) at a star-studded ceremony in Paris.
For the unversed, Messi and Ronaldo have won this award a total of 12 times since 2008. Thus, both players are dominating the world of football.
Awarded by France Football magazine, the Ballon d'Or has been awarded since 1956.
ULaw, ICMAP ink partnership agreement for academic opportunities
The University of Law signs Partnership Agreement with the Institute of Cost and Management Accountants of Pakistan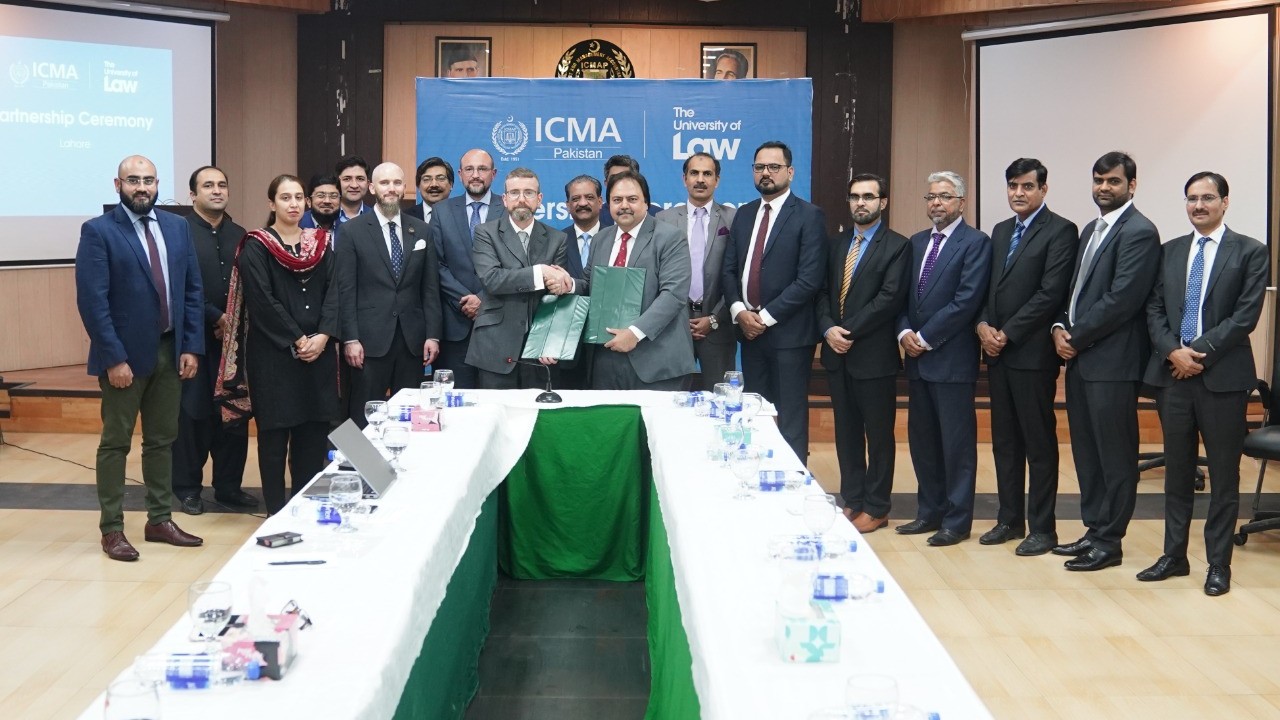 Lahore: The University of Law (ULaw) and Institute of Cost and Management Accountants of Pakistan (ICMA Pakistan) on Monday signed a partnership agreement to provide academic options to the members of ICMA Pakistan to study masters degrees awarded by ULaw.
A ceremony was held at ICMA Lahore Office where the agreement was signed and attended by senior officials from both organisations.
As a result of this agreement, ICMA Pakistan's Associates and Members will be given access to highly specialised masters degrees in Global Accounting and Financial Management at The University of Law at preferential rates.
Students will be able to study these qualifications online whilst pursuing their employment or at one of the 12 teaching locations in the UK and Germany.
Addressing the ceremony, Professor Crisp said: "We are excited about this collaboration in Pakistan. ICMA Pakistan is an organisation of great importance and its members play a pivotal role in the economic development of Pakistan. The University of Law Business School will not just support this agreement but also work closely with ICMA Pakistan to support the employability agenda"
Zia Ul Mustafa Awan speaking on the occasionb said: "This is our first academic partnership with a top tier University in Great Britain. This partnership is a testament of great work my team is doing to elevate not just the finance profession and ICMA Pakistan but also the profile of our beloved country. "
Present at this event were Professor Peter Crisp, Deputy Vice Chancellor Law, Zia Ul Mustafa Awan, President ICMA Pakistan; Dr Andres Perez, Director Business School, The University of Law; Faisal Azeem, Managing Director - Pakistan, Global University Systems; Kelvin Jones, Director of International, Global University Systems; Sabahat Khan, Chief Operating Officer - Pakistan, Global University Systems and Aamir Ejaz Khan, Executive Director, ICMA Pakistan and senior members of ICMA Pakistan Council.
Rocker Bryan Adams, other music starts perform in Pirelli calendar
Cher, Rita Ora, Iggy Pop, Jennifer Hudson and other music stars take centre stage in the 2022 Pirelli calendar unveiled on Monday, shot by Canadian rocker and photographer Bryan Adams.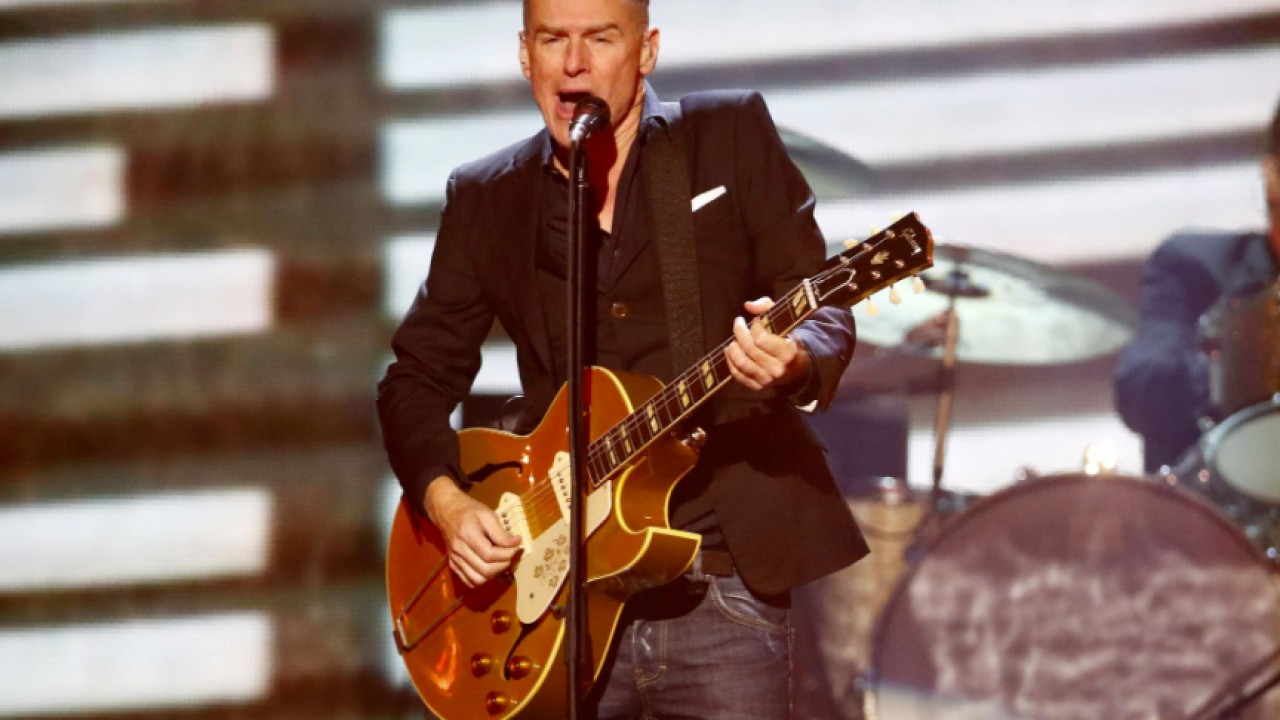 However the 62-year-old was unable to unveil his take of the famed calendar in person in Milan after testing positive for COVID-19 upon arrival in Italy last week. He joined a press conference remotely via video.
Called "On The Road", the calendar seeks to depict a day in the life of a touring musician.
Its cover shows guitarist and singer St. Vincent posing with a Pirelli guitar pick on her tongue. It features pictures of Cher and Pop in dressing rooms, Ora in the bath, rapper Saweetie pushing a luggage trolley and Hudson surrounded by flowers.
Rapper Bohan Phoenix poses on a piano while musician Grimes' photo is set in a futuristic setting. Adams, who snapped the photos in Los Angeles, Capri and Canada last summer, also features.
"With all these pictures, fantasy plays a big part in trying to create something," he said in a statement. "Because you don't want it to be literal, you want it to be glamorous, yet it gives the impression of what it might be like."
Adams said last week that he had tested positive for COVID-19 after flying into Milan and was going to hospital. It was the second time in a month he had tested positive for the virus. He has since posted photos, thanking doctors and nurses looking after him.
Adams is best known for songs like "Summer of '69", "Heaven" and "(Everything I Do) I Do It for You".
As a photographer, he has snapped Mick Jagger and Naomi Campbell, as well as Britain's Queen Elizabeth. He has also published books of his photos, including one on injured British soldiers.
First published in the 1960s, the Pirelli calendar has a limited run and is usually gifted to the company's clients. In recent years, it has moved away from featuring images of scantily-dressed models to more artistic themes, featuring various celebrities.
The 2021 edition was suspended due to the pandemic.
SOURCE: REUTERS