America, China and 'Absolutely Not'
"Absolutely not" are the two words that have remained talk of the town in terms of relations between Pakistan and the United States in the past few days.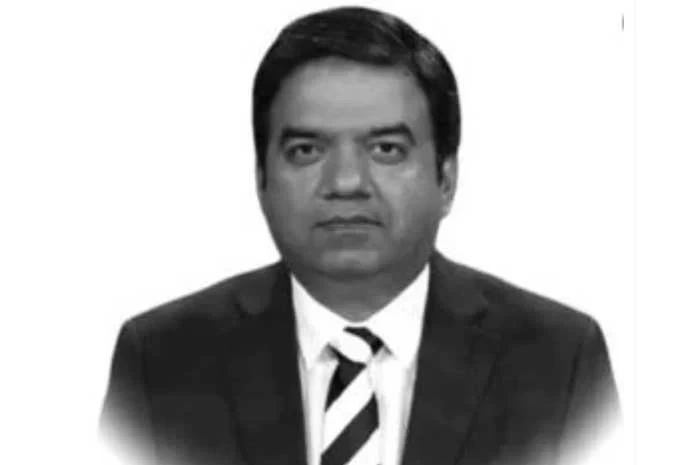 How will the relations between the two countries go after the withdrawal of US forces from Afghanistan? These two words are much significant in the backdrop of Pak-US relations.
What the US is thinking after quitting Afghanistan? What will be its priorities in the region? An important statement of US President Joe Biden carries much significance in this perspective. When he was asked by a reporter regarding the US policy towards Afghanistan last Saturday, the US president said "Ask me something else and positive". This means now the US regime isn't only winding up its 20-year military expeditions in Afghanistan, but is also not even ready to discuss Afghanistan. But side by side the instability and violence is being feared in Afghanistan.
The Taliban are increasing their influence in various districts after the 'silent' departure of US forces. Where does Pakistan stand in this fast-changing environment? What our political and military leadership is thinking about it? Prime Minister Imran Khan gave a detailed visit to Gwadar- the port city of Balochistan- on Monday last and the most important thing during his trip was his speech in which he (Imran Khan) highlighted three points in a clear tone.
"India is the biggest loser in Afghanistan. The Indian regime wants to enhance its influence in Afghanistan after the withdrawal of US forces so that an important country in the region could become its ally to create further difficulties for Pakistan. However the premier seemed optimistic that India isn't getting "desired' results while being staying in India. He further said in his speech that the Biden administration is perplexed over current situation in Afghanistan. If President Biden's statement has to be kept in mind the situation is the same as depicted by the premier. The way the US emptied the biggest airbase of Bigram overnight is an indication that, "we are leaving and you deal the situation on your own".
Third important point in the PM's speech was a hint to resume negotiations with the disgruntled elements in Balochistan and declare Gwadar a focal point of Pakistan in future. The talks with miscreants mean to bring peace to Balochistan. The 'absolute' peace means more economic activities, and opportunities for businesses and jobs. Eventually Balochistan will start competing with other provinces. The Gwadar's importance carries much weight in this context. Gwadar's development and peace in Balochistan are equally important for both Pakistan and China.
Where Prime Minister Imran Khan said "absolutely not" to the US there he has taken principled stand during his interviews and statements that Pakistan will side with China. According to him, the US and the western countries could not create rife in the Sino-Pak bond even by pressuring through certain means. In this scenario, Gwadar is once again in news and any progress on CPEC simply means China wants to promote trade activities in the region and ultimately China's influence would grow further. China is ready to play its important role in Afghanistan after the US departure. With the advancement of the Taliban a question arises if they (Taliban) are capable of bridging the gap of balance of power in Afghanistan? Another question comes to minds what role China can play in Afghanistan especially when the Chinese government follows the policy of non-interference.
China is ready to cooperate with the Taliban in case violence grows in the war-torn country and disturb Afghan border with China. China is already in contact with the Taliban in this regard. The international media is keeping an eye on what China is thinking about it and what is its next move? Recent news published in the Financial Times quoted an Indian official as having said China after extending cooperation to the Taliban wants to rebuild the destroyed infrastructure in Afghanistan. As Pakistan is the most important ally in the region, China will use Pakistan for funding to the Taliban in this regard.
Another diplomat claimed in the same story that China would extend help to the Taliban on Pakistan's request. China in return would require that Taliban discontinue their relations with the militants group- China calls it Eastern Turkistan Islamic Movement- present along the Chinese border with Afghanistan. According to the United Nations' Security Council the group has 3,500 fighters and some of them are present in Afghanistan close to China's border. The UN and the US enlisted the movement in the list of terrorist organizations in 2002, but last year the US had removed it from the said list.
China blames the movement for committing anti-state activities in Sinkiang province and has already stressed upon the Central Asian Republics (CARs) like Tajikistan, Uzbekistan, Turkmenistan, and Kazakhstan to act against the militant group. In May this year the Chinese Foreign Minister had made it clear to the foreign ministers of CARs to act against three-pronged powers of extremists, terrorists and separatists.
The major objective behind this action is to protect the Silk Route (that China says is their belt and Road initiative). The project envisioned by Chinese president Xi Jinping aims to build infrastructure in countries and creating Chinese influence over there.
According to analysts, by ensuring stability in Afghanistan China wishes to protect Belt and Road Initiative projects in Pakistan and CARs and aims to open corridors of investments in Afghanistan. China has always adopted cautious approach towards sending its army outside, but it can become the part of peace-keeping missions in Afghanistan if resolutions of the United Nations are implemented.
Instability in Afghanistan and rise of extremism are disturbing factors for China as for as situation in Sinkiang is concerned. Keeping in view its economic interests, it will be difficult for China to keep itself aloof of the political and security situation in the region. The US is leaving Afghanistan with mere promises of continuing with air assistance. Here another question arises if stable Afghanistan is crucial for China, is isn't the same for the US?
Bordeaux town hall set on fire in France pension protests
Police used tear gas and were pelted by objects and fireworks.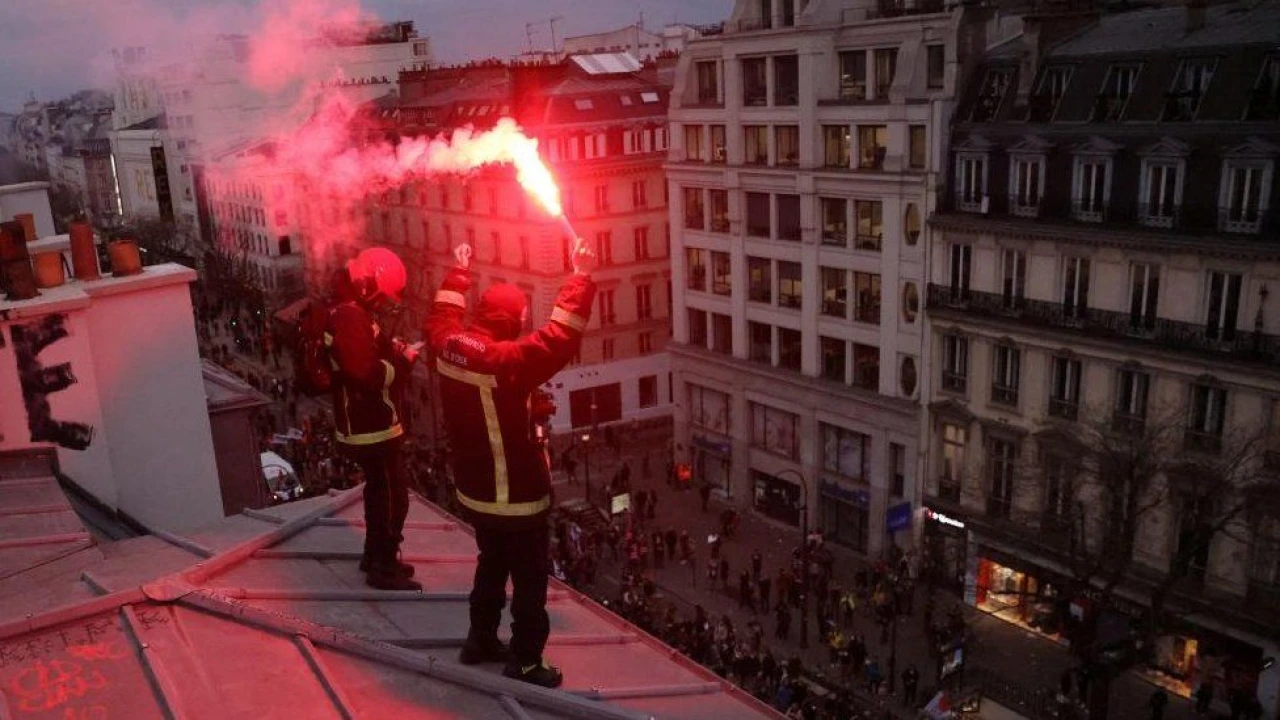 Paris: Bordeaux town hall has been set on fire as French protests continued over plans to raise the pension age.
More than a million people took to the streets across France on Thursday, with 119,000 in Paris, according to figures from the interior ministry.
Police fired tear gas at protesters in the capital and 80 people were arrested across the country.
The demonstrations were sparked by legislation raising the retirement age by two years to 64.
Unions have called for further protests next Tuesday, which would coincide with King Charles III's state visit to the country.
He scheduled to be in the southwest city of Bordeaux on that day, where fire engulfed the front door of the town hall on Thursday evening after a day of protests and clashes.
It was not clear who was responsible for the blaze, which was quickly put out by firefighters.
Interior Minister Gerald Darmanin sought to quell any concerns ahead of the King's trip, saying on Thursday night that security "poses no problem" and the monarch will be "welcomed and welcomed well", according to AP.
In Paris, generally peaceful demonstrations saw occasional police clashes with masked rioters who smashed shop windows, demolished street furniture and attacked a McDonald's restaurant, according to Reuters news agency.
One police officer who lost consciousness was dragged to safety by fellow officers.
Police used tear gas and were pelted by objects and fireworks, AP news agency reported, with 33 people arrested in the capital.
"I oppose this reform and I really oppose the fact that democracy no longer means anything," a demonstrator told Reuters. "We're not being represented, and so we're fed up."
"It is by protesting that we will be able to make ourselves heard because all the other ways... have not allowed us to withdraw this reform," another told AFP news agency.
The protests also disrupted train travel, oil refineries and saw teachers and workers at Paris's Charles de Gaulle Airport walk out of work.
Popular tourist attractions such as the Eiffel Tower and the Palace of Versailles, where a dinner is planned for King Charles and the French president next week, were also closed on Thursday.
In the northern city of Rouen a young woman was seen lying on the ground after sustaining a serious injury to her hand. Witnesses said she lost her thumb after she was hit by a so-called "flash-ball" grenade fired by police to disperse demonstrators.
There were other clashes in the western cities of Nantes, Rennes and Lorient.
"The street has a legitimacy in France," said a protester in Nantes. "If Mr. Macron can't remember this historic reality, I don't know what he is doing here".
Unions and the political left have deemed the day a success, but where the situation goes from here is an open question.
The government is banking on there being a certain loss of momentum. It will also be hoping the bursts of violence on the streets will turn people away from the protests.
The opposition promises that the protests will not dwindle, but unions will need to devise a strategy going forward, rather than promising more days like Thursday.
Since January, there have been nine days of protest and French unions have called for a tenth next Tuesday.
Parisian garbage collectors, who started their strike against the pension reform on 6 March, have renewed it until next Monday.
The unrest follows the government's decision to force the legislation to raise the pension age through the lower house of parliament - where it lacks an absolute majority - without a vote.
French President Emmanuel Macron defended the move, saying the reform is a necessity.
France's Prime Minister, Élisabeth Borne, has said the changes are essential to prevent a major deficit in the system in the future.
SOURCE: BBC
ANF recovers over 283 kg drugs; arrests nine
Separate cases have been registered against the accused while further investigations were underway.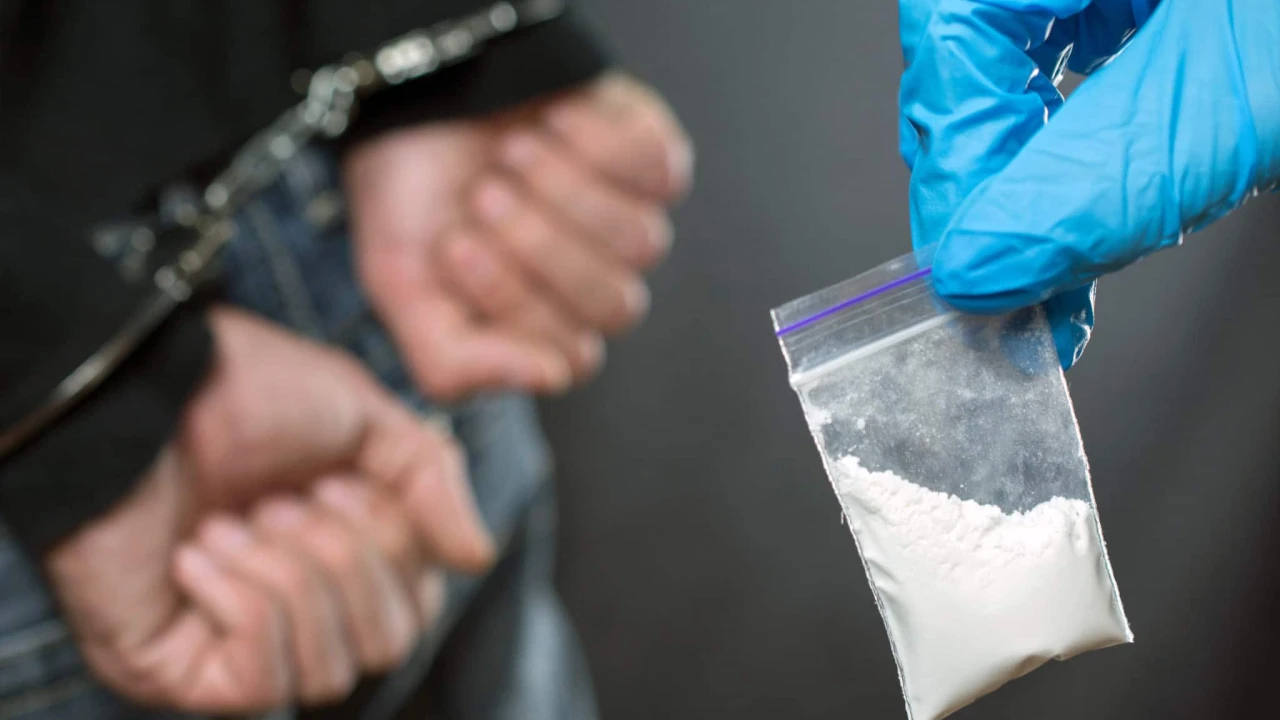 Rawalpindi: Anti-Narcotics Force (ANF) while conducting 10 operations in different areas of the country managed to recover over 283 kg drugs and arrested nine accused including a woman, said an ANF Headquarters spokesman here on Friday.
He informed ANF in an operation on Islamabad Motorway recovered 6.6 kg opium and 3.3 kg hashish from the possession of a drug smuggler resident of Mardan.
In another operation at Bacha Khan International Airport, ANF recovered 1.6 kg cocaine from the possession of a Doha-bound passenger resident of Karachi.
ANF foiled a bid to smuggle drugs from Peshawar to Rawalpindi and managed to recover 1.1 kg heroin from an accused resident of Peshawar arrested from Peshawar Ring Road Bus Stop.
ANF and Frontier Corps (FC) in two operations in Khyber recovered 38 kg hashish and 1.6 kg Ice drug.
Eight kg hashish was recovered near Kamoke Toll Plaza on Gujranwala G.T. Road and ANF also arrested two accused residents of Peshawar.
The spokesman informed that in an operation near National Highway Hyderabad, ANF managed to recover 108 kg hashish from secret cavities of a truck while two drug smugglers residents of Quetta were netted.
In an operation at a private courier office in Karachi, ANF seized over one kg heroin from a parcel booked for London.
The spokesman further informed that in a joint operation by ANF and Rangers near City Point, National Highway Sukkar, 10 kg hashish and four kg opium were recovered from the possession of an accused resident of Noshki.
In the tenth operation conducted near Pasni Zero Point, ANF recovered 100 kg hashish concealed in bushes to smuggle abroad.
Separate cases have been registered against the accused while further investigations were underway.
WhatsApp introduces new group chat features
The new update provided the users with more information while searching the contacts in search bar.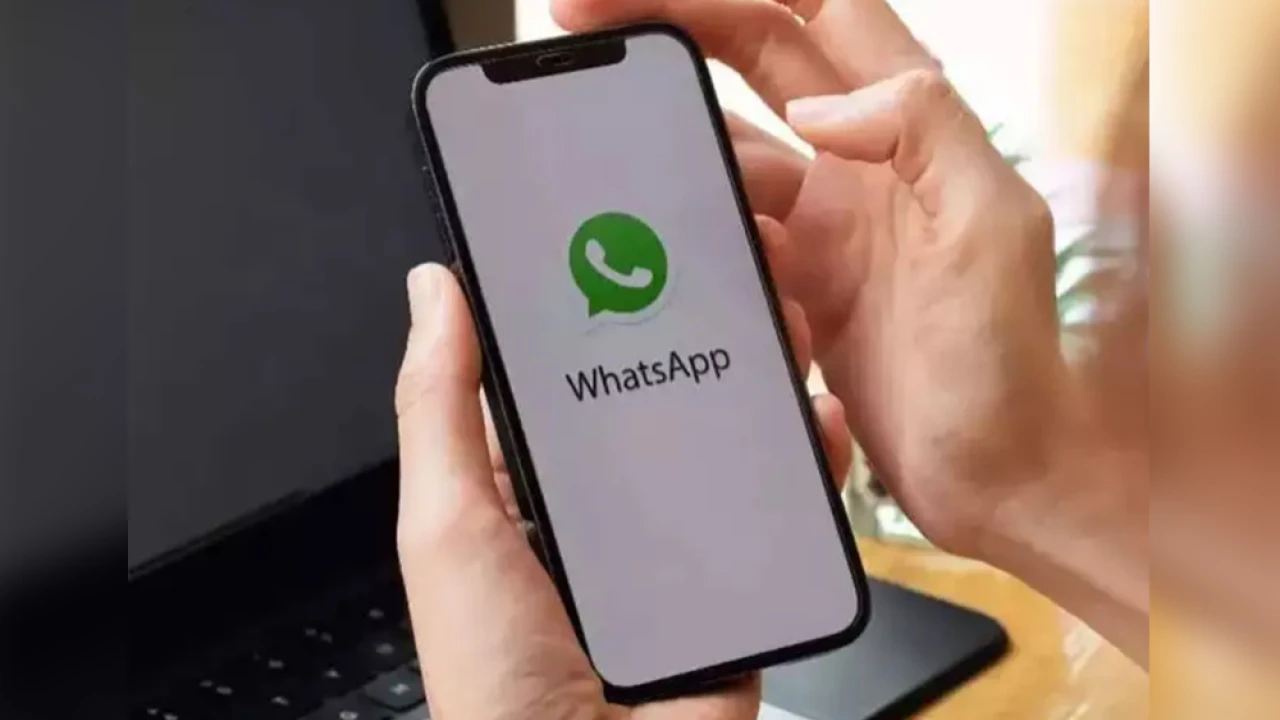 California: Meta-owned WhatsApp introduced new update for group conversations by giving more control to group admins.
Turning to Twitter, Meta-owned WhatsApp wrote, "More is more. Knowing what makes groups thrive, we've added new features to your group chats with more people and more control, your group connections can continue to grow."
More is more 🙌 Knowing what makes groups thrive, we've added new features to your group chats:

👥 Doubled group size to 1,024
💬 Admins control who can join groups
🌐 Search and see shared groups

With more people and more control, your group connections can continue to grow. pic.twitter.com/nBTt7N95q9

— WhatsApp (@WhatsApp) March 21, 2023
New updates
The instant messaging app increased number of participants from 512 to 1,024 who can be added to a single group without storage problems.
WhatsApp allowed more control to the admins to approve the requests of new members, who can join the group.
The group admins can review the new members, who want to join the group, by opening the 'pending participants' within the 'group info' screen.
With the advent of new features, WhatsApp permitted users through which they would be able to see groups they have common with their contacts.
The new update provided the users with more information while searching the contacts in search bar.