San Francisco: Co-founder and the CEO of Twitter Jack Patrick Dorsey's 15 years old tweet is being sold at auction, with bidding reaching $2.5 million.
Fifteen years ago Jack Dorsey on micro blogging app wrote, "Just setting up my twttr" which became the first ever Tweet.
The short Tweet on March 21, 2006 by the Twitter CEO, sold as a Non-Fungible Token (NFT).
just setting up my twttr

— jack (@jack) March 21, 2006
Bidding on Dorsey's Tweet ended on Sunday and he stated that he will donate the funds to charity.
Dorsey's tweet sold on a platform called 'Valuables by Cent' that lets people make offers on tweets that are autographed by their original creators.
NFTs use the same block chain technology behind cryptocurrencies to turn anything from art to sports trading cards into virtual collector's items that cannot be duplicated.
Tweets are not the only items that can be sold as NFTs, the technology is taking over the art world as well.
Earlier in March, an NFT of a work by Mike Winkelmann who is a digital artist sold for $69 million at Christie's. According to the auction house, it made him one of the top three most valuable living artists.
According to the site, investors and collectors can buy and sell tweets with Twitter signatures.
The highest bid of Rs314 million for Jack Dorsey's tweet was made by Justin Sun, the founder of the cryptocurrency platform Tron.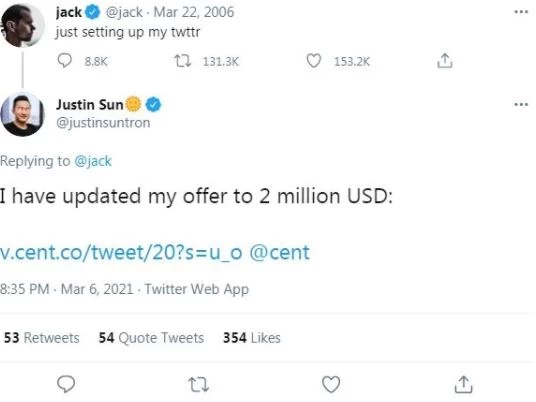 The news agency quoted Valuables as saying that buying a tweet means that you are buying a digital certificate of tweet which is unique and is verified and signed by the creator of the tweet.
Jack Dorsey's tweet will be visible to everyone as long as he and the Twitter administration keep it online.
It may be recalled that in 2019 Justin Sun met with billionaire Warren Buffett at an auction but he had failed to make him understand the importance of bitcoin.