Broadsheet case: FBR sends notice to NAB for causing loss to national kitty
Islamabad: The Federal Board of Revenue (FBR) has issued a notice to the National Accountability Bureau (FBR) for causing loss of $4.3 million to national exchequer by showing haste in payment of fine amount to Broadsheet, a UK-based asset recovery firm.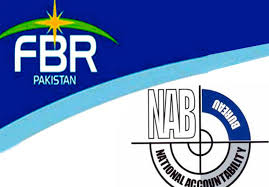 Sources said that the anti-graft buster had paid $28.7 million to Broadsheet, which has become a hot issue since the London High Court announced verdict against Pakistan, without deducting a withholding tax amounting to 690 million in Pakistani rupees.
As NAB failed to comply with the rules, it will now pay the tax to the FBR, the sources added.
The services of Broadsheet were hired during the tenure of former president Pervez Musharraf to detect the assets of Nawaz Sharif, Asif Ali Zardari and other bigwigs.
However, NAB ended the deal in 2003, provoking the UK firm to move the court. In 2016, the court ordered the anti-graft buster to pay the fine to Broadsheet.
As Broadsheet scandal has become the talk of the town, the federal government has formed a one-member commission comprising former Supreme Court judge Azmat Saeed Sheikh.