Israel trying to convert Palestine into graveyard, Shahbaz Sharif
Islamabad: Leader of the Opposition in the National Assembly and President of the Pakistan Muslim League-Nawaz (PML-N) Shahbaz Sharif has said that Israel is ready to make the whole of Palestine a graveyard.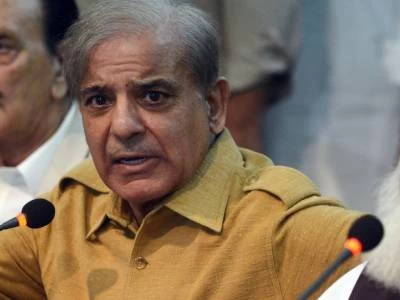 In a statement condemning the Israeli attack on Gaza, he lamented the martyrdom of Palestinians.
پاکستان مسلم لیگ (ن) کے صدر اور قائد حزب اختلاف شہبازشریف کا غزہ پر اسرائیلی حملوں کی شدید مذمت، فلسطینیوں کی شہادت پر اظہار رنج وغم

عالمی برادری، اوآئی سی، عرب لیگ اسرائیل کو ظلم وبربریت سے روکنے کے لئے فوری کردار ادا کریں

— PML(N) (@pmln_org) May 12, 2021
He called on the international community, the OIC and the Arab League, to take immediate action to stop Israel from committing atrocities.
"The summit of Islamic countries should be convened and this massacre should be stopped. Innocent women and martyred children are demanding justice from all humanity," he said.
Shahbaz Sharif said that "the statement of all the civilized world including European Union is not enough, practical steps have to be taken to save innocents".
"Israel's inhumane treatment has turned Muslims' Eid al-Fitr into grief. We offer our condolences and sympathy to the families of the martyrs," he added.
It should be noted that during the meeting with the Palestinian Ambassador Ahmed Rafi yesterday, Shahbaz Sharif had demanded from the world powers, especially the P5 countries, to ensure that Israel abides by the resolutions of the UN Security Council.
Accomp­anied by former prime minister Shahid Khaqan Abbasi and other leaders of his party, including Ahsan Iqbal and Maryam Aurangzeb, Shehbaz Sharif expressed solidarity with the ambassador on behalf of the nation, PML-N and party supreme leader Nawaz Sharif.
He said the Israeli occupation forces had once again unleashed a reign of terror to evict Palestinians from their ancestral homes. Israel's sacrilegious military action taking place in and around Al Aqsa mosque had deeply hurt the sentiments of Muslims across the world.
He condemned the Zionist entity for the violence and terror unleashed in the vicinity of the holy site that mirrors its policy of tyranny and oppression pursued in the territories that it had seized and kept in illegal occupation for over 50 years. He recalled that Israel stood condemned by the UN and its Security Council and international human rights organisations.
He hailed the courage and bravery of the people of Palestine who have refused to be cowed down by Israel's state-sponsored brutality and genocidal policies.
In this context, the PML-N president also expressed solidarity with the suffering people of Indian occupied Jammu and Kashmir who too have been living in a state of servitude for decades but confronting a brutal occupation power that has let loose a reign of terror.