UN Chief demands end to Gaza deaths, displacement; Al-Shifa hospital now 'death zone'
Top UN officials echoed that call to improve conditions for Gaza's 2.3 million people, 1.7 million of which have been displaced since October 7.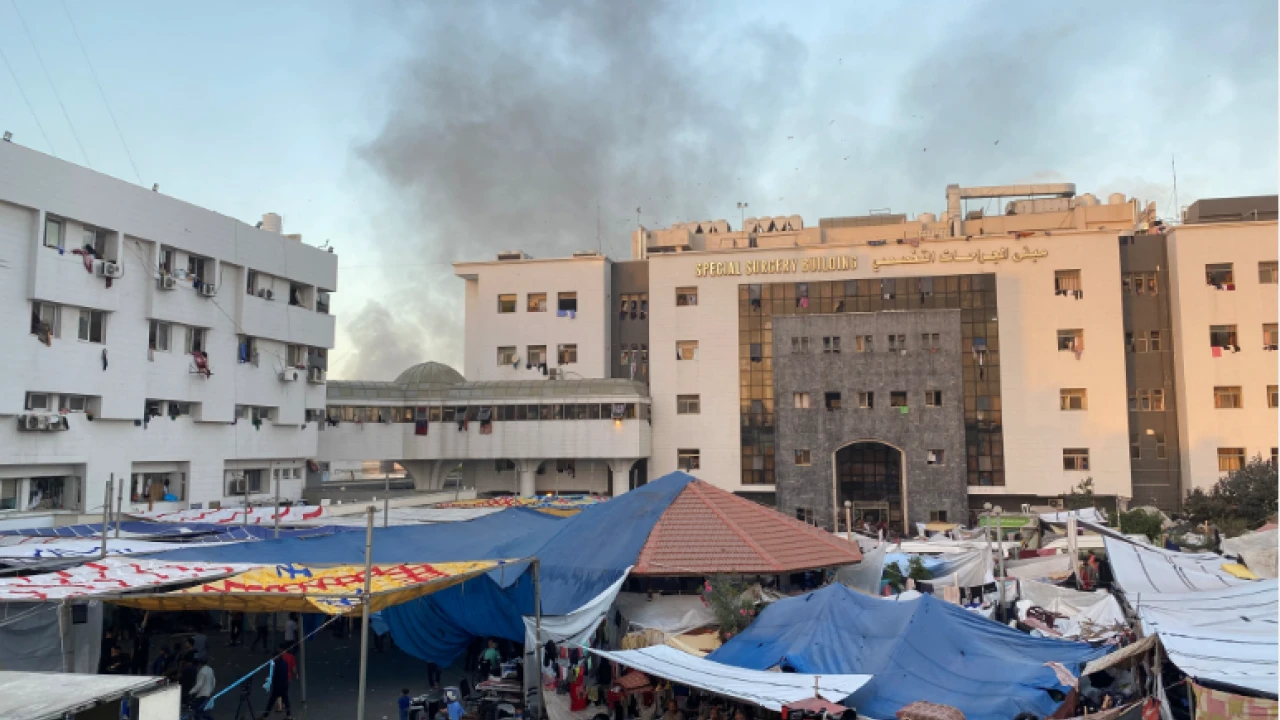 United Nations: Four days after the Israeli military stormed the Al-Shifa hospital, the biggest in the Gaza Strip, the World Health Organization (WHO) described the complex as a "death zone" where several patients had died because medical services had been shut down, as the UN chief called for a ceasefire amid relentless attacks on the besieged enclave.
Top UN officials echoed that call to improve conditions for Gaza's 2.3 million people, 1.7 million of which have been displaced since October 7.
Since then, more than 12,000 Palestinians have been killed in besieged Gaza.
"This war is having a staggering and unacceptable number of civilian casualties, including women and children, everyday," UN Secretary-General Antonio Guterres said in a statement on Sunday. "This must stop. I reiterate my call for an immediate humanitarian ceasefire," the UN chief said. Volker Turk, UN High Commissioner for Human Rights (OHCHR), said in a statement on Sunday that: "The horrendous events of the past 48 hours in Gaza beggar belief." "The killing of so many people at schools turned shelters, hundreds fleeing for their lives from Al-Shifa Hospital amid continuing displacement of hundreds of thousands in southern Gaza are actions which fly in the face of the basic protections civilians must be afforded under international law," Turk said, stressing that failing to adhere to these rules
may constitute war crimes. At Al-Shifa hospital, there were 291 patients, including 32 babies in extremely critical condition, WHO, the Geneva-based U.N. agency said in a statement late Saturday after Israeli forces allowed a U.N. team to tour the facility for an hour.
Earlier in the day, hundreds of patients and civilians sheltering at the hospital had fled south. The W.H.O. said that the movement came after an evacuation order from the Israeli military.
But Israeli officials said that they had agreed to a request from the hospital authorities to allow safe passage for people who wanted to leave Al-Shifa, and that they had brought food and water into the complex. Israeli officials claim the complex and tunnels underneath have been used by Hamas to shelter fighters and weapons, and to plan for attacks, including the one on October 7.
Both the Palestinians and Al-Shifa officials have denied the accusation that Hamas had a command center under the hospital. Israel has yet to provide conclusive proof of a military base at the hospital.
The United States, Israel's closes ally, has backed the assertion about the tunnels. Meanwhile, heavy fighting continues near the hospital, according to the W.H.O. It said the U.N. team spent only an hour inside Al-Shifa but found "evident" signs of shelling and gunfire. U.N. personnel also saw a mass grave at the entrance that they were told contained the bodies of more than 80 people, the W.H.O. statement added. "Immediate efforts must be made to restore the functionality of Al-Shifa and all other hospitals to provide urgently needed health care services in Gaza," the W.H.O. statement said.
It again called for an immediate cease-fire, a sustained flow of humanitarian aid to Gaza, the unconditional release of all hostages and a halt to attacks on health care and other vital civilian facilities.
Since the beginning of the Israel attacks, Israel has ordered Gazans to move south, away from Hamas strongholds, saying they would be safer there. But those areas have not been immune from Israeli attacks. On Saturday, airstrikes pounded parts of southern Gaza, according to the United Nations and the Palestinian Authority's news agency.
Meanwhile, WHO officials said Sunday that 31 "very sick" premature babies were safely transferred from Gaza's main hospital to another in the south and will later go to Egypt, as scores of critically wounded patients remained stranded there days after Israeli forces entered the compound. The fate of the newborns at Shifa Hospital had captured global attention after the release of images showing doctors trying to keep them warm.
A power blackout had shut down incubators and other equipment, and food, water and medical supplies ran out as Israeli forces battled Palestinian militants outside. World Health Organization chief Tedros Adhanom Ghebreyesus said on social media the "very sick" babies were evacuated along with six health workers and 10 family members of staff.
They were receiving urgent care in the southern Gaza city of Rafah. The babies suffered from dehydration, vomiting, hypothermia and some had sepsis because they hadn't received medication, and they had not been in "suitable conditions for them to stay alive," said Mohamed Zaqout, director of Gaza hospitals.
They'll go to Egypt on Monday for more specialized care, he said. The WHO said 25 medical staff remained at the hospital, along with the patients who it said were "terrified for their safety and health, and pleaded for evacuation." The agency described Shifa as a death zone. Later Sunday, the hospital's head of plastic surgery, Dr. Ahmed El Mokhallalati, said Israeli troops raided the surgical department, investigated staff and patients, and arrested one patient.
Israel's military said Yemen-based Houthis had seized a cargo ship in the southern Red Sea sailing from Turkey to India but said no Israelis were aboard and that it wasn't an Israeli ship. A statement from Prime Minister Benjamin Netanyahu's office described the ship as owned by a British company. The Houthis said they had seized an Israeli ship and crew and took the vessel to the Yemeni coast, but gave no details, other than to say it was treating the captives "in accordance with the teaching and values of our Islamic religion." Earlier in the day, the group threatened to target Israel-linked vessels in the Red Sea. Heavy clashes were reported in the built-up Jabaliya refugee camp in northern Gaza overnight into Sunday.
"There was the constant sound of gunfire and tank shelling," Yassin Sharif, who is sheltering in a U.N.-run hospital in the camp, said by phone. "It was another night of horror." The commissioner-general of the U.N. agency for Palestinian refugees, Philippe Lazzarini, said 24 people were killed in what witnesses described as an Israeli airstrike on a school in a crowded U.N. shelter in Jabaliya the day before. The Israeli military, which has repeatedly called on Palestinians to leave northern Gaza, said only that its troops were active in the area "with the aim of hitting terrorists."
According to the UN Agency for Palestine Refugees (UNRWA), which issued its latest situation report on Sunday, nearly 884,000 internally displaced persons are sheltering in 154 UNRWA installations across all five governorates of the Gaza Strip. "Just getting into one of the shelters makes you burst into tears," a UNRWA employee was quoted as saying by the UN. "Children looking for food and water and standing in queues for over six hours just to get a piece of bread or a bottle of water.
People are literally sleeping on streets here in Khan Younis as thousands keep escaping from the north." In less than 24 hours, two UNRWA schools sheltering displaced families were hit, causing "many deaths" and injuries, mostly of women and children, in addition to other deadly incidents across Gaza and the West Bank against the backdrop of soaring humanitarian needs, UNRWA said.
Turk said at least three other schools hosting displaced Palestinians have also been attacked. "This must stop," he said. "Humanity must come first. A ceasefire – on humanitarian and human rights grounds – is desperately needed. Now." Philippe Lazzarini, who heads UNRWA, said in a statement on Sunday that the attacks are "just cruel".
"I watched with sheer horror reports from an attack on the Al-Fakhoura UNRWA school-turned-shelter in northern Gaza," he said. Classrooms sheltering displaced families were hit and at least 24 people were reported killed in the strike. Up to 7,000 people were in the school at the time, the UNRWA chief said. On Friday, following strikes on the UNRWA Al-Falah/Zeitoun school in Gaza City, ambulances could not reach the school, where 4,000 people were sheltering. Since 7 October, at least 176 people sheltering in the agency's schools were reported killed and 800 wounded during Israeli bombardments, Lazzarini said. "A large number of UNRWA facilities hit and the number of civilians killed cannot just be 'collateral damage'," he said, adding that the UN agency routinely shares the buildings' coordinates with parties to the conflict.
"This vicious war is reaching a point of no return when all rules are disrespected, in overt disregard for civilian lives," he said, calling and appealing "once again for humanity to prevail and for a humanitarian ceasefire right now."
The entry of fuel critical for the overall humanitarian operations across the enclave has been largely banned since 7 October when the war began. Limited fuel deliveries began on Wednesday, and UNRWA has been informed that, as of Saturday, 120,000 litres of fuel will be delivered every two days going forward.
UN agencies have said this is not enough for all humanitarian activities, and that at least 200,000 litres per day are required to, among other things, power generators to provide electricity to hospitals and to operate water facilities.
Both services have been cut since the start of the conflict. Fuel is also critical for telecommunications networks, UNRWA said, noting that Gaza's fourth communications blackout on Friday meant the agency was unable to transport trucks of humanitarian assistance arriving via Egypt.