Three-week-old baby contracts COVID-19, dies
Several countries have registered a rise in childhood infections since the spread of the Omicron variant.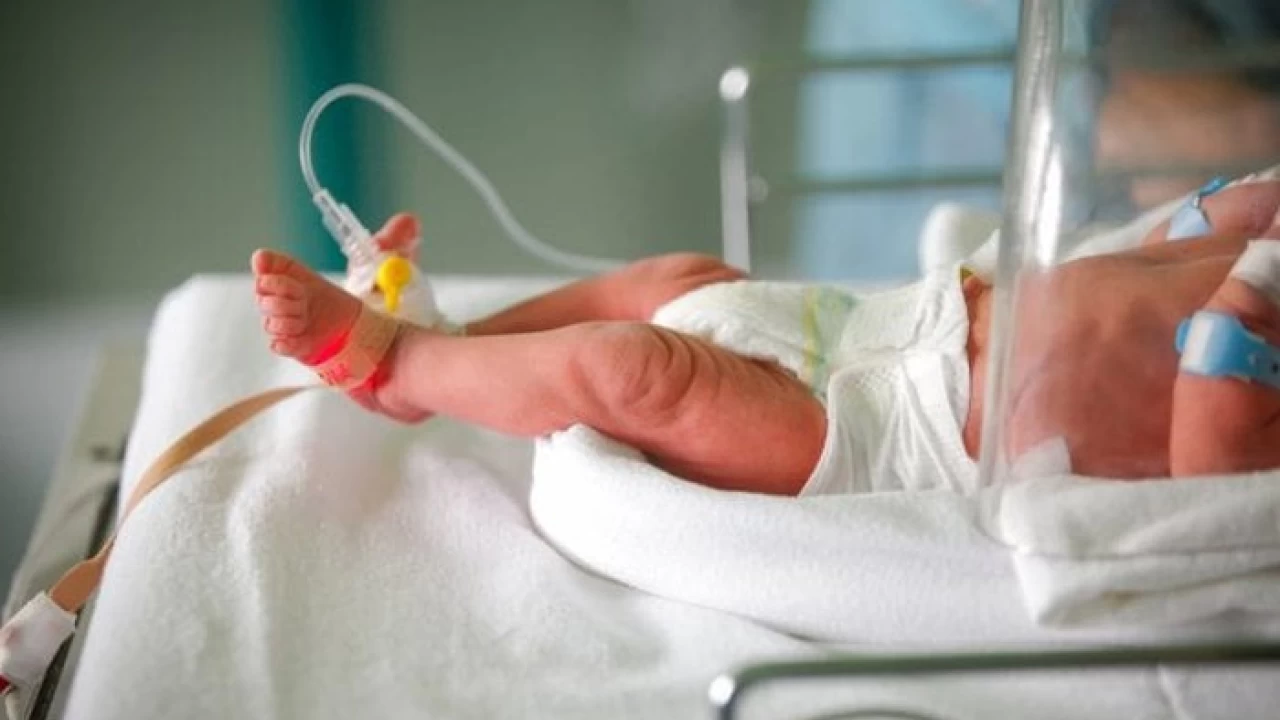 Doha: A three-week-old baby has died from COVID-19 in Qatar, the health ministry said on Sunday, reporting a rare child fatality from the illness in the Gulf country.
"A three-week-old baby has sadly died as a result of severe infection from COVID-19," the emirate's public health ministry said in a statement.
"The baby had no other known medical or hereditary conditions", and was the second child to have died in the country since the pandemic began, it added.
Child deaths from COVID-19 are infrequent but health authorities in several countries have registered a rise in childhood infections since the spread of the Omicron variant.
The Qatari ministry said youngsters have generally been less at risk of severe COVID infection than older people, but that "a greater number of children are being infected in this current wave and needing medical care than in previous waves".
Gas-rich Qatar has officially recorded almost 300,000 cases of coronavirus and around 600 deaths, from 2.6 million residents.
Cases have surged in recent weeks, and in late December Qatar's main health care provider suspended leave for all medical and administrative staff dealing with COVID-19 cases.
SOURCE: AFP
Balochistan set to hold local government elections tomorrow
Over 2,000 polling stations declared extremely sensitive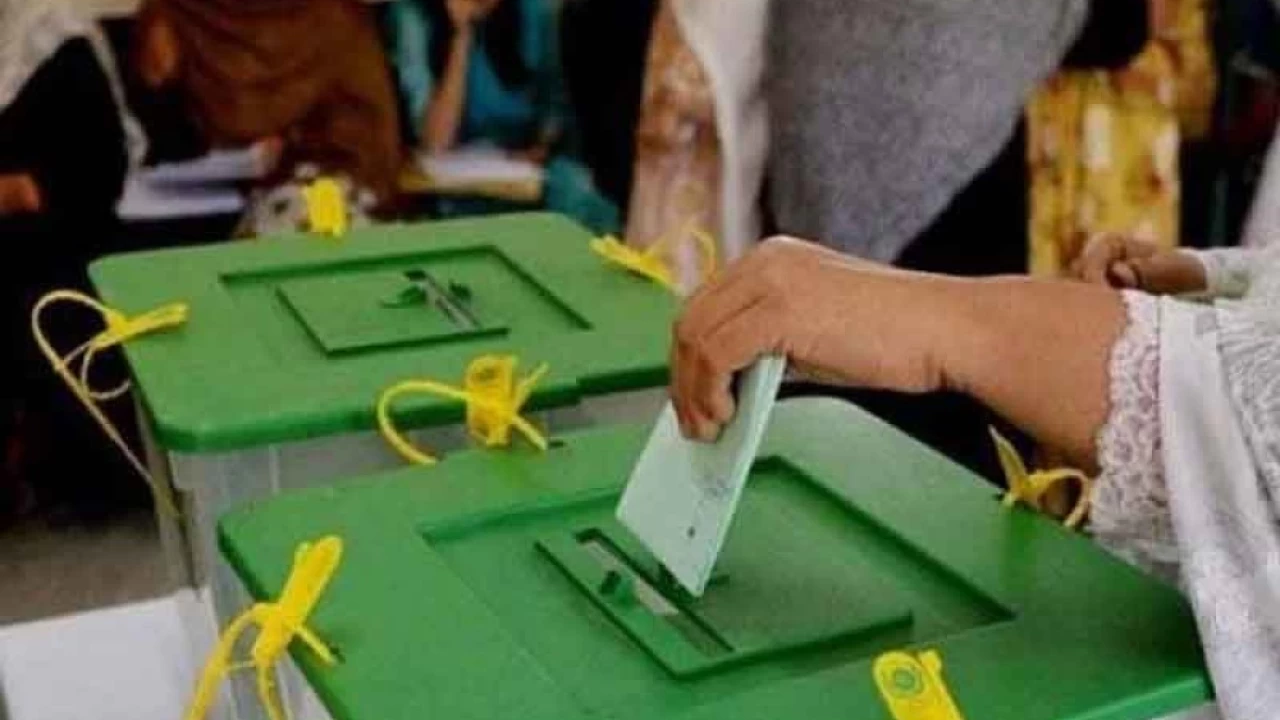 Quetta: Balochistan is all set to hold local government elections in 32 districts on May 29 (Sunday) amid tight security arrangements.
According to details, the Election Commission of Pakistan (ECP) has declared over 2,000 polling stations sensitive and the provincial government has enhanced security to avert any untoward incident during polling.
In Balochistan, a total of 17,774 candidates are contesting the LG elections. Chief Minister Balochistan, Mir Quddus Bizenjo ordered the release of Rs600 million to meet the expenses of the elections including logistics expenditures of the election staff and law enforcement agencies.
According to Provincial Election Commission, the total number of registered voters in the 32 districts is 3,552,398 with over 2,000,000 male voters and 1,546,124 female voters.
The ECP has set up 13,533 polling booths in 5,624 polling stations across 32 districts. Election results will be announced on June 2.
The voters will exercise their votes for seven Municipal Corporations, 49 Municipal Committees, and 838 Union Councils in these districts. There are 6,259 wards including 5,345 rural and 914 urban.
On the other hand, a special security plan was made to ensure peaceful and smooth polling.
Besides, 45,438 security personnel — including members of the police, Levies, Anti-Terrorist Force and Frontier Corps (FC) — will be deployed in and around polling stations. Army troops along with FC personnel would be deployed at all tentative polling stations.
The dinosaurs are back in latest adventure 'Jurassic World Dominion'
The film, which begins its global cinema roll-out on June 1, features plenty of stunning visual effects showing the dinosaurs living alongside humans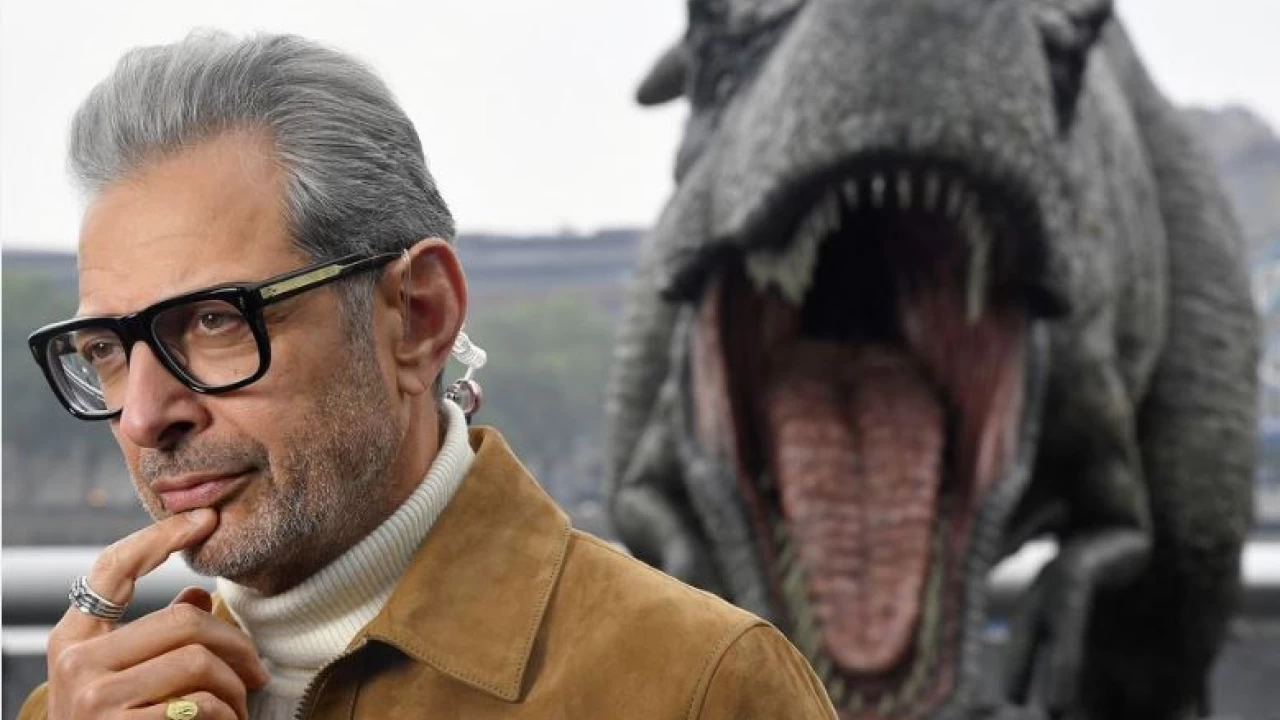 Casts old and new return for more dinosaur misadventures in "Jurassic World Dominion", in a final outing concluding the second trilogy of films in the popular franchise.
The movie is set four years after the destruction of the remote island of Isla Nubar, and dinosaurs roam the entire world, living and hunting among humans.
"Jurassic Park" actors Laura Dern and Sam Neill reprise their roles as paleobotanist Dr Ellie Sattler, now a soil and climate change scientist, and paleontologist Dr Alan Grant, reuniting with their castmate from the 1993 movie Jeff Goldblum, who plays mathematician Dr Ian Malcolm.
The movie sees them join forces with Chris Pratt's animal behaviourist Owen Grady and Bryce Dallas Howard's activist Claire Dearing, who have helmed the more recent "Jurassic World" trilogy of films.
"Both of them (Dern and Neill are) terrific friends... and changed my life for having known them for all these 30 years... We were in a movie that got people's attention and entertained people," Goldblum, who featured in 2018's "Jurassic World: Fallen Kingdom", told Reuters at a London press event for the movie on Friday.
"And now, for the first time, being reunited on screen and getting a chance to work together under these interesting circumstances with this new cast... what a parade and a cobb salad of lucky teammates for me."
The film, which begins its global cinema roll-out on June 1, features plenty of stunning visual effects showing the dinosaurs living alongside humans. Soon enough, threats emerge.
"What I'm so grateful for and why I felt privileged to come back as Dr Ellie Sattler is it has a deeply rooted environmental message as the entire franchise does, because ultimately it's about corporate greed and previous extinction," Dern said.

Howard, whose character was former operations manager at the now closed dinosaur park in the first "Jurassic World" movie, said wrapping up the trilogy which began in 2015 was emotional.
"I cried so much," she said.
"There was some of the actors on my flight home, and they messaged everyone going like, 'Bryce cried the entire 10 hours home.' I'm like, 'I know'."
SOURCE: REUTERS
PM Shehbaz announces Rs28 billion relief package for masses
The premier says the nation was dragged into economic swamp by the previous government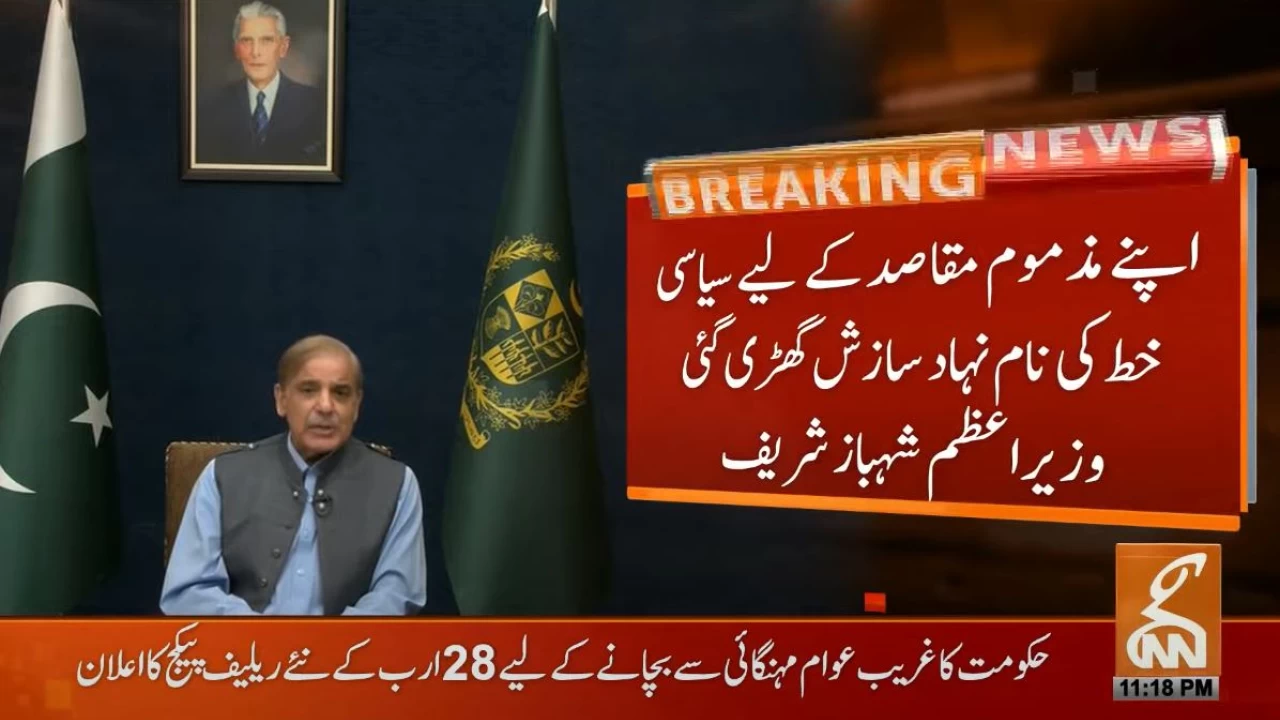 Islamabad: Prime Minister Imran Khan Mian Shehbaz Sharif has announced Rs28 relief package for the people of Pakistan, saying the package will counter rising inflation in the country.
Addressing the nation in a televised address, he said the package would be in addition to the Benazir Income Support Programme, adding the relief package would be included in the annual budget.
The prime minister said the move to increase fuel prices was necessary to avoid Pakistan from facing bankruptcy, adding the previous government neither bought fuel not got the power plants repaired.
He announced Rs2,000 to 14 million poor families across the country, saying these families comprise 85 million people.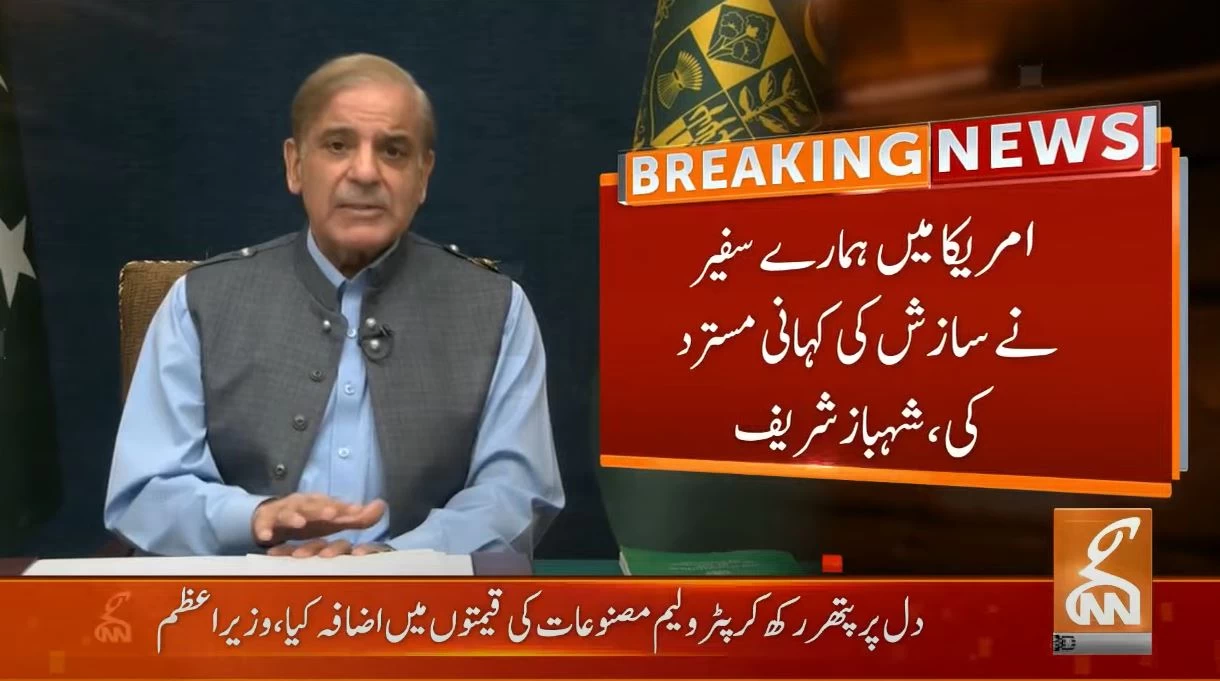 He said the 10-kg floor bag would be available at utility stores in Rs400, adding
Discussing the foreign conspiracy against [PTI government], he said the National Security Committee and the US had termed the news of conspiracy as baseless.
"Even our Ambassadior to the US had rejected the story of conspiracy," the premier said.
PM Shehbaz said a diplomatic cable was used for political means and the nation was fed with lies despite the National Security Committee (NSC) and the ambassador to the United States both rubbishing the "foreign conspiracy" claims touted by ex-premier Imran Khan.
PM Shehbaz said if Khan thinks his "ego" is bigger than the state, then it is his misconception as Pakistan will function in line with the Constitution and not upon following the direction of one person.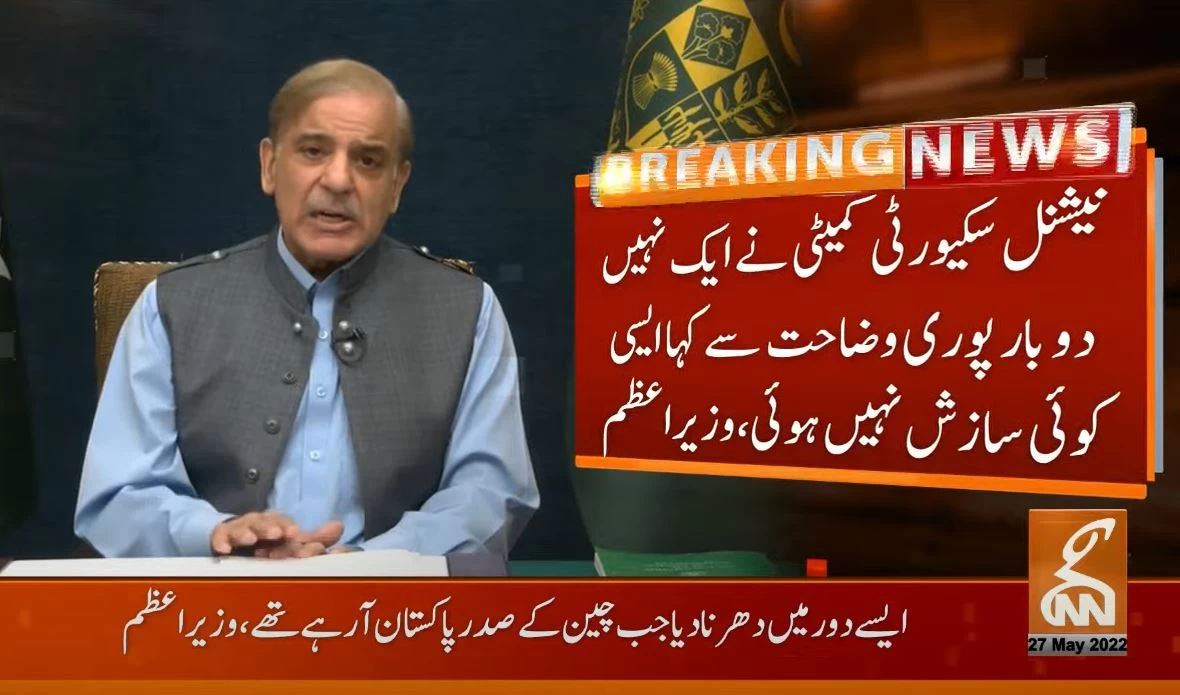 Reminding the PTI government of its tenure, PM Shehbaz said it was Khan that struck a deal with the International Monetary Fund (IMF), not the current government.
He said that over the last four years, Pakistan incurred more than $20,000 billion worth of debt, which was more than 80% of the total loans taken during the history of the country.
The prime minister said the incumbent government was ready to take tough decisions for moving the country towards progress in a bid to end the politics of "incompetency and corruption".
He added that when the new government came into power, inflation was skyrocketing, industries were shutting down, and the US dollar — which was at Rs115 — had reached Rs189.