"Extra Ordinary relief," Rana Sanaullah reacts to court permission to Imran for car attendance
The Interior Minister says they have strong evidence against Pakistan Tehreek-e-Insaf (PTI) Chairman Imran Khan to move at least a reference against him.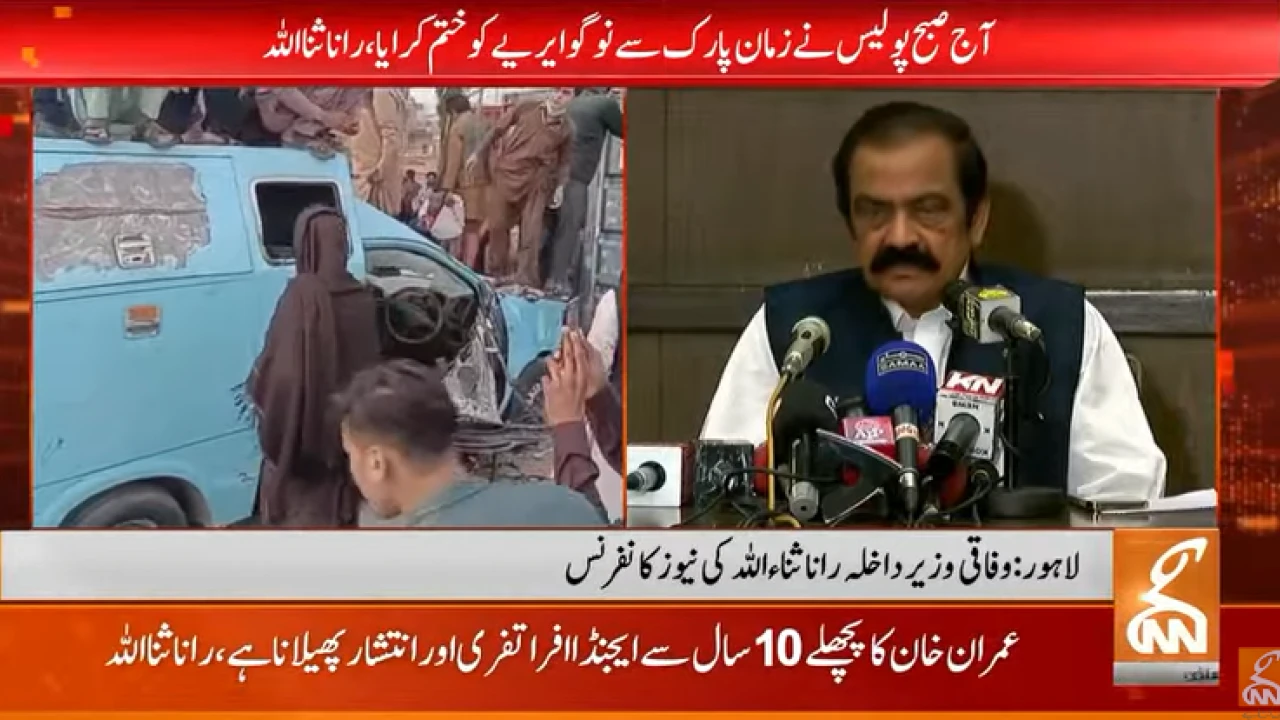 Islamabad: Pakistan Muslim League-Nawaz (PML-N) leader and Interior Minister Rana Sanaullah claimed that armed men accompanied Pakistan Tehreek-e-Insaf (PTI)Chairman Iman Khan during his appearance before the court in Thoshakhana case.
"The court should have ordered him to appear in person," said Rana Sanaullah while commenting on the hearing of the case.
He said it should have been done so such 'fitna' could have been crushed, regretting that he was allowed attendance in his car.
"This is regretful that he was allowed attendance in his car and allowed to leave back to home," said the Interior Minister, pointing out that his party believed in respect of the courts.
"Such attitude has motivated Imran Khan despite that he is a coward man," said Rana Sanaullah. He stated that Imran Khan was so much fearful of his arrest despite that he kept his opponents in jails.
"You are fearing of going into jail so much. So much fear. Such factors of relief nurture such evils," he added.
He stated that they tried that the police should not go inside Zaman park with weapons, urging the nation to realize that Imran Khan is not a politician and should not vote him so he could be kept away from the power.
The Interior Minister claimed that all the weapons recovered from Zaman Park were illegal and many other things.
"The people who were present there in Zaman Park or with Imran Khan belong to another province which I do not want to mention now," said Rana Sanaullah, adding that his supporters also carried weapons during appearance of Imran Khan in the court.
"Whatever has been recovered from Zaman park is clear and compatible to the claims of Maryam Nawaz's assessment—this is a huge evidence against Imran Khan," he claimed.
He also said that the evidence surfaced from Zaman Park is sufficient to move reference but suggested the government and the legal teams should work to ban it.
He said, "He will be okay if he is not given extraordinary relief,".
He stated that he never witnessed such relief in his political relief despite that he remained in touch with the bar association.
Responding to a question, Rana Sanaullah said that the state was fully aware of the situation and instead it sent the police to convey him [Imran Khan] to surrender before the court.
"Imran Khan was there in the bunker and the state knew all that but even then the police was sent there without weapons—if they had 100 armed men then the government could have sent 2000 but the state did do so," he added.