Fawad bids farewell to PTI, Asad resigns from party position
I have resigned from party position and parting ways from Imran Khan, Fawad added.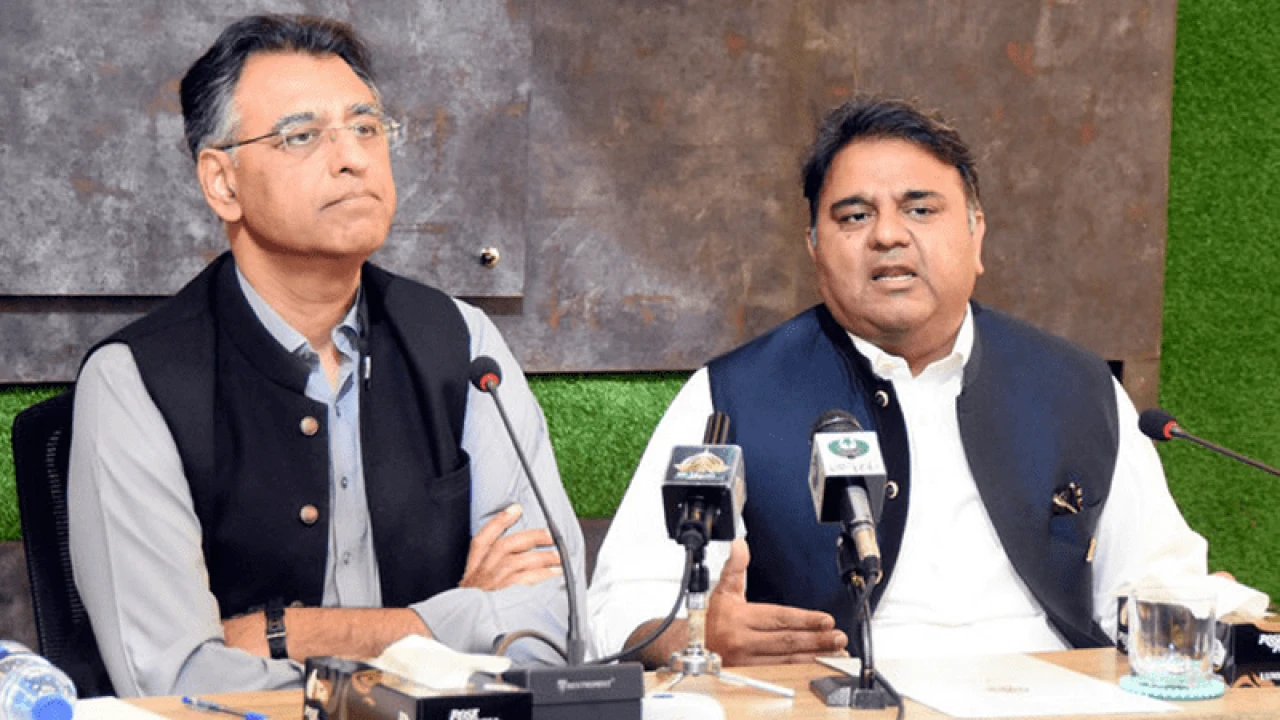 Islamabad: A major turn in the politics of Pakistan Tehreek-e-Insaf (PTI) had been observed on Wednesday when party senior leader Fawad Chaudhry announced to leave the party, while party's general secretary Asad Umar resigned from his party position.
According to details, Fawad Chaudhry turned to Twitter referred to his earlier statement where he unequivocally condemned incidents of May 9, he wrote: "I have decided to take a break from politics".
Therefore I have resigned from party position and parting ways from Imran Khan, he added.
Ref. My earlier statement where I unequivocally condemned 9th May incidents, I have decided to take a break from politics, therefore, I have resigned from party position and parting ways from Imran Khan

— Ch Fawad Hussain (@fawadchaudhry) May 24, 2023
On the other hand Asad Umar announced to resign from his party position as general secretary and membership of core committee.
While addressing a press conference at National Press Club Islamabad, Asad Umar said that since he was arrested on May 10, he was in solitary confinement.
Everyone have condemned the events of May 9, I want to go into detail that such incidents are dangerous for the country because military installations were attacked, he stated.
He said: "Imran Khan has stated that army is important for Pakistan," adding that the strength of the army is not only with weapons, but the nation stands behind it.
Asad continued that the events of May 9 are condemnable and should be transparently investigated that nation could trust.
Vigorous action should be taken against those responsible, innocent people should be released as soon as possible, the former minister stated.
He said: "Army is not the name of two or three generals, it consists of millions of people who put their lives on the line to protect us".
My three generations have been related to military and I'm proud of it, Umar continued.
There was a lot of time to ponder in jail, the higher judiciary is divided and the whole country is watching that decisions made by the judiciary are not implemented.
The former finance minister said that Pakistan Democratic Movement (PDM) is a political reality, if elections are held today, PTI will form the government in the federation, Punjab and Khyber Pakhtunkhwa (KP), while PDM will form in Sindh and Balochistan.
He said that today the life of a common man is in trouble, all the stakeholders in the country are suffering. Since 1971, now Pakistan is in trouble today.
Chief Justice of Pakistan Umar Atta Bandial repeatedly said that political problems should be solved through negotiations, he continued.
Uamr further added that brotherly countries are also worried about the current situation of Pakistan and are also asking to resolve the problems through negotiations. It is time to solve the issues through political negotiations.
Asad Umar said that since the incidents of May 9 it is not possible for me to carry out the responsibilities of leadership, therefore I am resigning from the membership of the General Secretary and Core Committee.
In response to a question, he said: "I have only resigned from the party post, there is no pressure on me, and I left the post with my own free will".