IHC declares Imran Khan's jail trial in Cipher case unlawful
A IHC division bench comprising Justice Miangul Hassan Aurangzeb and Justice Saman Riffat Imtiaz has announced the short order, declaring appointment of the judge in the case as lawful.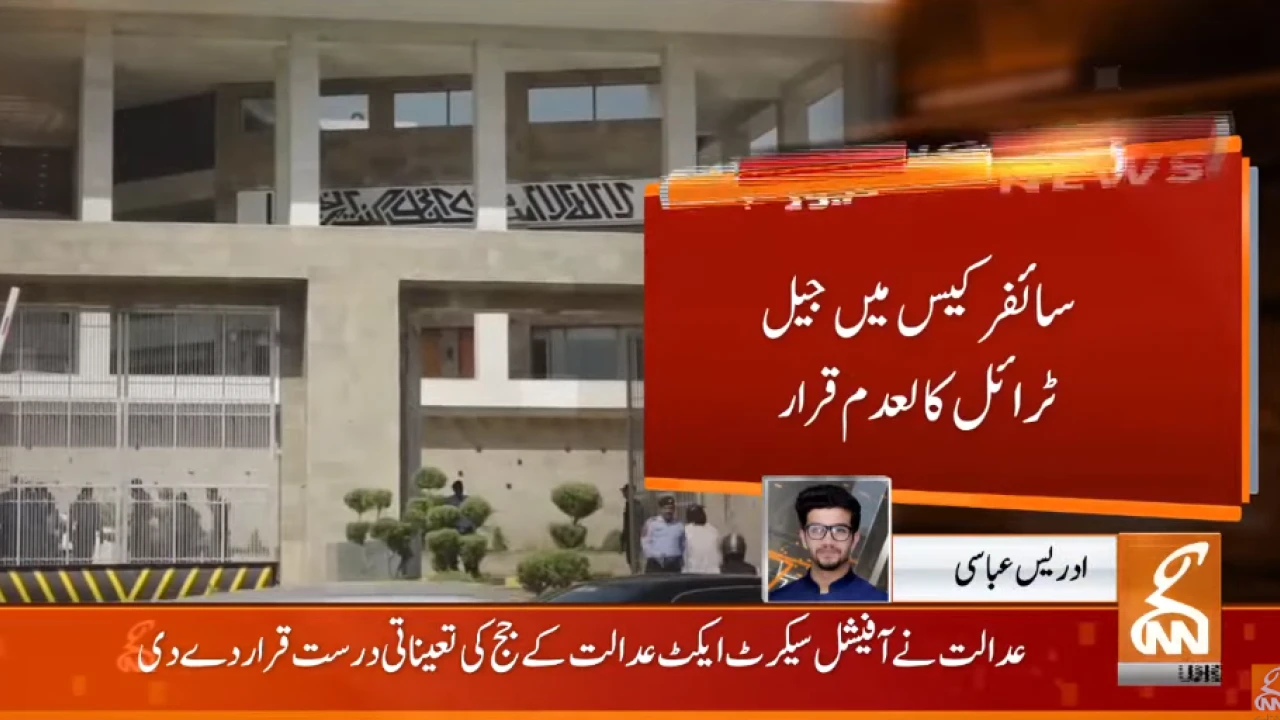 Islamabad: The Islamabad High Court (IHC) on Tuesday announced verdict reserved on Intra Court Appeal (ICA) of Imran Khan challenging jail trial in the Cipher case, setting aside a notification for jail trial in the case.
A IHC division bench comprising Justice Miangul Hassan Aurangzeb and Justice Saman Riffat Imtiaz announced the short order earlier after conclusion of the arguments of the both sides.
The bench, however, declared the judge's appointment as lawful.
The bench also set aside August 29 notification for jail trial of the PTI chairman and the co-accused in the Cipher case.
In a prior hearing on November 14, the high court suspended Imran Khan's jail trial in the cipher case. Khan is presently incarcerated in Adiala jail after being indicted by Special Court Judge Abual Hasnat Zulqarnain.
The Islamabad High Court's decision came after the caretaker federal cabinet approved the jail trial for Khan and Shah Mahmood Qureshi in the case. The ousted prime minister had previously contested the trial through an IHC appeal, which the court's single bench dismissed on October 16.
Chief Justice Aamer Farooq, on a single-member bench, ruled that there was no evident malice in conducting Khan's jail trial in the cipher case, instructing him to approach the trial court if concerns persisted. In response, Khan filed an intra-court appeal against the single bench's decision.
During the recent hearing, Khan's lawyer Salman Akram Raja argued for a proper procedure in a jail trial, emphasizing the need for an order with proper reasoning and subsequent approval from the federal government. Raja pointed out a perceived flaw in the process, asserting that the cabinet had not granted approval before November 12, as required.
Raja highlighted that the judge's letter to the law ministry on November 8 couldn't be considered a judicial order, as it focused on future implications rather than retrospective approval. He further contended that the cabinet approved the trial without the judge's prior request, raising questions about the legality of the November 13 order.
The cipher case originated on March 27, 2022, when Imran Khan, prior to his removal in April 2022, alleged a foreign conspiracy against his government. The case involves a cipher waved by Khan during a public rally, linking it to a purported plot by a foreign nation and political rivals. Subsequent developments include accusations against the United States, audio leaks, and the initiation of a formal trial against Khan and Qureshi under the Official Secrets Act 1923. Both are currently held in Adiala jail.