No free lunch, no easy solution
There should be no doubt that when in 1996 Pakistan Tehreek-e-Insaf (PTI) was launched, it's aim was to end corruption in the country.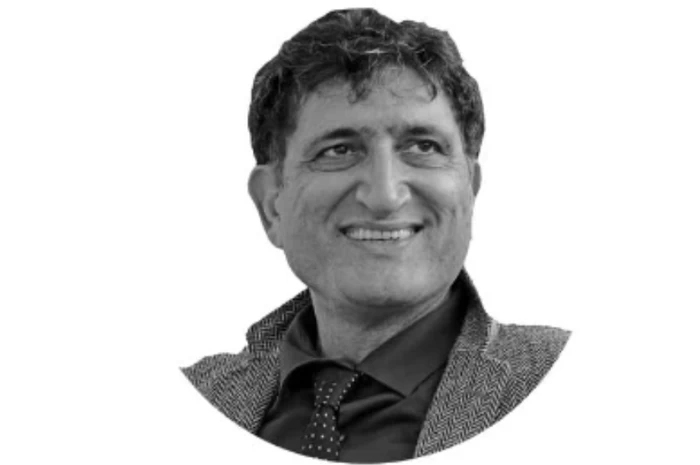 Throughout Imran Khan's political career, his focus was always centered on looted wealth; on the ardaris and the Sharifs. However, today, it seems like perhaps for Imran Khan, the removal of Zardari and Sharif represented an easy solution to the problems Pakistan faces. As opposed to changing the system, reforming the administration, making a team and planning, the eradication of the two rivals seemed like a much easier step to take.
It was not too difficult to brand the two "thieves" and build the impression that inflation, joblessness, injustices and systemic ills were all because of former rulers. It was easy then to sell the simplistic formula that the eradication of PML-N and PPP governments would automatically lead to the end of all problems.
Ironic then, that today the biggest pitfall that faces the government is the extremely simple solution it offered to these extremely complex problems.
Who can forget what Imran Khan had said before becoming Prime Minister? "I will commit suicide rather than going to the IMF [International Monetary Fund]," he had pledged. Who can forget that Asad Umar and Mian Atif were presented to the country as their economic saviors? According to Murad Saeed, now a Minister, as soon as PTI would form a government, it would bring back $200 billion of Pakistan's looted wealth and pay off all international loans.
Today Pakistan is not ruled by Asif Ali Zardari. Nawaz Sharif is not the ruler in Islamabad. Imran Khan is sitting in the Premier's seat since almost three years. The former two have been to jail. They have been bombarded with cases upon cases. But "Naya Pakistan" remains unchanged from the older one. Corruption continues unabated. The common citizen has received no relief. Inflation and unemployment rage on. The dreams of the youth are still shattered.
Affordable housing hasn't been built, jobs have not been created. Necessary goods are outside the reach of the average citizen. Utility prices remain high.
In short, neither the departure of Zardari, nor the removal of Sharif has resulted in any kind of change. In many ways, matters have become worse, giving rise to more anxiety and hopelessness among the masses. The reason for all this is Imran Khan himself and the though process that PTI refuses to change.
Believing that the simple act of bringing Imran into power will be a universal panacea is something we must all now be concerned with. Compare PTI government's performance to that of Zardari and Nawaz Sharif. The former has raised the price of gas and electricity by almost 30%. Circular debt has reached the horrifying figure of Rs. 2400 billion, and are projected to reach Rs. 3800 by 2025. Electricity costs, raised a stunning 22 times already, are set to be raised once again. Clarified butter [desi ghee] is more expensive by Rs. 200 while cow's milk is more expensive by Rs. 100. Fuel and petroleum products have risen by Rs. 40 per liter. Vegetables, the staple food for all poor households, have also become more costly, by Rs. 40 to Rs. 100 per liter.
Burdened by the continuing destruction of the economy, industries are now mulling downsizing their staff by as much as 20%. Eid holidays, brought about by a covid wave, might result in a Rs. 11 billion daily loss to our export sector. Speaking of coronavirus, that brings its own set of problems quite unique to us. Sputnik, the vaccine developed by Russia, is retailing for Rs. 750 in India, while here it is being sold by Rs. 12,500.
In corruption indexes, we have been on a steady freefall. FDI has been reduced by 27% in just seven months.
Three years in power preceded by 22 years of struggle have ended in these depressing figures. Not one day of these years was spent on planning for resolving the country's many issues. All that the party and its Chairman planned was to refer to Asif Ali Zardari and Nawaz Sharif as "thieves". Perhaps they really did believe that all that nothing more than this over simplistic step was required.
As they say, it is not easy to fool all the people all the time, but PTI has surely fooled itself for 25 years now.
Sri Lanka Women beat Pakistan Women by six wickets
Pakistan, who had won gold medal in the 2010 and 2014 editions, will now take on Bangladesh for the bronze medal game at the same venue tomorrow at 0900 local time.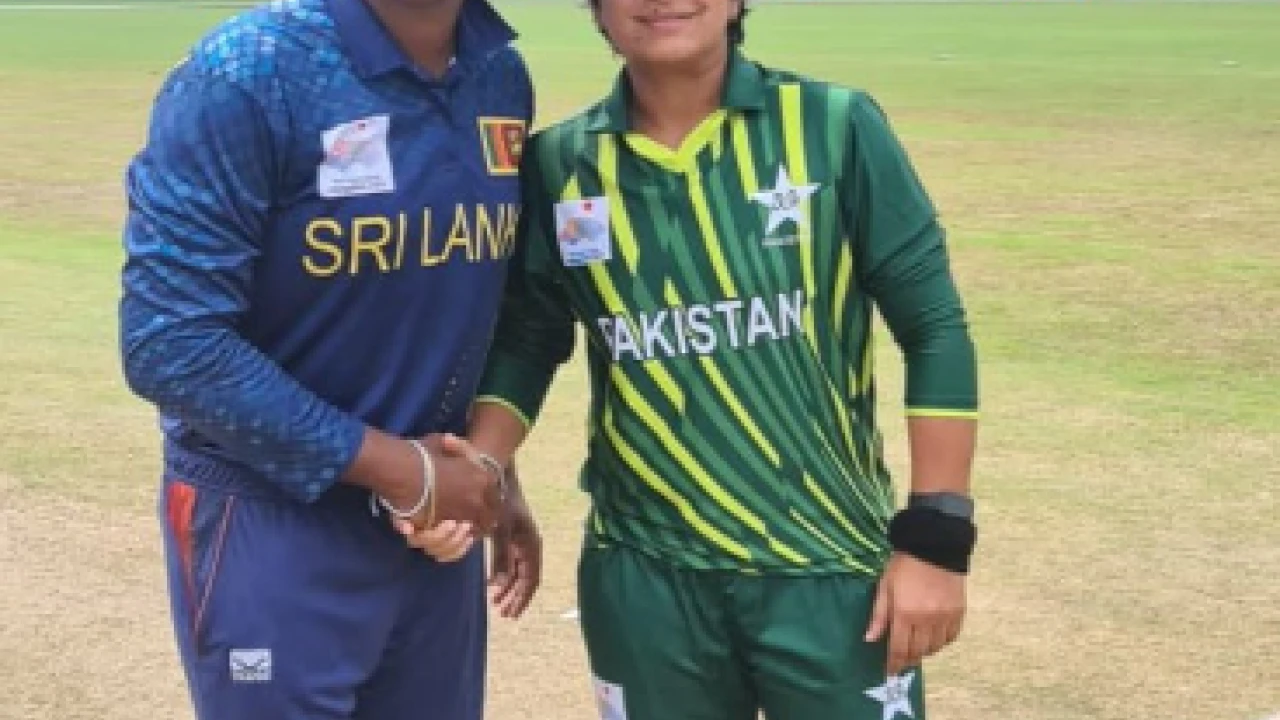 Hangzhou: Sri Lanka women beat Pakistan women by six wickets in the second semi-final of the 19th Asian Games women's cricket event at the Zhejiang University of Technology Pingfeng Cricket Field in Hangzhou on Sunday.
Pakistan, who had won gold medal in the 2010 and 2014 editions, will now take on Bangladesh for the bronze medal game at the same venue tomorrow at 0900 local time.
Meanwhile, Sri Lanka and India will compete for the gold medal match scheduled tomorrow at 1400 local time.
After being put into bat, Pakistan managed to score 75 for nine in 20 overs. Opening batter Shawaal Zulfiqar (16, 27b, 1x4), Muneeba Ali (13, 16b, 1x6) and Omaima Sohail (10, 17b, 1x6) were the only batters to enter double figures.
For Sri Lanka, Udeshika Prabodhani bagged three wickets for 21, while Kavisha Dilhari took two wickets.
In reply, Pakistan kept the Sri Lanka batters in check and dismissed four batters in process. Sri Lanka eventually achieved the target in the 17th over.
Harshitha Samarawickrama (23, 41b, 1x4) top-scored for the winning team.
For Pakistan, Diana Baig, Sadia Iqbal and Umm-e-Hani grabbed a wicket each.
Sri Lanka win the semi-final by six wickets 🏏

Pakistan will take on Bangladesh tomorrow for the bronze medal match.#AsianGames | #BackOurGirls pic.twitter.com/aUoFkh0Y9x

— Pakistan Cricket (@TheRealPCB) September 24, 2023
Scores in brief:
Sri Lanka beat Pakistan by six wickets Pakistan 75-9, 20 overs (Shawaal Zulfiqar 16, Muneeba Ali 13, Omaima Sohail 10; Udeshika Prabodhani 3-21, Kavisha Dilhari 2-15)
Sri Lanka 77-4, 16.3 overs (Harshitha Samarawickrama 23)
China central-bank adviser proposes structural reforms to revive economy
Liu Shijin, a member of the People's Bank of China's (PBOC) monetary policy committee, tells a financial forum in Shanghai that Beijing's room for monetary policy easing is limited by widening interest rate differentials with the U.S.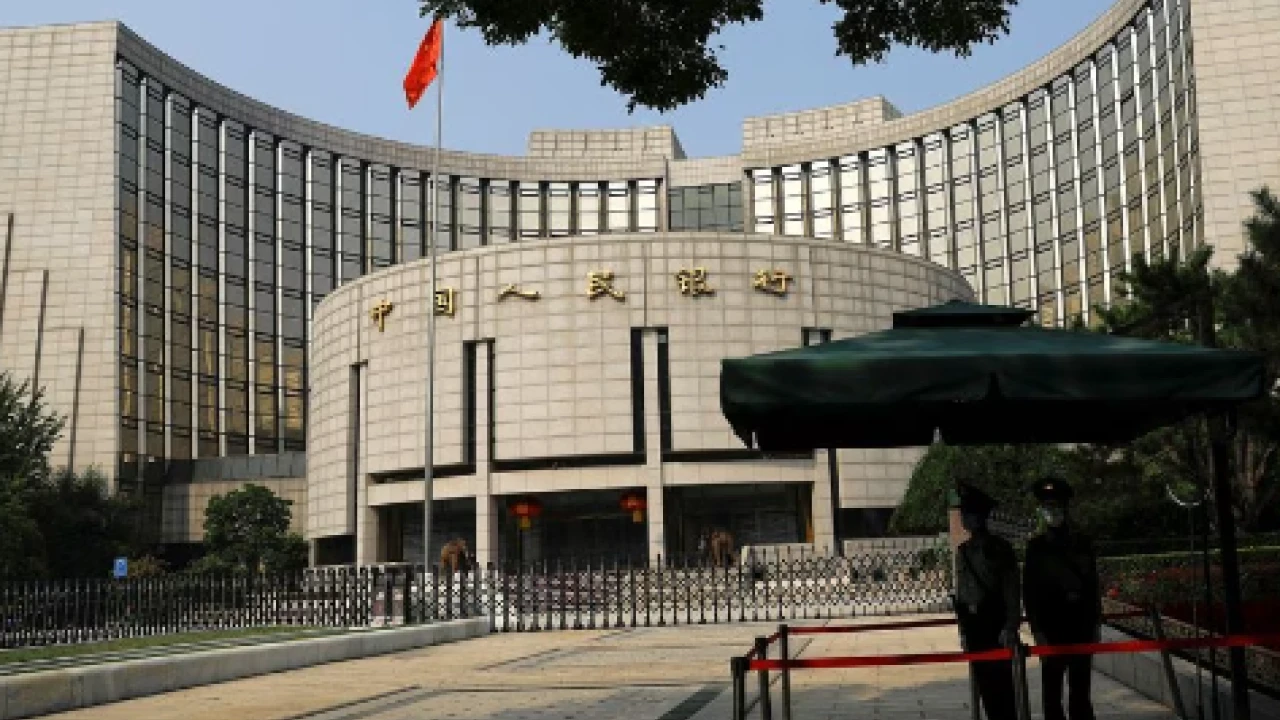 Shanghai: China has limited room for further monetary policy easing, and it should pursue structural reforms such as encouraging entrepreneurs rather than counting on macroeconomic policies to revive growth, a central bank adviser said on Sunday.
Liu Shijin, a member of the People's Bank of China's (PBOC) monetary policy committee, told a financial forum in Shanghai that Beijing's room for monetary policy easing was limited by widening interest rate differentials with the U.S.
Fiscally, Chinese governments at various levels are under stress, he told the annual Bund Summit conference.
"If China continues to focus on macro policies in its efforts to stabilise growth, there would be more and more side effects," said Liu, vice president of the Development Research Center of the State Council.
"More importantly, we will again miss the opportunity for structural reforms."
China's post-COVID recovery has lost momentum amid weak consumption, falling exports and a deepening property debt crisis, and the economy is struggling despite a slew of monetary and fiscal measures to boost confidence.
Liu proposed on Sunday a new round of structural reforms that could aid the economy immediately, while also injecting long-term growth momentum.
They include demand-side reforms with a focus on giving migrant workers access to public services enjoyed by city dwellers, as well as supply-side reforms that involve igniting entrepreneurship in emerging industries, he said.
China's top economic planning body announced this month it would create a new department to help private businesses, as Beijing seeks to revive investor confidence hurt by government crackdowns on sectors ranging from the internet to private tutoring.
Courtesy: Reuters
Korda-Corpuz help U.S. keep Solheim Cup lead
Nelly Korda and Allisen Corpuz produced a 5 & 3 victory over England's Georgia Hall and France's Celine Boutier on Saturday morning, helping the U.S. maintain a 7-5 lead over the Europeans at the Solheim Cup.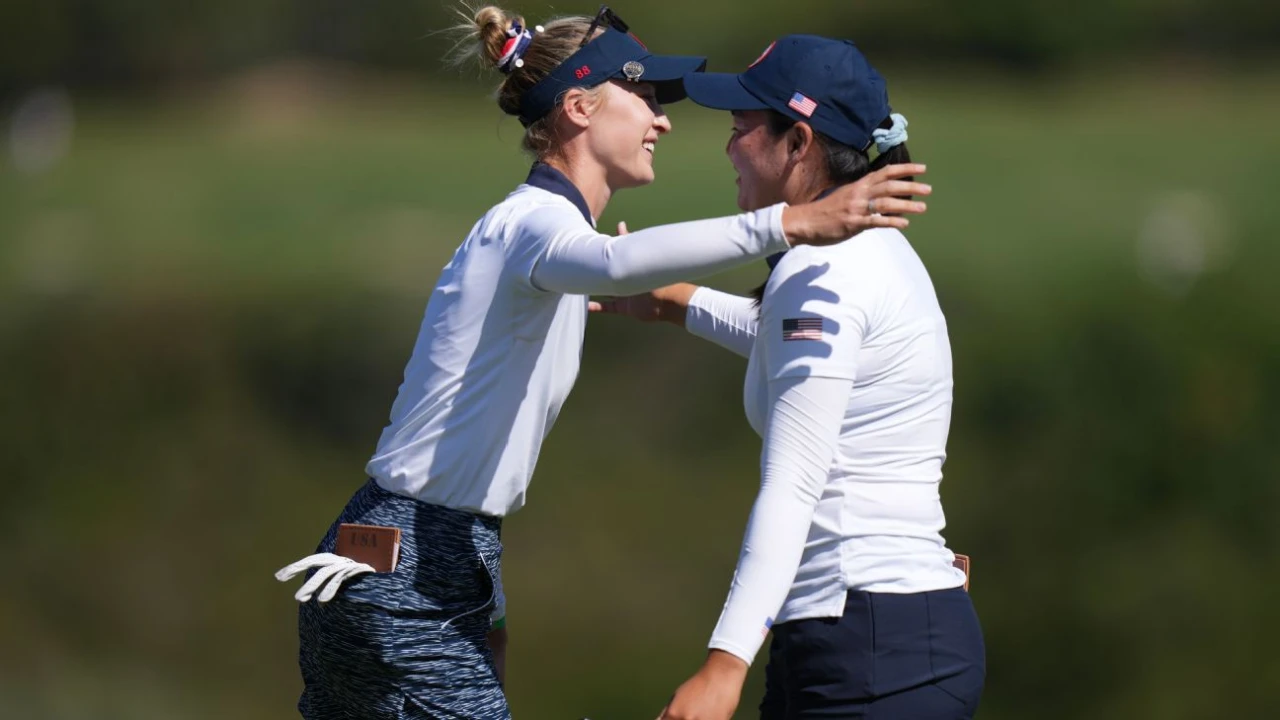 ANDALUCIA, Spain -- Nelly Korda came into this week's Solheim Cup at Finca Cortesin wondering whom she would play alternate-shot matches with because her older sister, Jessica, isn't on the U.S. team.

The Korda sisters proved to be a formidable duo in Nelly's first two Solheim Cups, combining to go 2-1 in foursomes matches in 2019 and 2021. Nelly might have found a suitable replacement in U.S. Women's Open champion Allisen Corpuz.

Korda and Corpuz produced a 5-and-3 victory over England's Georgia Hall and France's Celine Boutier on Saturday morning, helping the U.S. maintain a 7-5 lead over the Europeans. It was the second match won by Korda and Corpuz in two days.

"Allisen and I just played really well the past two days," Korda said. "I think we just bonded really well on the golf course. We didn't make too many mistakes, especially today, and we rolled in a lot of putts."

Jessica Korda, who is five years older than her sister, stepped away from the game in May because of a back injury. She announced in August that she is expecting her first child.

Corpuz claimed her first LPGA Tour victory by winning the first U.S. Women's Open at Pebble Beach Golf Links in California in June. She is a Solheim Cup rookie, so having Korda as a teammate has helped calm her nerves.

"I think Nelly is really calm, which is kind of what I need," Corpuz said. "I play [with] pretty low energy. Obviously, she has the experience as well. So just knowing that having someone like her by my side has helped me a lot to get comfortable."

The Europeans picked up the first point of Saturday morning's session when Denmark's Emily K. Pedersen and Spain's Carlota Ciganda took down Lilia Vu and Jennifer Kupcho 2 and 1 to cut the Americans' lead to 5-4. The U.S. duo took Nos. 7 and 8 to make the turn at all square, but the Europeans won three holes on the back nine to capture the match.

"I think it's important because you don't want to give too much to the Americans," Ciganda said. "I mean, they are tough to beat. They are really strong, and they are really good. We can do this, but we have to play good golf and we have to be very present, and hopefully that's enough."

The U.S. didn't wait long to regain momentum. Korda and Corpuz put the finishing touches on their dominant win to give the U.S. a 6-4 lead. Then Lexi Thompson and Megan Khang pulled away from Sweden's Anna Nordqvist and Ireland's Leona Maguire for a 1-up victory and another U.S. point.

Khang and Thompson were down 2 after seven holes but tied the match and went 1 up after the Europeans carded three straight bogeys. The European pair picked up a birdie on the par-4 15th hole to tie the match again. On the par-3 17th, the Americans went 1-up with a par, after the Europeans made a big mistake and settled for a bogey.

Europe stayed within two points after Sweden's Linn Grant and Maja Stark defeated Danielle Kang and Andrea Lee 1 up in the final match. Stark made a long putt on No. 17 to put the Europeans ahead, and then Grant made a similar putt on No. 18 to close out the match.

The teams will play four four-ball (best ball) matches Saturday afternoon, followed by 12 head-to-head singles matches Sunday. Europe retains the Solheim Cup by reaching 14 points while the U.S. would need 14½ points.