PML-N praise for Shujaat, Zardari after Punjab CM poll win
Senior politicians saved the country from PTI's chaos and promoted democracy, says Rana Sanaullah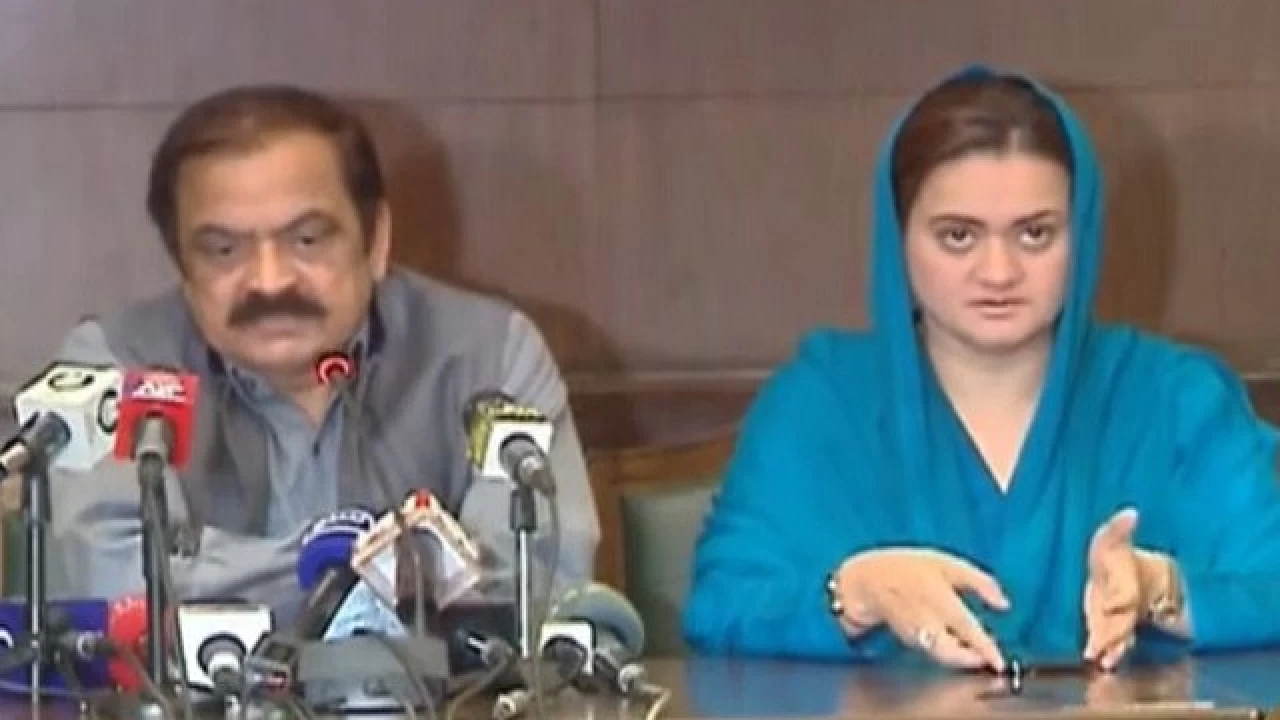 Reacting to the re-election of Hamza Shehbaz as Punjab CM, Interior Minister Rana Sanaullah heaped praise on PML-Q President Chaudhry Shujaat Hussain and PPP co-chairperson Asif Ali Zardari for ensuring the victory of his PML-N party in the crucial poll on Friday.
"Chaudhry Shujaat's decision has saved Pakistan from 'Imran's fitna [mischief]… Chaudhry Shujaat is very seasoned and experienced politician whose decision paves way for PML-N's victory… and saved the country from PTI's chaos and promoted democracy in the country," he remarked while addressing a press conference flanked by Information Minister Marriyum Aurangzeb in Lahore.
The interior minister also thanked the PPP leader, saying "Asif Zardari worked really hard for the election of chief minister".
Speaking about the deputy speaker's ruling, the minister said the Supreme Court made it clear in its verdict on Article-63A that defectors' votes will not be counted.
He said Hamza became the chief minister of the province after getting majority from the provincial legislature and added that after Shujaat's instructions to the party members, the votes of PML-Q lawmakers could not be counted.
"All PML-N workers, supporters and voters pay tribute to Chaudhry Shujaat," he added.
Earlier today, the deputy speaker in the Punjab Assembly, Dost Muhammad Mazari, declared Hamza Shehbaz winner of the chief minister election who bagged 178 votes against 186 of Chaudhry Pervez Elahi after rejecting 10 votes of the PML-Q citing a letter from the party head, Chaudhry Shujaat Hussain, who barred his party MPAs from voting for the PTI candidate.
Also read: Elahi wins election, but Hamza gets Punjab CM slot
The crucial session faced a three-hour long delay due to last-minute political wheeling and dealing.
The political heavy weights including former president Asif Zardari had swung into action to make last-ditch effort to salvage CM Hamza-led provincial government earlier today.
Going against the directives of Chaudhry Shujaat, all ten PML-Q lawmakers in the Punjab Assembly reportedly voted for Pervaiz Elahi in the chief minister election. However, Deputy Speaker Dost Mazari did not accept the votes of the PML-Q lawmakers, paving way for Hamza to retain his seat.
Prime Minister Shehbaz Sharif also paid homage to democratic and political wisdom of Asif Ali Zardari and Chaudhry Shujaat Hussain, who he said is the political heir of Chaudhry Zahoor Elahi Shaheed. "He [Shujaat] once again revived the democratic tradition of his great father and family," he said.
"His role is a victory for democracy and constitutional values for which I pay tribute to Chaudhry Shujaat Hussain, his family, and colleagues. Former president Asif Ali Zardari has played a historic role for the constitution, democracy and the people. Former President Zardari's political tolerance ended the crisis."
He also paid tribute to Maulana Fazlur Rehman, Bilawal Bhutto, leaders of MQM, ANP, BNP, BAP and all other coalition parties individually, for their "political insight, unity and support".
"Democracy won. The nation salutes you all."