Eight terrifying amusement park rides in the world  
Check out the world's scariest amusement park rides that are not for the faint-hearted.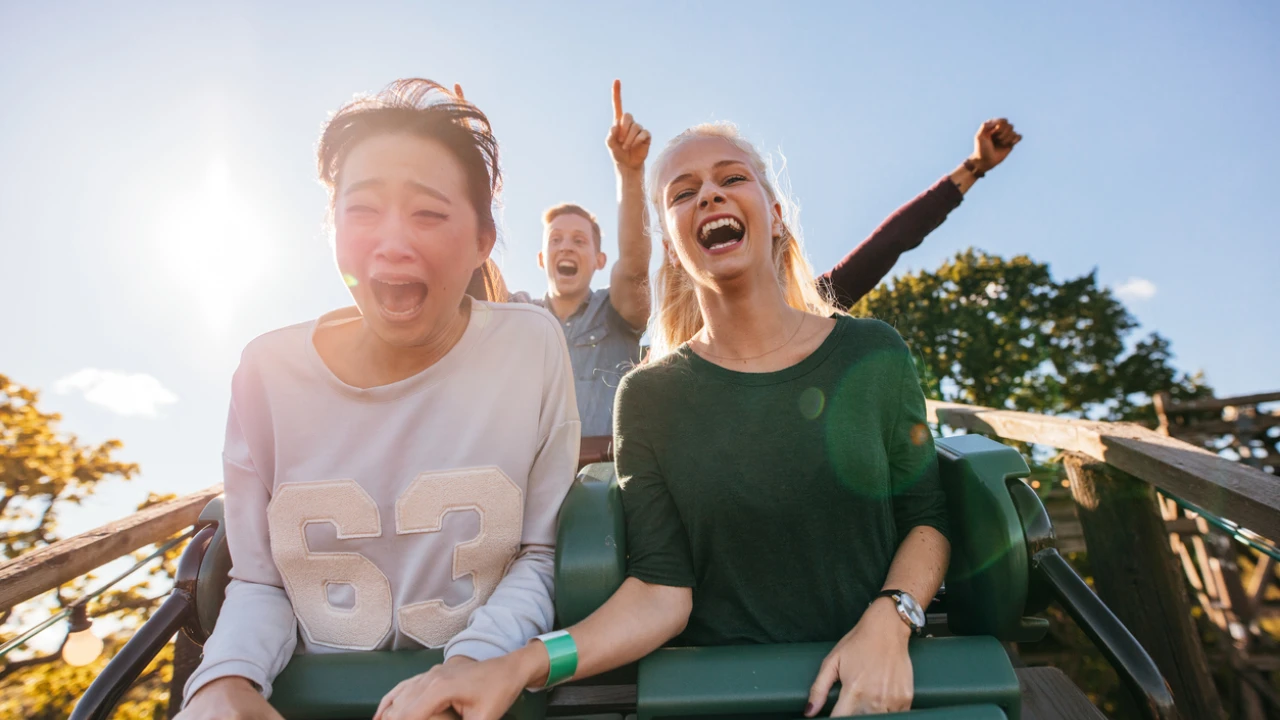 Many people are happy with being flung around on a roller coaster or spun high in a Ferris wheel, but, we're talking about the rides on which the fear turns into a kind of pure psychological terror.
Needless to say, not everyone loves roller coasters but for the ones who do, the following list might help you find the next amusement park ride that's filled with desired thrills, scare and fun.
These are the scariest theme park rides on Earth that will leave you screaming your lungs out.
Nitro – Six Flags Great Adventure (US)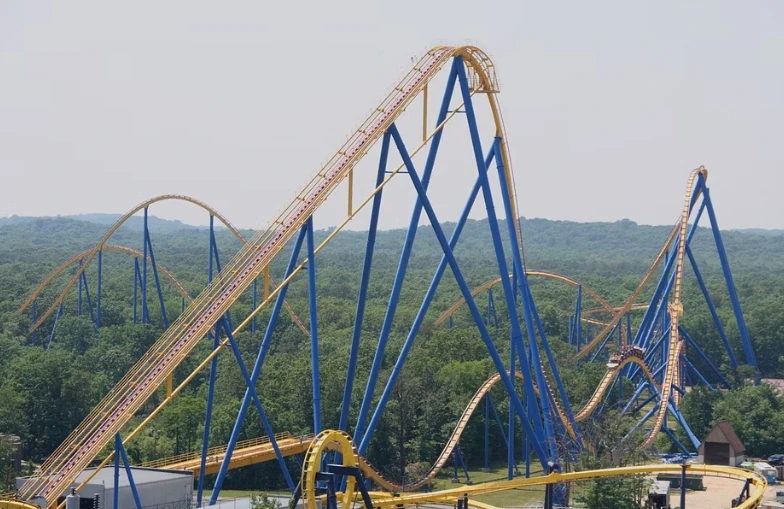 Nitro, steel roller coaster located at Six Flags Great Adventure in Jackson Township, New Jersey. It's track is 5,394 feet (1,644 m) in length and the height of the lift is approximately 230 feet (70 m). The gut-wrenching ride promises to soar you up at above 5,400 feet followed by a total of 7 hard, bumpy and steep drops.
Without a doubt, the notorious Nitro has been known for 'The Scariest and Most Thrilling Roller Coasters in the World'.
Kingda Ka (US)

Located in Jackson, New Jersey, USA, this rollercoaster is the World's tallest and North America's fastest roller coaster. Riders would be going 456 ft up in the air at a whopping speed of 128 mph before dropping 418 feet (127 m) and completing the course in 28 seconds.
Formula Rossa – Ferrari World (Abu Dhabi)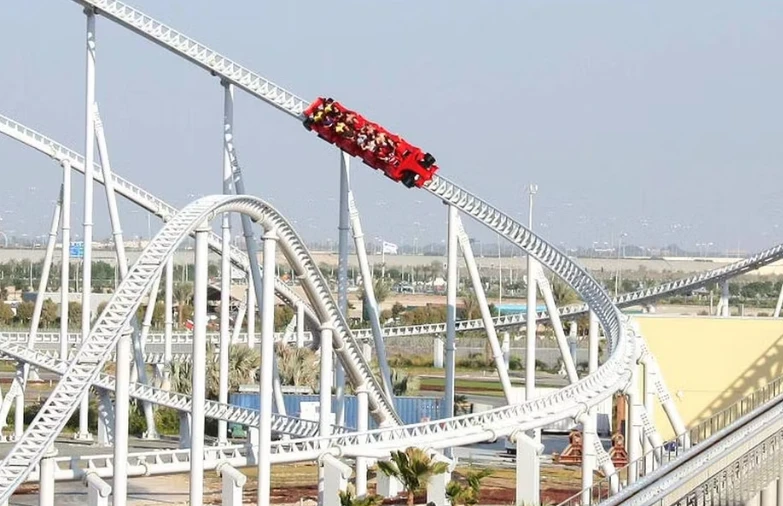 Situated at Ferrari World in Abu Dhabi, Formula Rossa is the world's fastest roller coaster featuring a maximum speed of 240 km/h in4.9 seconds using a hydraulic launch system. The length of its track is 2.2 km, and the shape is inspired by the legendary Italian racetrack Autodromo Nazionale Monza.
Due to its high speed, people on it are required to wear safety goggles to protect from airborne particulates such as dust. Experiencing the ultimate terror, riders experience up to 1.7 G-force during acceleration and up to 4.8 g throughout the ride.
Formula Rossa surpassed Kingda Ka at Six Flags Great Adventure as the world's fastest roller coaster when it opened in 2010 although Kingda Ka retained its record of tallest in the world.
X-Scream – Las Vegas Stratosphere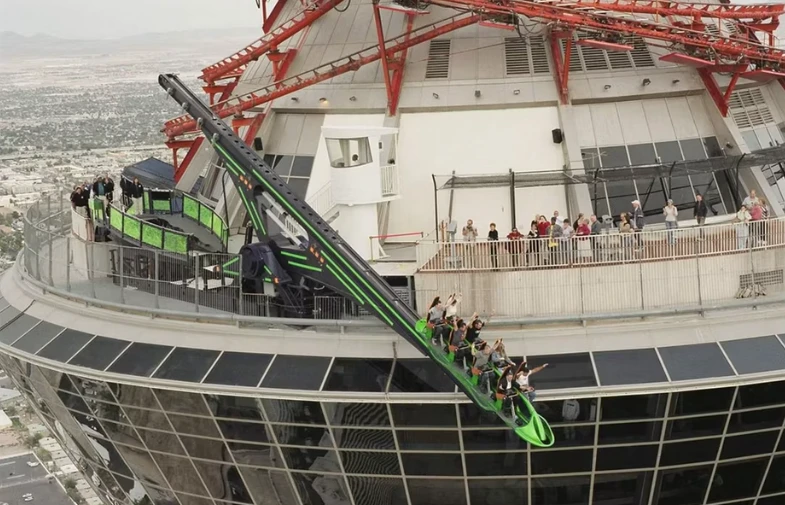 The spine-chilling X-Scream is a teeter-totter ride at the top of the Strat SkyPod in Las Vegas, Nevada. At a height of approximately 866 feet, X-Scream is the world's third-highest amusement ride. This trackway pivots vertically in a see-saw motion, letting the car roll backward and forward along the length, past the edge of the building, before braking sharply. The ride is programmed to take the rider by surprise and feel like they are at risk of falling from the precipice of the building.
Insanity Ride on Stratosphere (USA)
Insanity is a thrill ride located 900 ft above ground at the top of The Strat in Las Vegas, Nevada. One really gotta be insane to try this as it dangles its passengers with its mechanical arm and then spins them in the open air –at a 70-degree angle.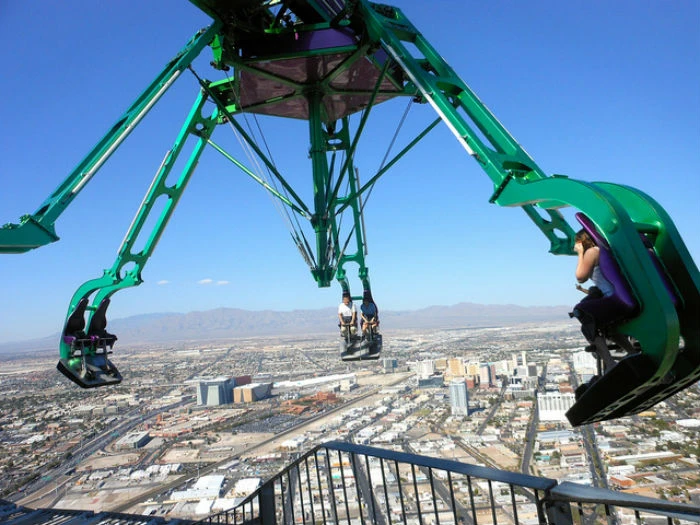 Fahrenheit (USA)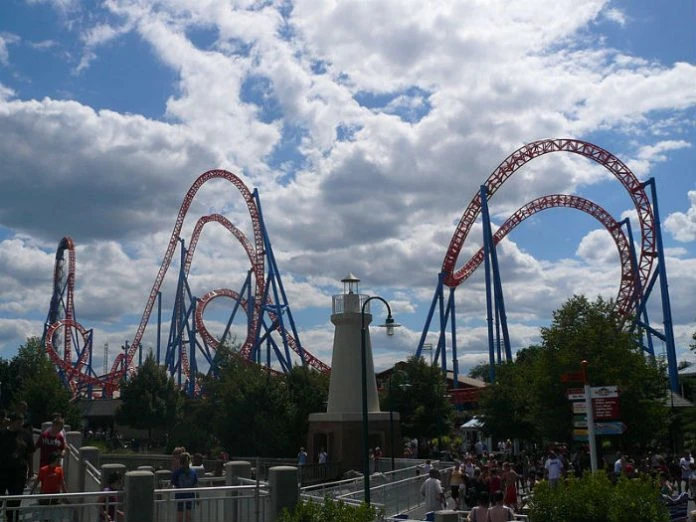 This steel roller coaster is located at Hersheypark in Hershey, Pennsylvania. It features six inversions and became the steepest roller coaster in the world when it opened with its first drop of 97 degrees. It is now the 7th steepest roller coaster in the world.
Described as a "vertical lift inverted loop coaster", the ride takes Fahrenheit features airtime hills and high-speed banked curves, cobra roll, a 97-degree drop on the first hill, and a 121-foot vertical lift.
This entire ride takes 1.25 minutes with a maximum speed of 58 mph. In addition, there is a 107-foot-tall (33 m) Norwegian loop, which has two inversions (an Immelmann inversion followed by a dive loop).
Colossus (UK)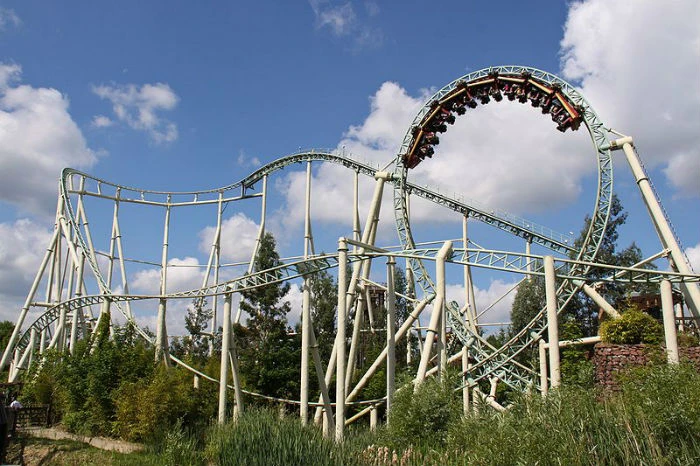 This "ruins of Atlantean civilization" themed steel shuttle roller coaster is located at Thorpe Park in Surrey, UK. This electrifying coaster holds the world record for inversions which include: a vertical loop, a cobra roll, two corkscrews, and five heartline rolls. During planning and construction, Colossus was known as Project Odyssey. It takes riders at 98ft high, at a speed of 45mph in approximately 90 seconds in total with all its spins and loops.
Eejanaika (Japan)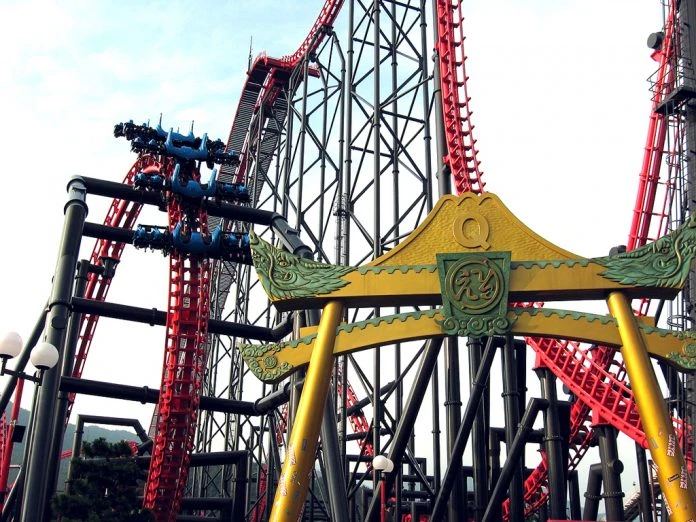 Situated at Fuji-Q Highland in Fujiyoshida, Yamanashi, Japan, Eejanaika is world's second 4th Dimension coaster. The course length of this ride is 1,153m which is covered in 2 minutes with a speed of 78.3 mph.
When this roller coaster ride begins, the seat rotates in a controlled 360-degree spin and clearly throws the rider's senses out of the field as the rider goes through 14 inversions in total making this the only roller coaster with the most inversions (According to Guinness World Book of Records).