Kenny Pickett's critical second season and the pressure to become a Steelers legend
Kenny Pickett's predecessor won a Super Bowl in his second season. Is Pickett on the arc that will make him a Steelers QB legend?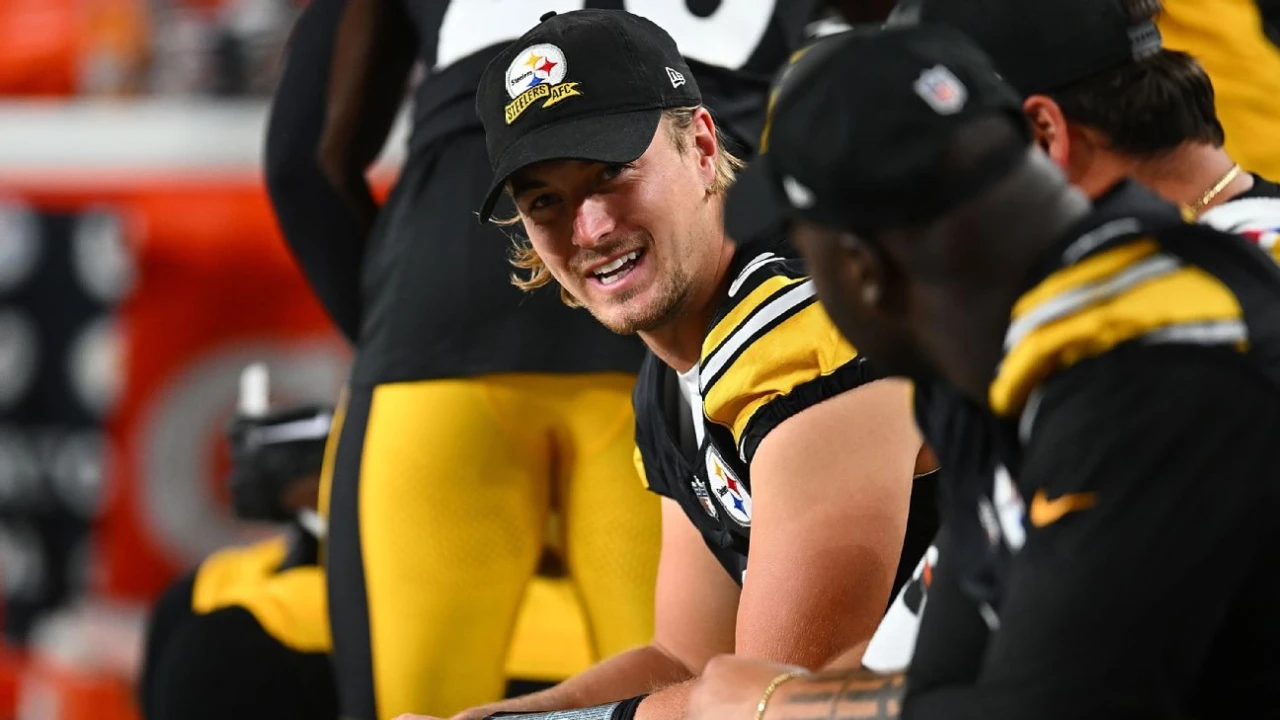 PITTSBURGH -- With a black Pittsburgh Steelers hat jammed over the still-sweaty strands of hair tucked behind his ears, quarterback Kenny Pickett took a seat in front of the microphones and media members waiting for answers last Sunday afternoon.

After throwing two interceptions and recording a 27.5 QBR in a 30-7 drubbing by the San Francisco 49ers, Pickett didn't have many.

Speaking swiftly and monotonously, Pickett diagnosed, as best he could, what went wrong. It was a lack of execution, a notoriously difficult opposing defense, a series of miscommunications.

A perfect storm of circumstances produced an imperfect debut in Pickett's much-anticipated second season.

After finishing his rookie campaign 7-2 after the bye with one interception over his final eight games and a perfect 158.3 passer rating in the preseason, Pickett appeared to be on the precipice of a breakout season. And he still could be.

Belief in the No. 20 pick in the 2022 draft pervades the locker room and the Steelers' front office.

"He really has a voice," left tackle Dan Moore Jr. said. "I talk to a lot of guys about it. Kenny has that thing. I don't know what it is, but he has it.

"You can't describe it. You either have it or you don't."

But if the first game is any indication, Pickett's second season will be less a 17-game coronation and more a weekly battle to reestablish the Steelers' offense as a force in a loaded AFC -- including Monday night's game against the division rival Cleveland Browns (8:15 p.m. ET, ESPN/ABC/ESPN+).

"I believe you've got to go get it," Pickett said. "No one's going to hand it to you. It's not going to be easy. I don't think you just kind of roll out there and hope it happens. You've got to put the work in to make it happen and go execute and play. So, that's all I want to do. You know, have fun, go out there and play, cut it loose. You know, see what happens."

THERE'S A HIGH bar for second-year quarterbacks in Pittsburgh.

To be fair, the bar for every player on every Steelers team is high. That's the pressure that comes with playing for an organization with six Lombardi Trophies. But no position, no player, is more scrutinized, more analyzed than the quarterback -- especially the quarterback handpicked by the organization to succeed Ben Roethlisberger. It's not just that Roethlisberger spent nearly two decades as the team's starting quarterback or that he won two Super Bowls -- the first in his second season -- it's the command that he had and way he won.

With Roethlisberger as their starter, the Steelers went 165-81-1 and won eight AFC North titles.

Since Roethlisberger retired, the Steelers are 9-9 and the offense has scored 30 points or more only once.

Pickett, though, already surpassed Roethlisberger by one measure when he was selected as a team captain prior to the start of the regular season. Roethlisberger didn't earn that title until his fifth year.

"Him being the lone captain on offense is obviously, no disrespect to the leadership of others, but probably more a reflection of everyone's feel of his growth and development, not only as a player, but as a leader within this collective," coach Mike Tomlin said. "I think the votes reflected that. They weren't just one-sided. I think it was reflective of the team's view of him and his growth and development."

The team embraced Pickett from the moment he took over the starting job at halftime of the Week 4 game a year ago, but it wasn't a seamless transition. The offense sputtered as Pickett threw eight interceptions in five games. After the bye, Pickett and his offense showed more cohesion. The Steelers bought in as Pickett's poise under pressure and leadership helped them to two game-winning drives late in the season.

"There was a big void with [Roethlisberger] leaving, like an offensive leader, and that's tough for a franchise to overcome," wide receiver Gunner Olszewski said. "And I think he's done a great job of stepping up and doing that.

"... Before he was officially announced as captain, he was already the leader of the offense and everything went through him. So to all of us, it was no shock and it was expected."

As Pickett found his voice in the huddle, he settled into his role off the field, too. As a rookie, Pickett moved quietly in the locker room, unassuming as he slipped out to study more film by himself in the corner of the team meeting room. Entering his second season with an established role, Pickett spends time at the locker room card table with his teammates and lingers at lunch with the linemen.

"As a rookie it's hard," wide receiver Diontae Johnson said. "You're trying to get a feel for everything. So his second year, he's more comfortable, he knows what to expect.

"... Our relationship has gotten a lot better. We talk a little more about stuff. We talk about what we see out there. He's talking to the whole offense. When he talks, everybody listens. He's a young guy, but everybody respects him because he is our quarterback."

AFTER MOVING PAST a sluggish start to finish a whisker away from the playoffs, Pickett didn't wait long to start building on the foundation he established in his rookie season.

Pickett returned to his native New Jersey in early February and started offseason workouts with Tony Racioppi, his longtime quarterback coach.

Meeting as often as four times a week, Pickett and Racioppi emphasized three main areas: tying his footwork to the Steelers' pass concepts, his base and pocket movement and cleaning up his throwing movement. Along the way, Pickett also added 13 pounds of muscle.

A high school baseball player -- and two-time Steelers training camp home run derby champ -- Pickett had plenty of strength, but Racioppi helped him channel it into his football throwing motion.