Imran questions 'impartiality' of caretaker Punjab CM Mohsin Naqvi
The PTI Chief has announced protests against ECP's decision from tomorrow, warning that the situation could be more worst if elections are not held free and fair this time.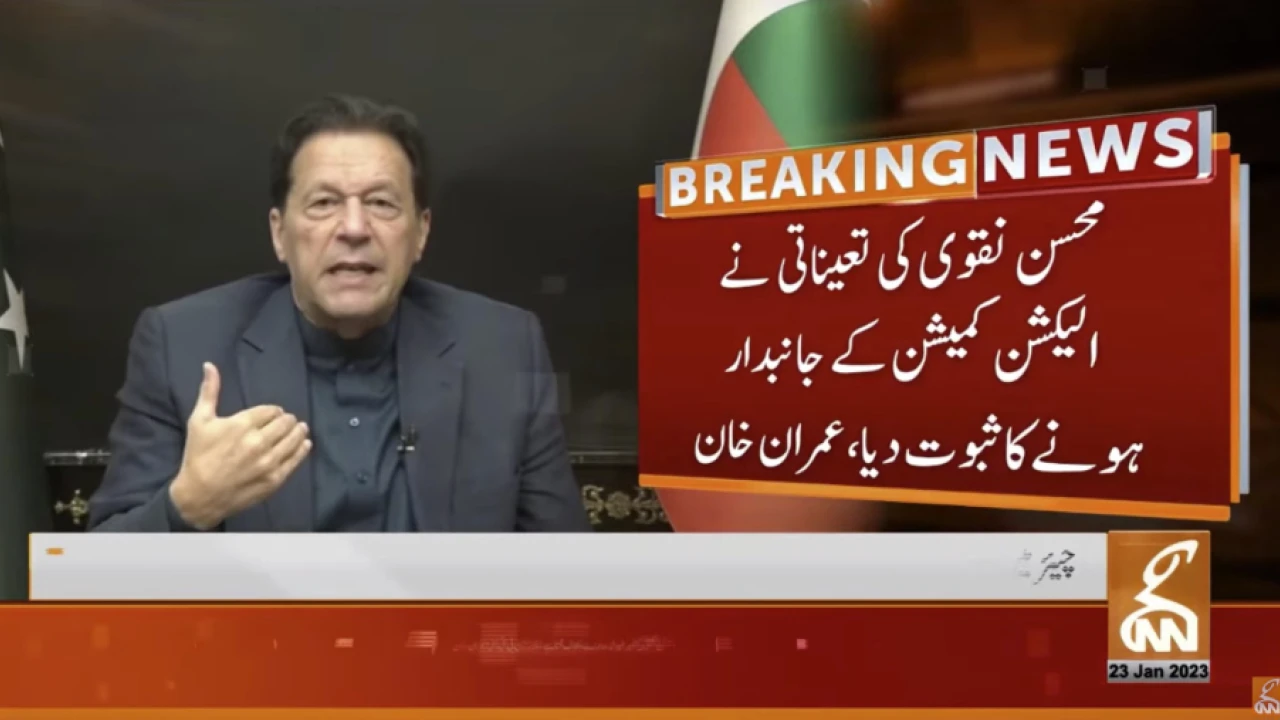 Lahore: Pakistan Tehreek-e-Insaf (PTI) Chief Imran Khan on Monday said that caretaker Punjab Chief Minister Mohsin Naqvi has been appointed to serve the purpose of those who are against his party, alleging that 'Naqvi is not an honest man for caretaker setup'.
Imran Khan said that Asif Ali Zardari used to call Mohsin Naqvi as his son, and by this, it could easily be judged that what kind of person he is.
He also disclosed that Mohsin Naqvi was the one of the worst enemies of the PTI, saying that "Mohsin Naqvi tried the most to make his government fall. I learnt it through the secret reports,".
He expressed these words while talking to the media on Monday.
The PTI Chief announced protest by Tuesday (tomorrow) and said they would also approach the court against the ECP's decision.
"Why election dates have not been given by both governors of KPK and Punjab? Constitution is quite clear. Elections must be held within 90 days," he said, adding that they would challenge Naqvi's appointment as he was a partial person.
He revealed that Zardari is behind all this.
He warned that if the elections were held this way then there would nothing but more devastation in the country.
"You all should take to the streets by tomorrow. We will start our campaign in Lahore," said Khan, adding that " You can easily judge by this that Zardari used to call Naqvi as his son. And it is quite clear that internationally
Imran stated that Mohsin Naqvi returned Rs 3.5 million back to NAB and he is not an honest man for such post of "caretaker Punjab CM" and one of the worst enemies of the PTI.
He also stated that his channel 24 news had constantly been running propaganda campaign against the PTI.
"If such person has been appointed as caretaker Punjab CM it means that they are certain people who want to damage the PTI," said the PTI Chairman, adding that such moves were also made in the past against some parties.
"Kata over politicians is quite damaging. Now, there is a decision to negate Imran Khan and Mohsin Naqvi was brought here to bring all those bureaucrats who are against PTI," alleged Khan, adding that they [the coalition partners] were in fear over the victory of the PTI and they were delaying the general elections.
"They will only let the general elections take place when they will have their own umpires everywhere. The PPP government in Sindh is the latest example where Zardari has complete control over the system," he added.
Khan said, "Pakistan is advancing to the Sri-Lanka like situation. The economy is in the major economic crisis in the history. Pakistanis are suffering but I fear that the situation is going to be worst.,".
He added that the recent decision by the ECP would lead the country towards further devastation. The PTI Chief lashed out at the coalition partners, saying that "they have their everything abroad and they are pushing the country towards crisis but they do not understand that people now understand,".