Korda-Corpuz help U.S. keep Solheim Cup lead
Nelly Korda and Allisen Corpuz produced a 5 & 3 victory over England's Georgia Hall and France's Celine Boutier on Saturday morning, helping the U.S. maintain a 7-5 lead over the Europeans at the Solheim Cup.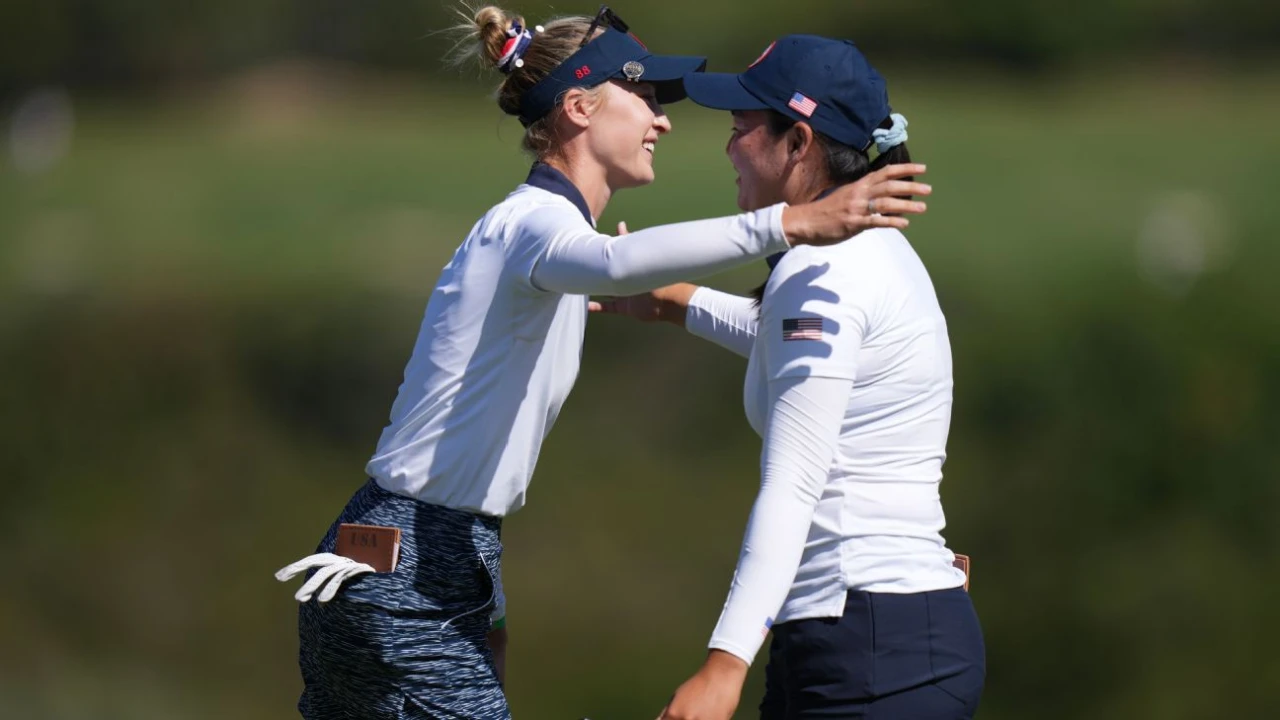 ANDALUCIA, Spain -- Nelly Korda came into this week's Solheim Cup at Finca Cortesin wondering whom she would play alternate-shot matches with because her older sister, Jessica, isn't on the U.S. team.

The Korda sisters proved to be a formidable duo in Nelly's first two Solheim Cups, combining to go 2-1 in foursomes matches in 2019 and 2021. Nelly might have found a suitable replacement in U.S. Women's Open champion Allisen Corpuz.

Korda and Corpuz produced a 5-and-3 victory over England's Georgia Hall and France's Celine Boutier on Saturday morning, helping the U.S. maintain a 7-5 lead over the Europeans. It was the second match won by Korda and Corpuz in two days.

"Allisen and I just played really well the past two days," Korda said. "I think we just bonded really well on the golf course. We didn't make too many mistakes, especially today, and we rolled in a lot of putts."

Jessica Korda, who is five years older than her sister, stepped away from the game in May because of a back injury. She announced in August that she is expecting her first child.

Corpuz claimed her first LPGA Tour victory by winning the first U.S. Women's Open at Pebble Beach Golf Links in California in June. She is a Solheim Cup rookie, so having Korda as a teammate has helped calm her nerves.

"I think Nelly is really calm, which is kind of what I need," Corpuz said. "I play [with] pretty low energy. Obviously, she has the experience as well. So just knowing that having someone like her by my side has helped me a lot to get comfortable."

The Europeans picked up the first point of Saturday morning's session when Denmark's Emily K. Pedersen and Spain's Carlota Ciganda took down Lilia Vu and Jennifer Kupcho 2 and 1 to cut the Americans' lead to 5-4. The U.S. duo took Nos. 7 and 8 to make the turn at all square, but the Europeans won three holes on the back nine to capture the match.

"I think it's important because you don't want to give too much to the Americans," Ciganda said. "I mean, they are tough to beat. They are really strong, and they are really good. We can do this, but we have to play good golf and we have to be very present, and hopefully that's enough."

The U.S. didn't wait long to regain momentum. Korda and Corpuz put the finishing touches on their dominant win to give the U.S. a 6-4 lead. Then Lexi Thompson and Megan Khang pulled away from Sweden's Anna Nordqvist and Ireland's Leona Maguire for a 1-up victory and another U.S. point.

Khang and Thompson were down 2 after seven holes but tied the match and went 1 up after the Europeans carded three straight bogeys. The European pair picked up a birdie on the par-4 15th hole to tie the match again. On the par-3 17th, the Americans went 1-up with a par, after the Europeans made a big mistake and settled for a bogey.

Europe stayed within two points after Sweden's Linn Grant and Maja Stark defeated Danielle Kang and Andrea Lee 1 up in the final match. Stark made a long putt on No. 17 to put the Europeans ahead, and then Grant made a similar putt on No. 18 to close out the match.

The teams will play four four-ball (best ball) matches Saturday afternoon, followed by 12 head-to-head singles matches Sunday. Europe retains the Solheim Cup by reaching 14 points while the U.S. would need 14½ points.