WRAP achieves milestones in climate resilient water governance
Dr. Mohsin Hafeez, Director of Water, Food & Ecosystems at IWMI Pakistan said, "the programme is playing a vital role in modernizing water infrastructure across various regions in Pakistan.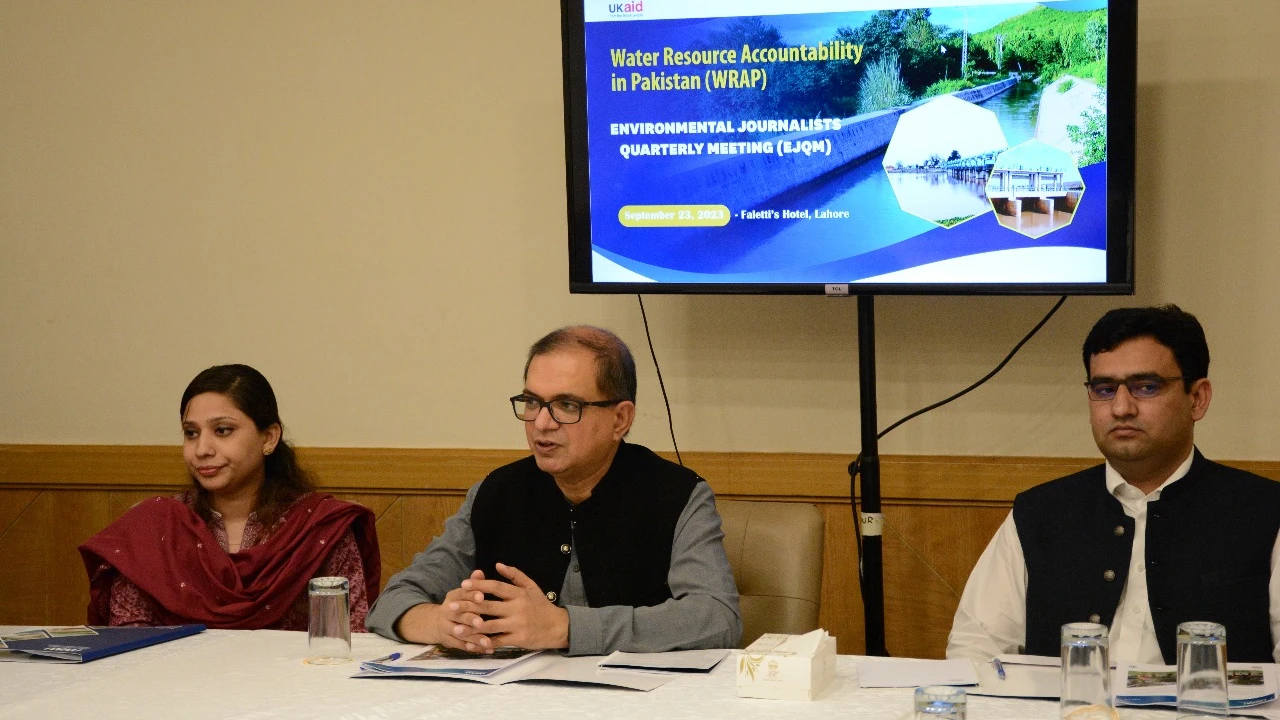 Lahore: The International Water Management Institute (IWMI) Pakistan under its programme "Water Resource Accountability in Pakistan (WRAP), funded by UKaid, organized a meeting with the journalists to share the significant achievements in its mission to enhance climate-resilient solutions for improving water governance.
Component one of this ambitious project, titled "Climate Resilient Solutions for Improving Water Governance (CRS-IWaG)," has made remarkable strides towards achieving its goals. The project is being implemented in district Okara of Punjab province.
The CRS-IWaG initiative, is a pivotal component of the larger Water Resource Accountability in Pakistan programme, which will continue till 2026. This pioneering effort aims to address the pressing challenges associated with water governance and management in Pakistan, particularly in the context of climate change. The project's primary focus is on bolstering the nation's resilience to climate-induced water stress and enhancing the accountability of water resource management.
Briefing the journalists on this occasion, Dr. Mohsin Hafeez, Director of Water, Food & Ecosystems at IWMI Pakistan said, "the programme is playing a vital role in modernizing water infrastructure across various regions in Pakistan. Through strategic investments, outdated infrastructure has been upgraded, leading to more efficient water storage, distribution, and management systems. These improvements will result in increased water availability for communities, even during periods of scarcity."
Dr. Mohsin added that we are actively working with the provincial government as well as the federal, to strengthen governance structures at various levels, ensuring that decision-making processes related to water resources are transparent, inclusive, and accountable. This can only be achieved through the establishment of robust institutional frameworks and capacity-building initiatives for government agencies and local communities.
IWMI has introduced cutting-edge scientific instruments called "soil moisture sensors" to farmer communities, including both men and women, in the pilot district of Okara, Punjab. The adoption of this technology is expected to result in significant water savings over time. This groundbreaking innovation, once successfully implemented in Okara, has the potential to enhance crop productivity and alleviate stress on the region's already limited water resources.
The project places a strong emphasis on capacity building for line departments, particularly at the district and tehsil (sub-district) levels, encompassing officials from Irrigation, Agriculture, Environment departments, and Municipalities. These officials have undergone specialized training focused on the concepts and applications of Integrated Water Resources Management (IWRM) principles in the Okara district. This capacity-building initiative assumes crucial importance as data-driven water allocation and reallocation decisions will be made by the Punjab Water Resources Commission, in accordance with its mandate established by the Punjab Water Act 2019.
Empowering female farmers through climate-smart interventions and creating an enabling environment for their inclusion in working groups is a multifaceted approach aimed at addressing the unique challenges and opportunities faced by women in agriculture, particularly in the context of climate change and sustainable farming practices.
Highlighting the achievements of the programme, Dr. Mohsin further said that in recognition of the increasing impacts of climate change, the programme has integrated climate-resilient solutions into water governance practices. These measures include the implementation of sustainable water resource management techniques, the promotion of water conservation practices, and the development of early warning systems for climate-related water challenges.
"There is a strong emphasis on community engagement and empowerment. It has facilitated community-led initiatives for sustainable water management, fostering a sense of ownership and responsibility among local populations. This approach has led to improved water resource management at the grassroots level." Kanwal Waqar, Gender and Youth Specialist at IWMI Pakistan.
Commenting on the data and information sharing, Dr. Abdul Rehman Cheema, Regional Researcher, Water Governance & Institutional Specialist, IWMI said, "the initiative has worked diligently to enhance data collection, analysis, and sharing mechanisms related to water resources. Access to accurate and up-to-date information has empowered stakeholders to make informed decisions, leading to more efficient water allocation and utilization."
The project has promoted cross-sectoral collaboration among various government agencies, civil society organizations, and private sector entities. This collaborative approach has resulted in more holistic and comprehensive solutions to Pakistan's water governance challenges. Also, this will provide requisite scientific basis for evidence- based decision-making once Punjab Water Resources Commission and Punjab Water Services Regulation Authority become fully operational.
As the Water Resource Accountability in Pakistan programme continues its efforts to achieve sustainable water resource management, CRS-IWaG remains a shining example of how international cooperation and forward-thinking initiatives can bring about positive change in the face of climate challenges.
This success would not have been possible without the unwavering support and commitment of UKaid. Their commitment to improving water governance and resilience in Pakistan has been instrumental in these achievements.