'It's surprising the Opposition is fearful of a machine (EVM): PM Imran
The premier says in today's era, when information is simply a click away, a government's performance is plain for all to see.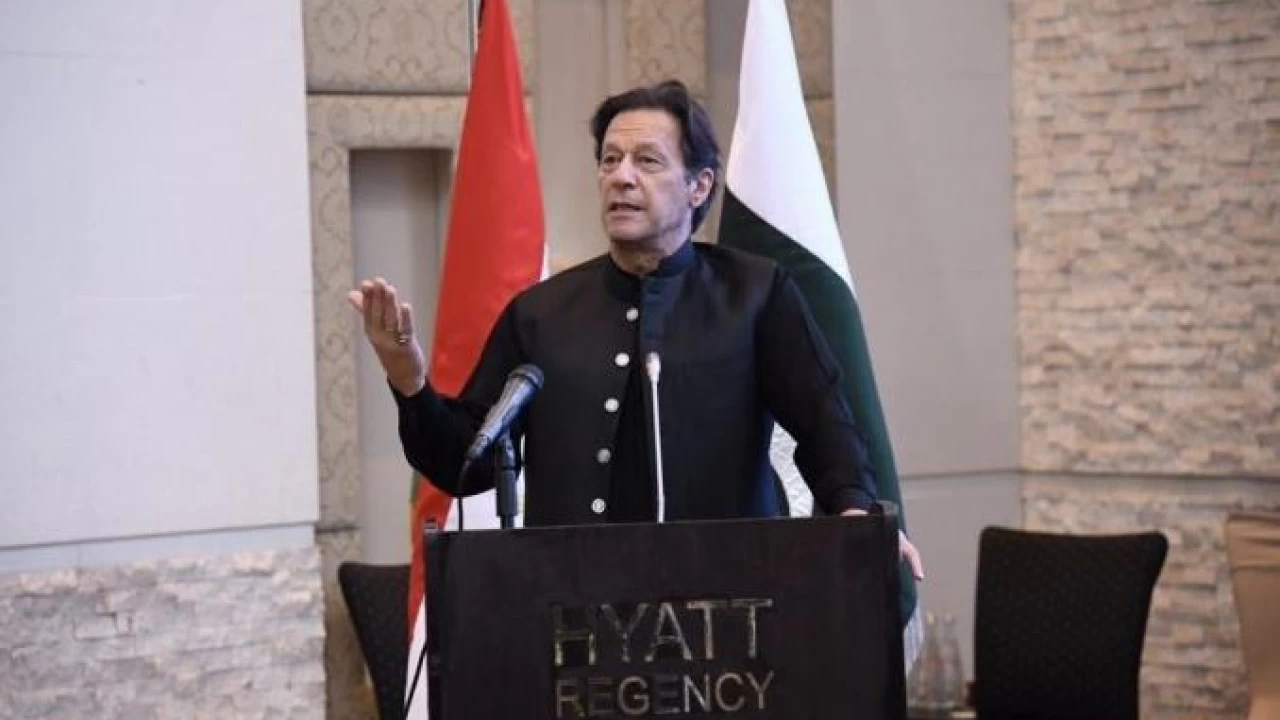 "This is quite suprising for me that the Opposition is fearful of a machine-- the electronic voting machine-- the government aims to introduce prior to the next general elections so voting can take place transparently," Prime Minister Imran Khan said on Tuesday.
The premier was addressing the launching ceremony of the Lilla Jhelum Dual Carriageway that he inaugurated with the touch of a button on a large display screen.
"I was reflecting on the fact that we used technology and inaugurated this project with the touch of a hand, and that technology has come so far."
Khan said he was surprised to see the Opposition resisted technology, adidng the whole world now used technology for voting so it could be a better, more transparent exercise.
"I am surprised the Opposition have a problem with it; they are afraid of a machine or I don't know of what," PM Imran said.
The premier said in today's era, when information is simply a click away, a government's performance is plain for all to see.
"People can find out very easily who did what, what conditions prevailed when the government came into power," he said, adding that everyone can now see on their smartphones how Pakistan was deep into the country's "biggest deficit" and how it "paid back the greatest number of loans in the country's history".
Khan said the government's aim was to first stabilise the country and then bring about long-term development.
"Countries advance when they think of future generations while planning," he said.
"They don't think of the upcoming elections. They think of our youth, which form 60% of our population, and what is to be done for them," he added.
Citing China's example, the prime minister said that the country's secret to its success is that its leadership thought far ahead. "First they thought of how to bring their people out of poverty and then they ascertained which projects will take China forward."
He said a country will "never progress" if leaders think they should spend money on a "metro bus project right before elections so I can win".
The premier pointed out that due to the apathy of previous governments, the ruthless tree-cutting had turned several cities including Lahore, once used to be called as City of Gardens, into a concrete jungle.
The prime minister said his government had planted around 2.5 billion trees with a target of 10 billion in coming years.During the pandemic, he said, the prudent policies of the government had acclaimed global recognition in line with the decisions of the National Command Operation Centre (NCOC).
"I am proud of our team that has helped the country sail smoothly through the challenge of the century," he said.The prime minister expressed confidence that the government would effectively overcome the passing phase of inflation as a result of the global situation.
"In the coming days, we are going to announce a big package to give relief to the common man," he said.After completion of the five-year tenure, he said Pakistan Tehreek-e-Insaf (PTI) would emerge successful in the eyes of public by achieving the goals of development and prosperity.
Imran Khan gave a comparison of the expensive road construction of 645 kilometres during the tenure of Pakistan Muslim League-N compared with the 1,750 km road network made during the PTI tenure.
He said on the construction of two-lane roads, the cost incurred during PTI government was 33.37 percent less compared with PML-N, up to 53 percent less on four-lane highways, and 19.6 percent less on four-lane motorways.
"No country can prosper if its leaders are indulged in corruption and there is no rule of law," he regretted.On Lilla-Jhelum road, he said the project would help promote tourism in the area, boost farm to the market supply of agricultural produce, enhance employment opportunities and strengthen economic development.
Chief Minister Punjab Usman Buzdar said the Lilla-Jhelum road would provide business and trade opportunities to the people, particularly of north Punjab.He mentioned that under the District Development Programme, around 103 projects worth Rs11.3 billion were being carried out in Jhelum.
He said the Punjab government in collaboration with Asian Development Bank would construct four roads of 5,006 kilometres in length.Minister for Information and Broadcasting and Member of National Assembly from Jhelum, Chaudhry Fawad Hussain said Lilla-Jhelum road would connect Grand Trunk road with motorway.
For this, the traffic from Kashmir will not need to pass through Rawalpindi to go to Lahore and Karachi.This would make Jhelum and suburbs a periphery of Islamabad and would promote development, he added.
He mentioned that the government of Prime Minister Imran Khan in three years had helped revive the industries and also facilitated the farmers.