Pakistan needs fundamental economic reforms: US envoy
Ambassador Donald Blome who visited Lahore Chamber of Commerce and Industry has clearly said that the economic reforms are inevitable to encourage new investment.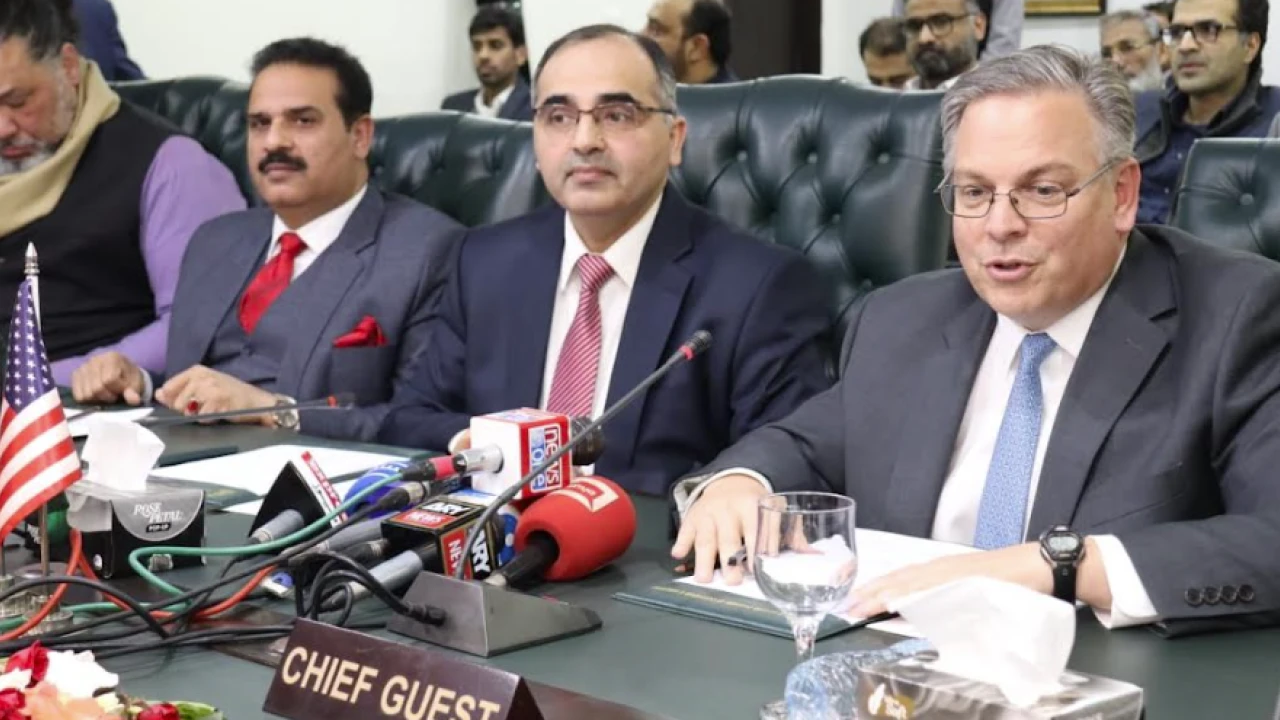 Lahore: United States of America Ambassador Donald Blome on Monday Pakistan needed fundamental economic reforms in order to encourage new investment.
Ambassador Blome said that US mission wanted all members of the society to equally participate in the economic activities and inclusion of women entrepreneurs in LCCI was really encouraging.
"Our mission is supporting women entrepreneurs through accredited exchange programs and offering opportunities to women in energy sector," said the ambassador while speaking at the Lahore Chamber of Commerce and Industry during his visit on Monday.
The diplomat said the US had recently provided more than 200 million USD for assistance and reconstruction of flood affectees as these were difficult times for Pakistani people.
The US diplomat said that Pakistan's infrastructural challenges hindering regional trade and floods had damaged the infrastructure, and pointed out that the US mission in Pakistan had also accompanied a delegation of Pakistani IT companies who participated in a show in Las Vegas.
He also revealed that the US investment in Pakistan increased 50 percent in the last few years which was the highest in the past decades.
"I believe that there still a substantial room for growth in economic ties," said the US ambassador while speaking at Lahore Chamber of Commerce and Industry.
The diplomat said that they had 75 years of bilateral relations which were the backbone of their economic ties as well.
LCCI President Kashif Anwar presented the address of welcome while US Consul General in Lahore William Makaneole, LCCI Senior Vice President Chaudhry Zafar Mahmood and Vice President Adnan Khalid Butt also spoke on the occasion. LCCI Executive Committee Members and former office-bearers were also present.
The US ambassador said that they were helping Pakistan to be able to resist climate disasters which included infrastructural advancement, less dependency on fuel which ultimately leads to the inclusion of green energy.
He stated there were two ways to decrease the greenhouse gas emission one was to enhance infrastructure and the other was to decrease the dependency on oil as it also impacted economic growth with global increased prices.
He said that in this regard US Pakistan Green Alliance aimed at reducing greenhouse emission.
"Basically US mission wants to encourage entrepreneurs to look at the enormous untapped potential of trade between Pakistan and USA where the priority areas will be IT, agriculture and energy sector," said Ambassador Blome
He said that IMF worked on a policy framework which is though and US was the large stakeholder but there were other members too.
The diplomat said, " We want to see Pakistan have a sustainable budget to put on a sound economic system,". He said that IMF was generally flexible and was able to incorporate in times of troubles.
LCCI President Kashif Anwar said that Pakistan and USA have excellent diplomatic relations that started soon after the independence of Pakistan in 1947. Both countries celebrated 75th Anniversary of diplomatic relations last year and we look forward to maintaining these cordial relations.
He said that they really valued the Pakistan's multi-dimensional relations with United States, which included ongoing cooperation in diverse areas including trade, investment, energy, I.T, health, education, combating climate change, security, governance and counterterrorism etc.
The LCCI President said that the importance of United States in Pakistan's Economy can be judged from the fact that it is the largest export market for Pakistan and caters to around 20% of our Exports. United States has also been one of the leading sources of foreign investment in Pakistan since long.
He said that we really value the compassions of US nationals for Pakistan who regularly contribute for various projects being undertaken by USAID in our country that are related to SMEs, energy sector, social sector, education, healthcare facilities and empowering young entrepreneurs especially women.
Kashif Anwar said that the devastating floods of 2022 affected 33 million people in Pakistan and more than 1,700 people lost their lives. The total economic losses are estimated to be over 30 billion dollars. The sectors of Housing, Agriculture, Livestock, and Infrastructure suffered the most significant damages. In this scenario, we are grateful to USAID for pledging 100 million dollars in the recent "International Conference on Climate Resilient Pakistan" in Geneva to support flood recovery efforts in Pakistan
He said that at present, Pakistan is going through the hard times. We are looking up towards friends of Pakistan especially USA for some immediate assistance to put economy of Pakistan on track.
He said that a heavy percentage of Energy is still generated from expensive imported fuel which has resulted in steep tariff hike and huge circular debt. We cannot afford to sustain with that anymore.
The LCCI President said that the current foreign exchange crisis has forced restrictions on the ability of banks to open LCs. Shipping containers are stuck at Ports which are creating threats to the supply chain of manufacturing and industrial sectors. We need the support of Multilateral Agencies to tide over this difficult time.
He added that the present scenario requires some concrete policy actions on urgent basis. Government should immediately declare all the Ports as Bonds to save businesses from port storage charges. Considering these times of grave economic challenges, we would request the US Mission in Pakistan to play a role in convincing the shipping lines operating in Pakistan to waive off their demurrage and detention charges.
"We are of the view that import substitution through Industrialization should be the top most priority, followed by enhancing exports to manage our trade & current account deficits. The Government has to come up with a concrete strategy of import substitution so that we are able to expand our manufacturing base and decrease our reliance on imports. This can become possible through exchange of technology and digitized m-commerce agreements between US and Pakistan", he added.
He said that the energy production must be enhanced from renewable sources to curtail our import bill. There is need for construction of dams and water reservoirs with the support of USAID. This would help prevent floods, ensure water availability for agriculture purpose and save Pakistan from becoming a water scarce country. Rain water harvesting through building new lakes and flood water channeling with the help of US assistance can prove very beneficial.
The LCCI President said that according to the State Bank of Pakistan data, Pakistan's exports to US were 6.8 Billion Dollars in 2021-22 while the imports were around 3 Billion Dollars. It is worth mentioning that our exports to US are basically dominated by Textiles.
He further stated that both countries signed a Trade and Investment Framework Agreement in 2003. It is a high time to move towards a Free Trade Agreement which would provide us greater market access and enable Pakistan to take its exports beyond 10 Billion Dollars to the US.
He highlighted that there are great opportunities for US companies to enter into joint ventures with Pakistan companies in the areas of renewable energy, power sector equipment, manufacturing of Electric Vehicles, Railway Trains and Engines.
The LCCI President said that the other sectors where we see great possibility for expanding economic partnership and technology exchange include healthcare, agriculture technology, telecommunication equipment and services.
He said that we certainly see a tremendous role of the collaboration with US in developing our SME sector on modern lines and economic empowerment of women.
Kashif Anwar said that there are more than 1,000 women entrepreneurs registered with LCCI and it is the highest number of female membership as compared to any other Chamber of Commerce in Pakistan. We have various women specific standing committees at LCCI that are making all out efforts to empower women by way of organizing trainings, workshops and seminars on regular basis.
He asked the Ambassador to play a supporting role in discussions between Government of Pakistan and IMF were currently taking place in the context of the 9th review of IMF Program. He also asked him to convince the IMF to allow Pakistan to initiate a declaration scheme as mentioned earlier, since it would prove to be vital in supporting the depleting foreign exchange reserves and enhancing the documentation in the economy.