The oil industry's cynical gamble on Arctic drilling
Companies like ConocoPhillips are banking on a future filled with oil.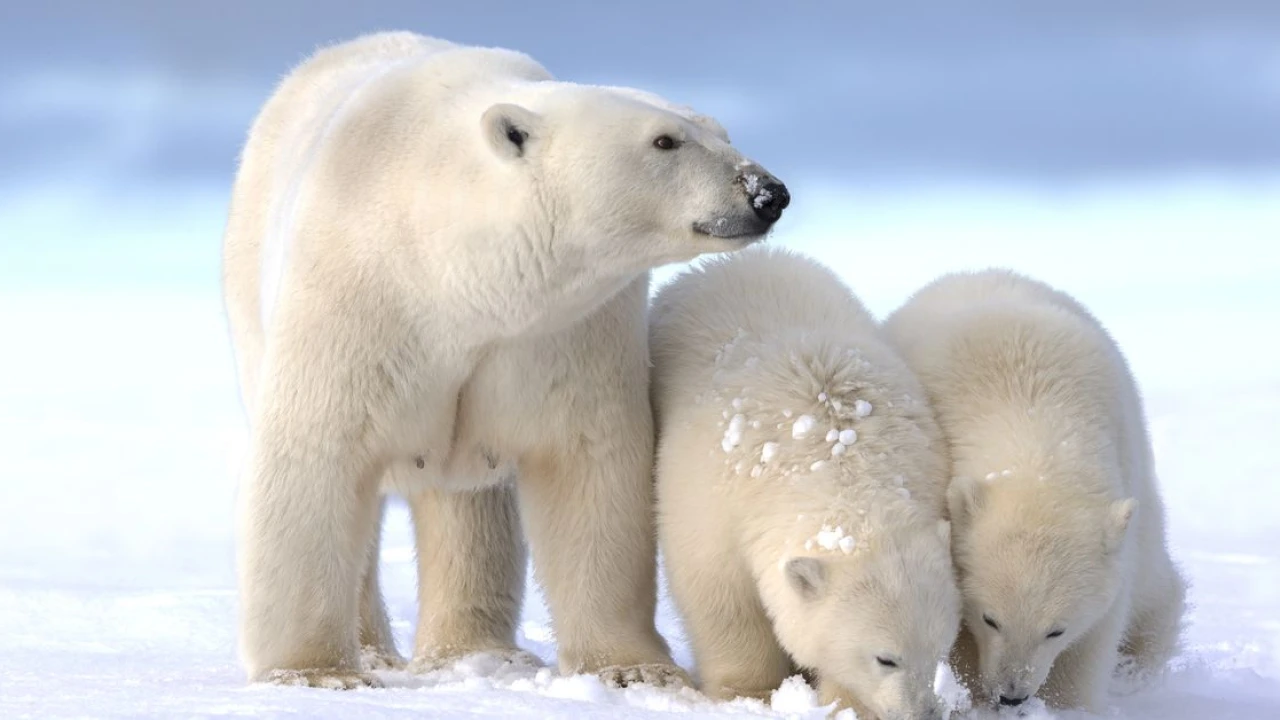 The Biden administration can't make a move in the Arctic without a political mess. This week, the administration infuriated the oil industry by canceling seven of the remaining leases in the Arctic National Wildlife Refuge sold by the Trump administration, and proposing new regulations to block oil development in about 40 percent of the National Petroleum Reserve.
Climate activists applauded the decisions. But back in March, Biden raised their ire for approving a vast ConocoPhillips initiative called the Willow Project in the National Petroleum Reserve, which will be unaffected by the new regulations. The sheer size of the Willow Project is at odds with the International Energy Agency's projections that "no new oil and natural gas fields are needed" to make good on the world's net-zero climate promises. It's the largest oil project planned on public lands and will release an additional 9.2 million metric tons of carbon pollution every year, the equivalent of adding roughly 2 million gas-powered cars to the roads.
These fights over the fate of the Arctic seem simple enough: the age-old story of environmentalists versus the oil industry, with the Biden administration caught somewhere in the middle. Yet the reality of what lies behind the oil industry's obsession with this particular part of Alaska is far more complicated.
The Arctic is an especially expensive place to drill for oil, so the price of oil must be high enough to ensure a payoff. Few oil companies in recent years have shown an appetite for taking on that kind of risk, with one major exception: ConocoPhillips. The company's stakes in the Arctic reveal far more than PR statements do about what the oil industry intends. It's essentially a bet that climate action will fail.
The Arctic is a high-risk environment for the oil industry
At the center of the Arctic battle is Alaska's North Slope, which borders the Beaufort Sea in the state's far north. It contains both the National Petroleum Reserve of Alaska (NPRA) and the Arctic National Wildlife Refuge (ANWR). The former drew interest from the private oil developers starting in the Eisenhower administration and the latter held up as a beacon of environmental conservation. Despite what the "National Petroleum" name implies, the area is as prized as ANWR for its ecosystem of beluga whales, walruses, and polar bears, as well as being important to Indigenous communities.
Both areas have been heavily contested ever since. Leaders of the Nuiqsut community, which is about 36 miles from the Willow Project, penned a letter to the Department of Interior this year noting the harm the development would pose to caribou migrations. And ANWR especially, sitting on vast oil reserves, has been a prime target for the industry for decades.
"The Refuge over the years became this marker in the sand for those that wanted to drill," said Kristen Miller, executive director of the Alaska Wilderness League. "If they could get into the refuge, they could get in anywhere."
The industry's lobbying to expand Arctic drilling has spanned every administration since Bill Clinton's. Companies have assumed they would profit from a gusher of oil and from the Alaskan government's oil-friendly, low-taxes position, according to University of Alaska Fairbanks environmental historian Philip Wight. The industry would also benefit from the already-built Trans-Alaska Pipeline, which could already move the oil to the southern port of Valdez for shipment and could avoid an extended fight with environmentalists over building new pipelines.
But these advantages also run up against major barriers that make oil development in the Arctic uniquely difficult — challenges that have far more to do with the environment there than environmental regulations.
The industry aims to squeeze as much as possible out of the cheapest oil reserves it has: areas that will produce a lot of oil for less cost. The Arctic has oil, but it doesn't come cheaply. Companies have to contend with frozen roads, remote areas, and transporting specialized rigs before even unearthing any oil. Even in a world without environmental regulations, it simply costs more for oil companies to drill there, ranking the risks of the Arctic right alongside the risks of deep-water drilling and operating in politically unstable countries. Because of the expense, these are also long-term investments, from which companies plan to benefit over the course of 30 to 40 years. This introduces a lot more uncertainty because of the many factors that can affect oil prices in that time.
The Willow Project faces these disadvantages and more. Willow still faces legal challenges from environmentalists, but the costs of drilling have also gotten worse in other ways — ironically, because of climate change. One example: ConocoPhillips has had to contend with melting permafrost at the sites it intends to drill, which the company will try to neutralize by installing giant chilling devices in the ground.
For Arctic drilling to make sense economically, a company has to bank on prices at the pump remaining high and that consumer demand will still be there for decades to come. That's in spite of expectations that EV sales will cut into demand for gasoline, with EVs on track to become half of global car sales by 2035.
Just to break even, the oil would likely need to sell somewhere between $63 and $84 per barrel, based on an analysis from the World Wildlife Fund — higher than what energy analysts expect in a world reducing its reliance on oil.
"They're betting that we're not going to be able to stick within the confines of the Paris agreement," Wight said. "Arctic oil is a fundamental bet on the future and what will and will not happen with the energy transition."
A closer look at ConocoPhillips' gambit
Given the financial risks, many major players have pulled out of the Arctic region entirely. Royal Dutch Shell has left a door open to still explore in the Arctic but made a splash in 2015 by announcing it would abandon the region, citing the expense of its $7 billion on a failed attempt in the Chukchi Sea between Alaska and Russia. BP sold its holdings in Alaska to the smaller Hilcorp Energy in 2020. Meanwhile, some banks, including JPMorgan Chase, have said they will stop funding loans to oil companies for Arctic development.
Even when the Trump administration offered up ANWR land on a platter with a lease sale late into its term, few companies bothered to show.
"Basically no major oil companies came to bid at that lease sale," said Miller. "For years we had been saying that this is an area that was too special, too fragile, to develop, but also that it didn't make sense economically. And that's exactly what the results showed." Chevron and Hilcorp have abandoned the ANWR tract they acquired under Trump, entirely voluntarily.
For much of the 2010s, companies had soured on developing expensive oil prospects. Prices have climbed again in the past few years, however, as a result of embargoes on Russian oil and the petering out of shale oil development (and as a global commodity, oil is much more than the Exxons and BPs of the world; 55 percent of global oil is supplied by state-owned oil companies, like in Saudi Arabia and Russia).
"There are some companies now that are making bets again on expensive oil," said Clark Williams-Derry, an energy finance analyst at the nonprofit Institute for Energy Economics and Financial Analysis. "They're basically investing in big capital projects that have a longer lifespan that pencil out when oil prices are higher, $70, $80, or $90 a barrel, but probably wouldn't survive in a world where oil prices can fall to $40 at any moment."
Oil companies are betting "the world will fry"
A company that counts on high oil prices is wagering that climate action will fail. In a world where we meet net-zero targets in the next 25 years, demand for oil and gas will dry up, leaving companies and investors with worthless assets. The industry is intent on that not happening.
The industry also sees the writing on the wall that electric vehicle sales will rise and other demand for its products may slow. But it's counting on demand lingering for decades longer than climate scientists would recommend, even if oil demand does peak in the coming years.
"A peak is not always followed by a collapse," Derry-Williams said. "Sometimes a peak is followed by a bumpy plateau. It's hard to come up with a strong scenario where US gasoline consumption falls dramatically over the next decade or two."
ConocoPhillips may be somewhat unique in the Arctic, but it's not the only company out of alignment with both government pledges and even its own. The major oil companies are all banking on higher oil prices through 2030 than there were from 2015-2020, according to an analysis from Energy Monitor — an expansion strategy, in other words, that depends on global demand to remain very high. They may not be pursuing the Arctic, but they are vying for development where oil and gas are more expensive, like low-quality fracking sites, deep offshore drilling, or politically unstable countries.
"They're basically making the bet the world will fry, and people will continue to buy oil and gas," Derry-Williams said.